Groom's Shocking Response to Guest Who Smashed Cake on Bride Goes Viral
A clearly inebriated wedding guest thought it would be a good idea to run up to the bride and groom as they were cutting their cake, and well...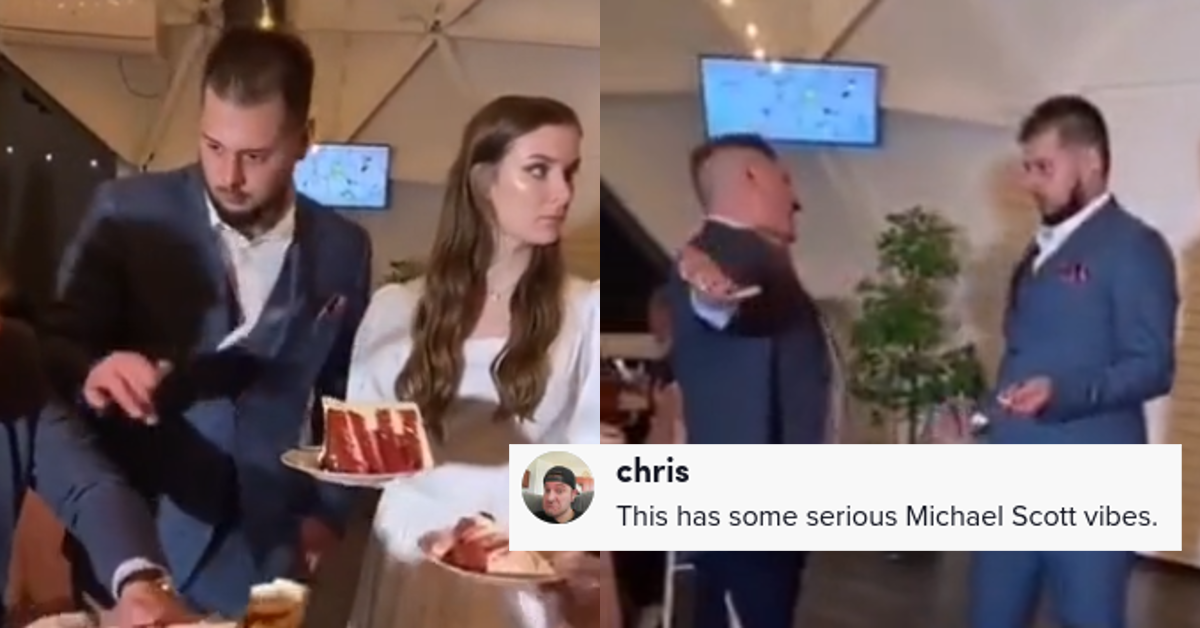 It's understood that when you're at a wedding, you're going to want to have a good time. Of course, different cultures and families have their own traditions when it comes to the celebration of two folks tying the knot, but there are some points of decorum pretty much everyone, regardless of their beliefs and ethnicity are expected to adhere to.
Article continues below advertisement
On top of that, there's a time and a place for tomfoolery and polite ribbing at a wedding, like during the best man/woman speech. No one's going to hold it against you if you start delivering a bunch of zingers at their expense.
However, if you start talking about how Gloria ate whipped cream off of a male stripper's chest during the daddy/daughter dance, folks might say that's in poor taste.
Other folks might think it's poor taste to run up to the bride and groom while they're getting ready to cut the ceremonial first piece of wedding cake for one another and then destroy said cake by tossing huge gobs of it at the newlyweds.
Well, that's exactly what happened at this wedding and the married couple is clearly not having it.
Article continues below advertisement
The clip went viral on @petrovichpetrovich's TikTok account where tons of users on the platform were completely stunned by the guest's actions. The average cost of a wedding cake is $350, which not only means that he basically took a fat dump on the wallets of whoever was fronting the wedding, but likely grossed out a bunch of folks who were waiting to chow down on some of the pricey desserts.
Article continues below advertisement

But what's probably the worst consequence of his not-funny prank was that he ruined a moment between the bride and groom on a night that they probably planned out for a long time.
Article continues below advertisement

Many commenters on the video thought that the groom was loading up to punch the man in the face and in a follow-up video that shows the other half of the clip, it turns out that they were right.
It seems that @petrovichpetrovich re-uploaded the clip with a cut-off version of the punch, but as they say, nothing deleted on the internet is ever truly deleted.
Article continues below advertisement
The drunk guest gets up from the floor after the blow and tries to ameliorate the situation with open arms as if to profess it's all love, but it's kind of hard to forgive someone at the moment for something like that.
Article continues below advertisement

Perhaps the worst part is that it's now immortalized in the annals of internet wedding cringe for all eternity.
Many commenters who saw the video wanted to know just what the heck was going through the guy's head.
Article continues below advertisement

Some pointed out the obvious too: like the fact that smushing cake on the bride and groom's face was a thing that the bride and groom did to one another. It's not for a guest to hop up on there and start acting a fool.
Article continues below advertisement

What do you think? Was the groom fully within his wedding rights to punch this dude out? Or did he overreact?