"I Prefer to be Dumped That Way" — Person Claims Breaking Up via Text Shouldn't Be Frowned Upon
A Redditor contested that dumping or being dumped via text message is the better way to sever a relationship, and users on the site were divided.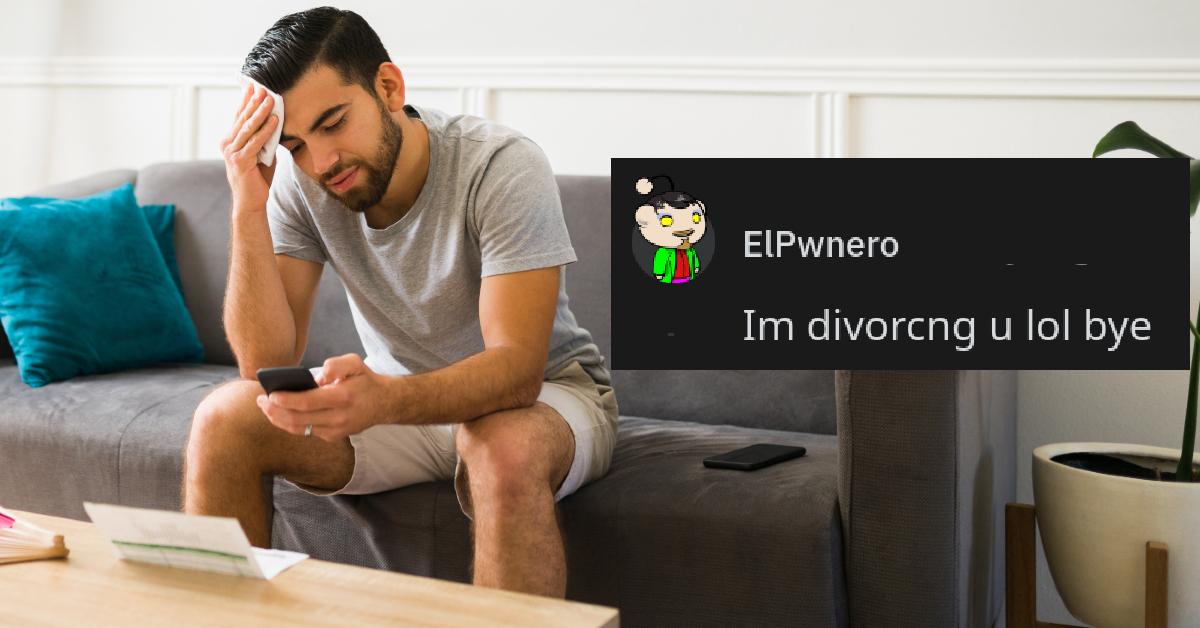 Redditor @Mean_Shoulder8320 explains why they don't think dumping someone via text message is not only not a big deal but is actually much better than doing so in person.
Article continues below advertisement
They wrote in the title of their viral r/unpopularopinion post that they actually "prefer" it if someone messages them via text/sms as opposed to doing so in person as a courtesy: "Dumping a person via text should not be frowned upon. It's discreet, saves both parties any possible humiliation if done in person, and does the job quick. I prefer to be dumped that way."
They went on to explain that they've "dumped all partners that way" nor do they "see [anything] wrong with it." According to the Redditor, doing so in person saves both parties the histrionics of pleading and trying to understand why the relationship ended in the first place.
Article continues below advertisement
If someone is at the point where they want out of the relationship, then that should be "enough" of an explanation and the other person involved should understand that, so sending a text message informing them of their decision should suffice, according to @Mean_Shoulder8320.
Article continues below advertisement
Having a "talk" according to the Redditor is a "hypocritical" act because if they cared so much about the other individual's feelings, then they shouldn't be "breaking up with [them] in the first place."
There were some Redditors who comically panned the idea of breaking up with someone via text message, like this one user who wrote: "Im divorcng u lol bye"
Article continues below advertisement

Another commenter speculated that the reason why someone would want to break up via text message is due to their reluctance/inability to deal with emotionally charged situations face to face: "Also happens to be a very popular opinion among people that avoid difficult and uncomfortable conversations."
Article continues below advertisement
However, there was another individual who shared that while they didn't think there was anything wrong with it, they also mentioned that dumping someone via text is oftentimes a strategy employed by individuals who truly don't care about how someone else feels.
"If both people are fine with, there really isn't anything wrong with it. But most times someone does it just to save themselves any kind of hassle, and disregards how the other person will feel."
Article continues below advertisement

The same Redditor also rejected OP's claim that deciding to talk with someone person-to-person after a breakup was a hypocritical act and that oftentimes, breaking up with someone is a sign that you do care about them.
Article continues below advertisement
"Or - they respect and care about you enough as a person, they just don't feel like a relationship will continue to work."
There's also the elephant in the room when it comes to how long the relationship lasted: would be kind of weird to date someone for a year and then just text them out of the blue one day, saying, "Hey I don't feel like this is working out and we should go our separate ways."
This was a sentiment expressed by another commenter on the post who penned: "And duration of relationship matters here. A lot. After a couple dates, sure. After a year or more of dating, it's super sh----."
Article continues below advertisement

But there was some more context provided in the comments section because OP apparently decided to end an abusive relationship via text. So instead of meeting up with said abuser face to face and subjecting themselves to further harm, they thought it would be better to just notify them of the break-up in a message.
Article continues below advertisement
This is a bit of information that several folks thought was a necessary part of her post that shouldn't be overlooked.
"OP should have really spelled out her specific circumstances in her post. She left a 7-year physically abusive relationship over text.
No one would have a problem with someone doing that. But OP framed it in this kind of nebulous way where people think it's a normal relationship.

What do you think? Is it fine to break up with someone via text message regardless of the circumstances? Or are there specific situations, like living with an abusive partner, that only warrants this kind of severance?