"Are You Kidding?" — Man Says Apartment Trash Pickup Called Him "Lazy" in a Note
In a social post, a man shared that his apartment trash pickup worker called him lazy over his filled garbage left outside of his door.
One of the joys of living in apartment complexes is the amenities offered. Depending on your complex — luxury or standard — folks could get to enjoy everything from a fitness room to a media center to a rooftop balcony and more.
Article continues below advertisement
As such, some apartment management companies make it a point to provide a desirable living space. So, when one man on TikTok decided to put his apartment trash pickup on blast for calling him lazy, folks were intrigued. Here's the full scoop.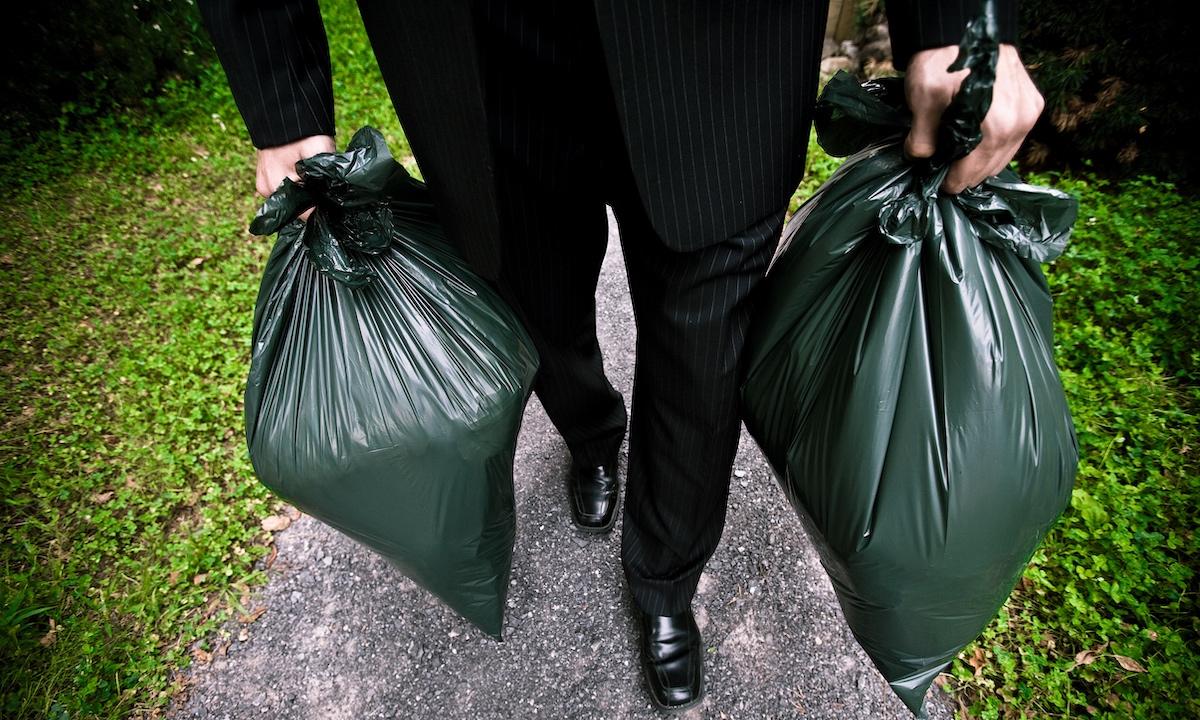 Article continues below advertisement
A man on Tiktok says that his apartment trash pickup called him lazy.
The disrespect is real! In a July 13, 2023, TikTok video, creator GageMatthewWhite (@Itsgagewhite) shared an experience with his apartment trash pickup that left him upset.
"It costs around $70/month too. Be so for real… lazy bones," the video caption reads.
As the video starts, Gage begins to air out his grievances.
"I live in an apartment and one of the amenities is that a person comes around and picks up all your trash every day," Gage says. "You just have to make sure that the bag is not ripped and that the trash can closes. You also have to keep it out at a certain time and pick it up at a certain time, you know."
"These people," Gage says as he opens his front door to reveal a note. "You see that? That is a note telling me that my trash bag was oversized."
Article continues below advertisement
Gage then pans the camera to the trash can.
"Oversized? Don't be lazy. Look at this," Gage says as he opens up his trash can and shows his full trash bag that fits inside.
Article continues below advertisement
"Are you kidding? Oversized?" Gage said as he lifts the garbage bag. "Like a slight push of the trash and it's out. Oversized?"
The video ended with Gage saying "Don't be lazy, bro," as he pans the camera back to the note that was left on his front door, which reads: "Oversized????? Don't be lazy."
Article continues below advertisement
TikTok users agree with Gage's sentiment that the trash pickup workers are being lazy.
Baby… ain't nothing worse than somebody trying to get smart with you for being lazy and not doing their job. Although Gage kept his sentiments rather cute regarding the worker not emptying his trash can, folks on TikTok agree that the workers are being lazy. So it seems a bit backward that the worker called Gage lazy for seemingly following instructions.
"I swear we must live in the same complex," one person said.
"Nah because they don't even be getting the trash like they're supposed to (according to the lease). Yet we're the lazy ones? Like?" another person shared.
"You even double-bagged it for them," one person chimed in.
Article continues below advertisement
Article continues below advertisement
Interestingly, one person who does trash valet shared that Gage's bag looks heavy.
"I do trash valet. The bag is too heavy, you can tell just by looking at it. Y'all ain't considering we're doing hundreds of buildings a night, so we can't take 30 lbs bags," the person said.
Gage clapped back and said, "Y'all weak boys working for valet trash."
Truth be told, while Gage's bag does look like it has some weight to it, the bag doesn't appear too heavy to be picked up. So, it does look like they are being lazy. Get it together, please and thank you.