"I Pay $2k to Live Here" — Woman Shows off Disgusting Pool Area at "Luxury" Apartment Complex
In a viral video, a woman shows off the disgusting pool area at her supposed "luxury" apartment complex. Keep reading for all the details.
If this is considered a luxurious apartment complex, we don't know what to expect when it comes to other rentals.
On Aug. 5, 2023, TikTok user @missfirment went viral for unveiling the pool area of her "luxury" apartment — and it's safe to say it's one of the most disgusting things we've ever seen in our lives.
Article continues below advertisement
Read on to find out what the TikToker found lying around the pool area at the apartment complex she pays $2,000 a month to live in (unbelievable!) Plus stick around to hear what the internet has to say.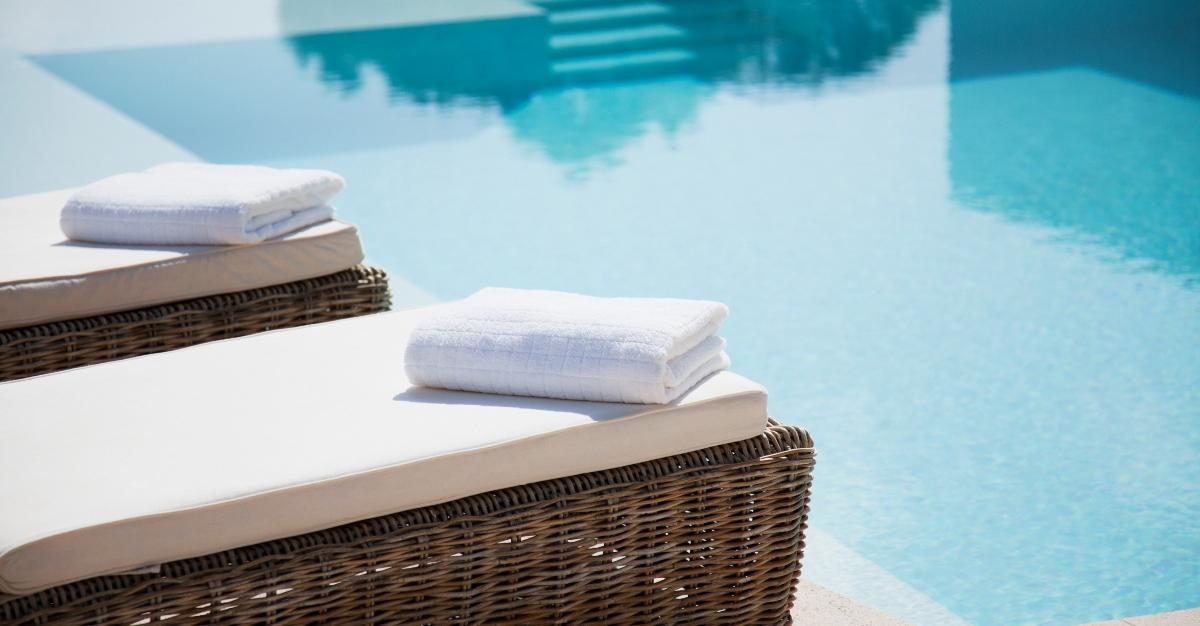 Article continues below advertisement
A woman revealed the disgusting pool area at her "luxury" apartment complex.
"I pay $2,000 a month to live here, and this is what my pool area looks like in my luxury apartment," the creator, Lexie, said before taking her followers on a tour of the vile space. Lexie first revealed the cigarette butts littered all over the ground and bushes before showing toilet paper and beer cans scattered on the pool's ledge.
Although she didn't show the pool, Lexie said it was "disgusting" and had "feces" in it. OK, so gross! There was also a dog waste bag sitting on the edge of the pool (seriously, what is wrong with some people?), and the trash cans were beyond full, having not been emptied in weeks.
Article continues below advertisement
"And then even leading into the pool section, it's absolutely disgusting. The grill area is so foul, there's a corn [hole] bag on the roof," Lexie continued, even zooming in to show a piece of gum sticking to a table.
Article continues below advertisement
"And yet, they expect us to pay $2,000 a month, and they keep raising the rent. Yay," she added, flashing a sarcastic thumbs up to the camera. Oh girl, we totally understand what you're going through.
Lexie explained the situation further in the caption, writing, "Living in a luxury apartment and paying prices that are way too much for any salary range… this is not okay. This pool area has been disgusting for the last month. Nothing will ever be done about it. We have contacted management; management does nothing about it. It's gross to live like this and still pay a lot of money and have the possibility of rent increases."
Article continues below advertisement

The viral video has accumulated over 414,000 views, with many fellow TikTokers taking to the comment section and urging Lexie to do something about it (even though she said she did in her caption).
"If there's feces in the pool — call the health department!" one TikTok user commented. "A couple of visits will change things pretty quick! — I'm a property manager lol."
Article continues below advertisement
Another penned, "Absolutely not. You need to call corporate and complain about your groundskeeper. Wow," while a third person said, "Oh hell no! Send time and date-stamped photos to code enforcement! They will get it together!"

Article continues below advertisement
Many argued that $2,000 per month in rent is not luxury, claiming that it's the typical price for most apartments these days — including studio apartments (they can be even more expensive, though).
"$2k gets you nothing where I live," one TikToker shared, while another person revealed, "I pay $2k for a bedroom that doesn't even fit a queen-sized bed." A third said, "$2000/month wouldn't even get you a pool in my market. You'd get a bachelor unit with the view of a brick wall."
Unfortunately, that's all very true.