Man Notices His Apartment Complex Is Totally Abandoned, Sparks Conspiracy Theories
A TikTok user by the name of Cody may be living in an abandoned building that's being set up to appear as if its inhabited.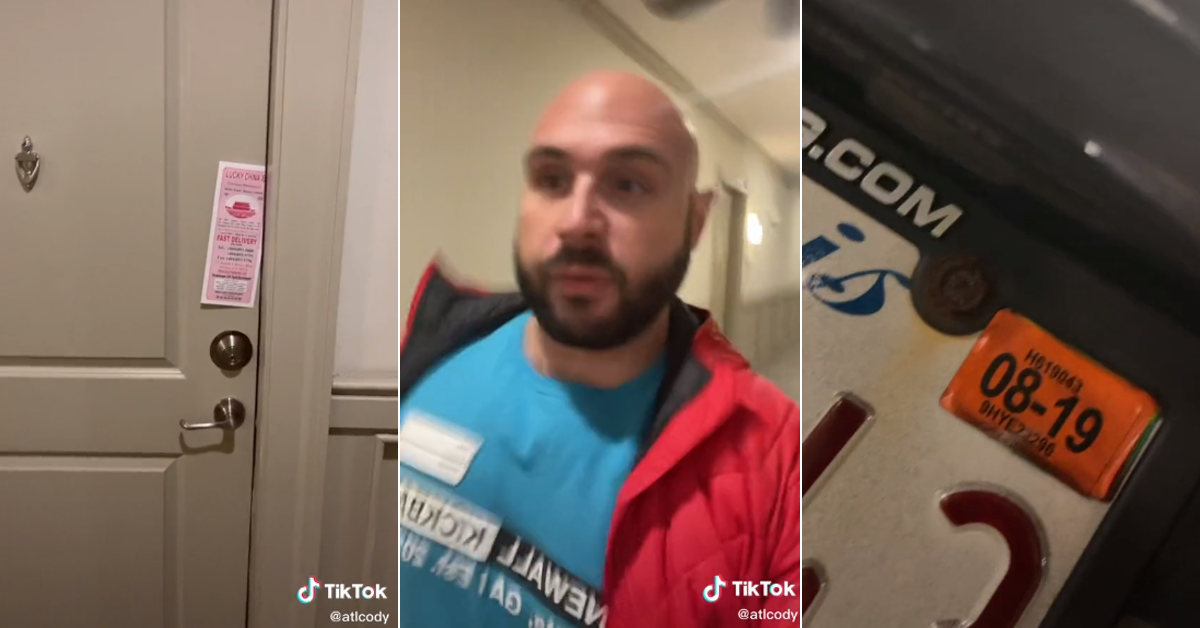 For some reason, there are a lot of folks who dream about some weird, end of the world apocalypse scenario where they have wide-open spaces all to themselves. Maybe they live inside of an abandoned Mall or Costco, or they hide out in a movie theater or Casino.
Article continues below advertisement
While I'm genuinely curious to know how bad someone's life is that they're wishing for it all to just crash and burn, it seems like some folks are living in those kinds of scenarios without a full-blown zombie outbreak.
Like this TikTok user by the name of Cody. However, the man's shocking discovery about his "desolate" apartment complex is more of a slow burn.
He first noticed something was awry when his neighbor's apartments had menus sticking in their doors for three days. Unless everyone decided to put the menus back inside their doors after they left because there are loan sharks on their tail. But that's just the beginning of the weirdness he encountered.
Article continues below advertisement
After venturing to the parking garage, Cody saw that there were more cars than there were apartment units in the building. OK, that's fine, maybe there are a lot of visitor parking spaces because this building is catered towards folks who like to entertain guests often.
But it's Cody's follow-up video that got people freaked out.
Article continues below advertisement
He zoomed in on one of the car's tags and it turned out it expired in 2019 and the whip was still just chilling there, marinating under a thick coating of dust.
What's more is that when Cody visited the website for the property that he lives on, management claims that there are only four open units available.
Article continues below advertisement
Well, maybe Cody just so happened to live in a building where a lot of peeps purchased secondary domiciles that they can use while they travel.
Atlanta Airport is a massive transportation hub in the United States, so it would make sense for frequent travelers to keep another place to stay there.
Article continues below advertisement
So why haven't they visited the place in a while? Well, COVID could've had a lot to do with that, as the pandemic and various governmental responses to it threw everything upside down.
It could explain why the car's tags were never updated, and whoever owns the whip was out of state when the nature of their job changed. And maybe they're still holding onto it due to the staggering cost of used cars these days.
Article continues below advertisement
It could just be a case of folks buying up the properties to use as Airbnb revenue or they're just empty corporate housing units. One commenter wrote "Your building got Zillow'd," which is a reference to the site's heavily criticized buying and selling of properties, which some said allows the site to control the real estate market for areas that they purchase at large.
Article continues below advertisement
Cody added in a follow-up TikTok that they ran into a neighbor and asked about the strange nature of the building, to which the neighbor replied that the entire vibe of the property got "super weird when the management changed."
Could the management be a race of lizard people? Yes. That is the only logical explanation.
Oh, and to top of all the other weirdness, the neighbor also claimed that their fiance found a baseball bat decked out in barbed wire. Probably a weapon one tenant who wizened up to the lizard people menace tried to use against the slithery threat. But what happened to them?! Is Zillow behind it? Or have people learned that Atlanta really isn't like the way it was presented in early 2000s hip hop videos?