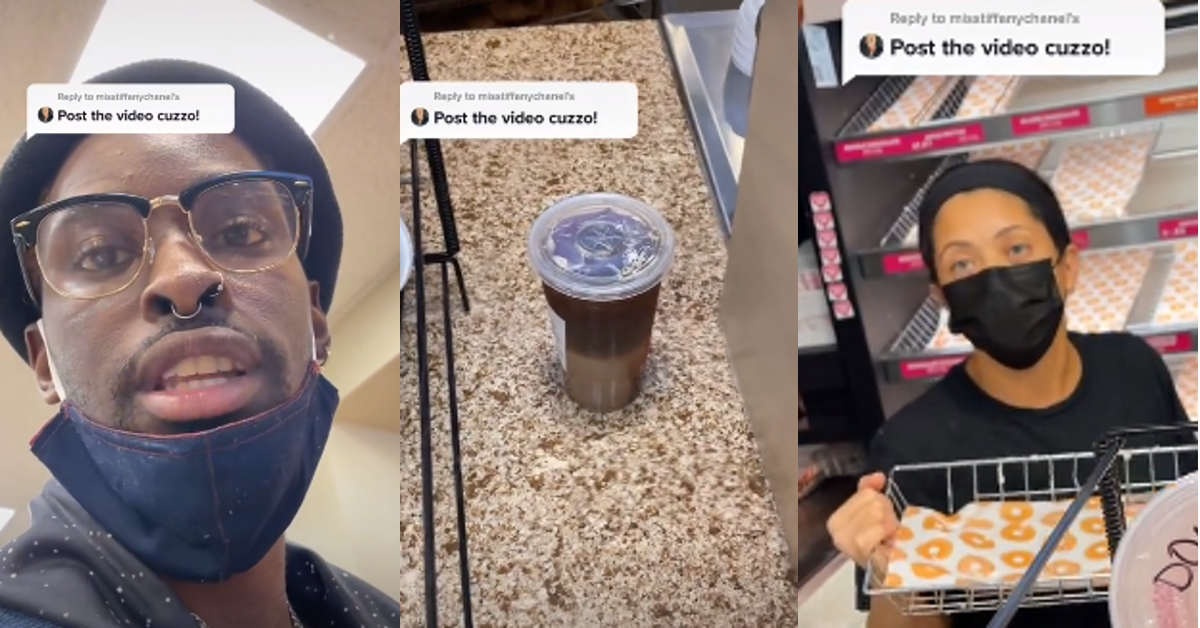 TikToker Takes Money From Dunkin' Employee's Tip Jar for Not Remaking Incorrect Drink
There's a general rule of thumb when it comes to coffee shops: you buy a cup of coffee and if it isn't to your liking, you usually can tell the barista that isn't up to snuff and they'll dump it and get started on another beverage for you right away.
There's a huge profit margin on the stuff since it's so relatively inexpensive to brew, so it's understandable why many chains like Starbucks have no problem getting your drink the way you like it.
Article continues below advertisement
But how would you react if the barista refused to remake your beverage? Would you complain to the manager? Would you tweet at the coffee shop and give them a negative review online? Or would you help yourself to the employee's tip jar in order to get your money back for the order that they wouldn't take another stab at making for you?
That's what one TikTok-er did during an argument with a Dunkin' Donuts worker because they decided that recording a tiff with a food service employee was what they wanted to dedicate their time and energy to for all the world to see.
Article continues below advertisement
TikTok-er @itslondonlamarr had a negative experience at a combination Dunkin' Donuts/7-11 in Boston Massachusetts.
London starts recording in the middle of his conversation with the employee, informing viewers that he used to work at Dunkin' in the past and that the chain doesn't tell their employees they can't remake drinks for customers.
Article continues below advertisement
The Dunkin' worker says that London's incorrect order is too pricey to just be tossed out and made again. In London's case, it wasn't that he simply didn't like the taste of what he originally ordered and wanted the employee to make it differently, it's that she had heard his order wrong and that's not what he requested.

Article continues below advertisement
The worker tells London, who is recording that if he has an issue he can return to the location in the morning to speak to a manager about the situation, which he says doesn't work as he doesn't reside in the area. He asks her if a Dunkin' policy was created that prevents employees from rectifying incorrect orders with a new drink.
The worker, while breaking down the store and racking items off of shelves repeats that he can speak to a manager in the morning if he has an issue.
The employee goes on to say that they made the drink London ordered, but London states that wasn't the case and even if it was, the worker should still remake the drink anyway.
Article continues below advertisement

London asks the employee repeatedly for a new drink but is ultimately denied and ignored. When he asks for a refund, she also denies him of that and then brings the completed beverage to him, stating, "your coffee is done here like you asked." London states again that his drink was made improperly and the employee continues working.
Article continues below advertisement
London then moves over the counter window saying he will "get my refund right here," before taking the tip jar from the employee and putting all of the money into his bag. The employee then demands that London give her her money back to which he states, "give me my money back."

Article continues below advertisement
Upon counting the tip, London notices it fell short of the $5.78 he spent on the beverage. The video cuts out as TikTok has a three minutes max length, and although London clarified what happened next after he took the money in follow up clips, he didn't state whether or not he returned to the location for a refund.
Many commenters thought the worker was in the wrong for refusing to remake the drink, more than a few of them claimed to be Dunkin' Donuts employees or that they worked at one of the franchise locations in the past.
Others thought that the exchange between London and the employee was essentially a tale of two "Karens" and that they both exhibited petty behavior during the exchange.
Article continues below advertisement

London did say that he intended to return to the location to speak to a manager, but as of this writing, no video indicating as such has been uploaded on his account.