TikToker Jokes About "Regretting" His 401K Plan, Sparks Debate on Finances
TikToker @ikeemlateethomas' viral TikTok where he jokes about regretting putting money into his 401k sparked a viral TikTok debate.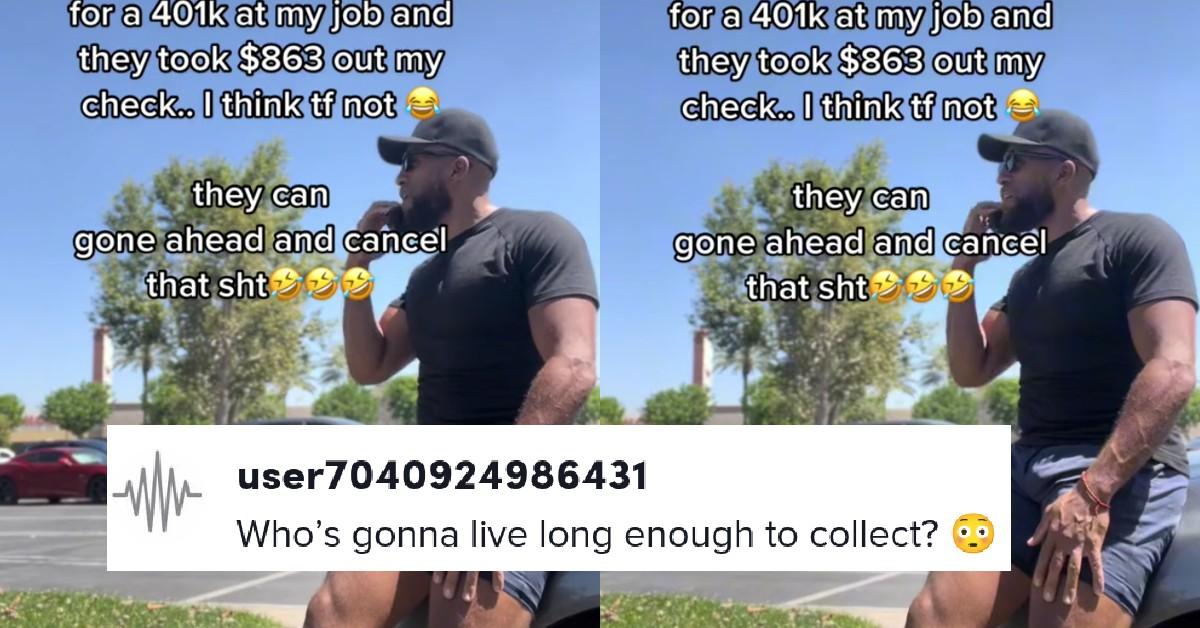 There are plenty of companies that will match employees' salary contributions into their 401k plans, which helps them beef up their retirement funds. While different plans have different policies, generally speaking, if you don't take this money out until retirement you won't face any penalties while doing so.
Article continues below advertisement
And depending on what the 401k is invested in and how well those stocks/funds perform, you could be left with a heck of a lot of interest on top of what you've been squirreling away from your paychecks in addition to the amount that your job is putting away too. Just how much? Well let's break it down: let's say you start a job at 28 years old that pays $70,000 a year with an average annual raise increase of 2% and you contribute just 5% of your weekly paycheck.
Let's say you work that job for 37 years (retire when you're 65) and your employer matches your contribution, you'll be left with around $1,485,000 when you retire. So you'll be able to secure yourself a top-end retirement spot with tons of bells and whistles.
However, one TikToker's joke in a viral post about contributing to his 401k not being worth it ended up sparking a viral debate in the comments section.
Article continues below advertisement
In the clip, user @ikeemlateethomas can be seen leaning against a car and combing his beard with a text overlay that reads: "Tryna be an "Adult" I finally signed up for a 401k at my job and they took $863 out my check.. I think tf not. they can gone ahead and cancel that s***"
Article continues below advertisement

While it appears that the post was made in jest there were several TikTokers who took the TikTok as a chance to discuss financial literacy in the comments section, listing some of the many benefits of contributing to a 401k.
Article continues below advertisement

Several folks referenced the various tax breaks employees benefit from while contributing to their 401k. These breaks, coupled with employers' matching contributions could result in long term financial benefits that extend beyond the money one is able to take out of their fund upon retirement.
Article continues below advertisement

There are others who joked that since the United States is in a dire financial situation, the economy is going to collapse anyway and any contributions put into savings will become null and void anyway, so they might as well live it up now because "who's gonna live long enough to collect?"
Article continues below advertisement

However, there were others who urged folks who have access to a 401k through their employer to seriously consider even making a slight contribution. Some suggested putting in a minimum of 6% of their paychecks into the fund, or at the very least, the minimum percentage they would have to fork over so that their workplace matches 100%.
Article continues below advertisement

Article continues below advertisement

Overall, however, there were many people who said that contributing to a 401k has immense financial benefits in the long term and people will be thanking their past selves down the line.
"Contribute as much as you can because when you get older and you're choosing between cat food or medicine you'll remember that choice"
Article continues below advertisement

"I contribute the absolute max... 20% !!"
"some people really don't understand the tax benefits and long-term benefits of a 401K. contribute what you can but don't go overboard"
What do you think? Do you have a 401k and are hoping that payouts, in the end, will make your sacrifices now worth it? Or do you think there are other things you'd rather be doing with your liquid assets that'll be more worthwhile?