Woman's College Roommate Facetimes Boyfriend for 72 Hours After Moving In
A college student shared how their roommate didn't talk to them after they moved in and instead stayed on Facetime with their boyfriend for 72 hours.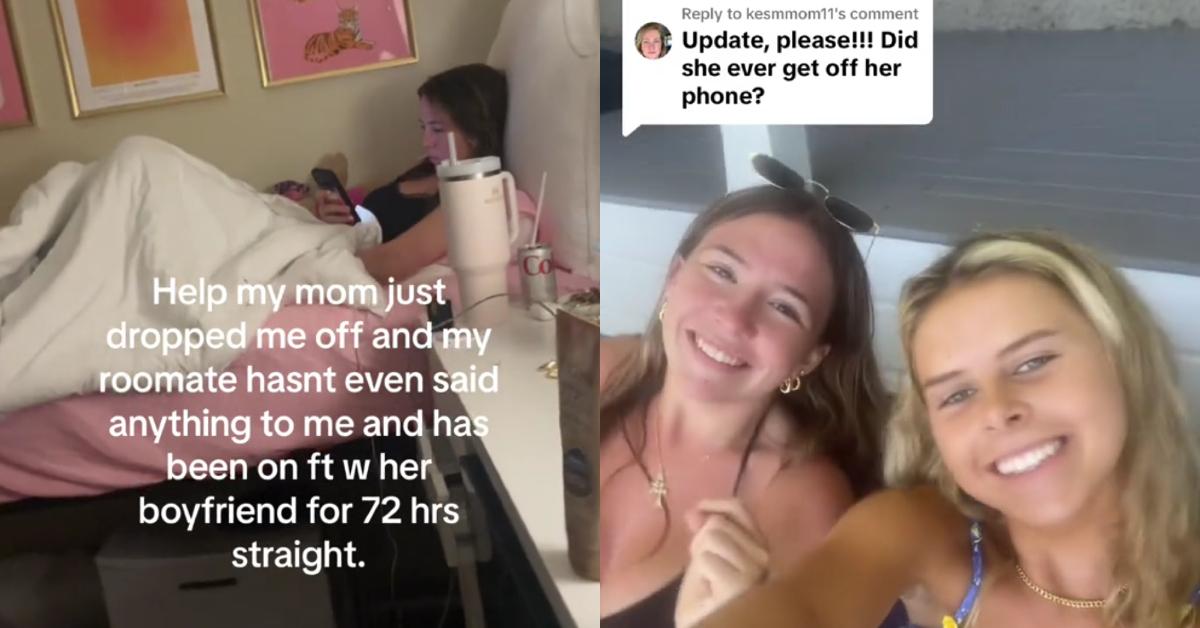 If you're a fan of The Office, then you'll probably remember that one part of the show when Jim and Pam were on Bluetooth headsets 24/7 while she was away at school learning graphic design.
While that seems like an extreme proclamation of one's love for their significant other, it seems that there are folks out there who do engage in this kind of behavior with their lovers.
Article continues below advertisement
Like this one college student who says that they arrived to their dorm only to find out that their roommate hasn't said anything to them over the course of three days because they've been too busy being on Facetime with their boyfriend for 72 hours straight.
Jane Portell (@playnejaynee) posted their viral video to TikTok where it accrued over 6.8 million views on the popular social media application, and there were a lot of concerned users on the app who wanted to know what was going on with the college student.
Article continues below advertisement
Jane writes in a text overlay of the clip: "Help my mom just dropped me off and my roomate hasnt even said anything to me and has been on ft w her boyfriend for 72 hrs straight."
Article continues below advertisement
There were a number of folks who responded to Jane's video stating that this type of behavior from their fellow dormer would be a nightmare scenario come true: "Omg I would hate having a dorm in college for fear of my roommate randomly recording me when I don't know"
According to other folks who responded to the video, it seems that this type of behavior from roommates was par the course for their own college dorming experiences: "It's been a month and I still haven't had a conversation with my roommate yet"
Article continues below advertisement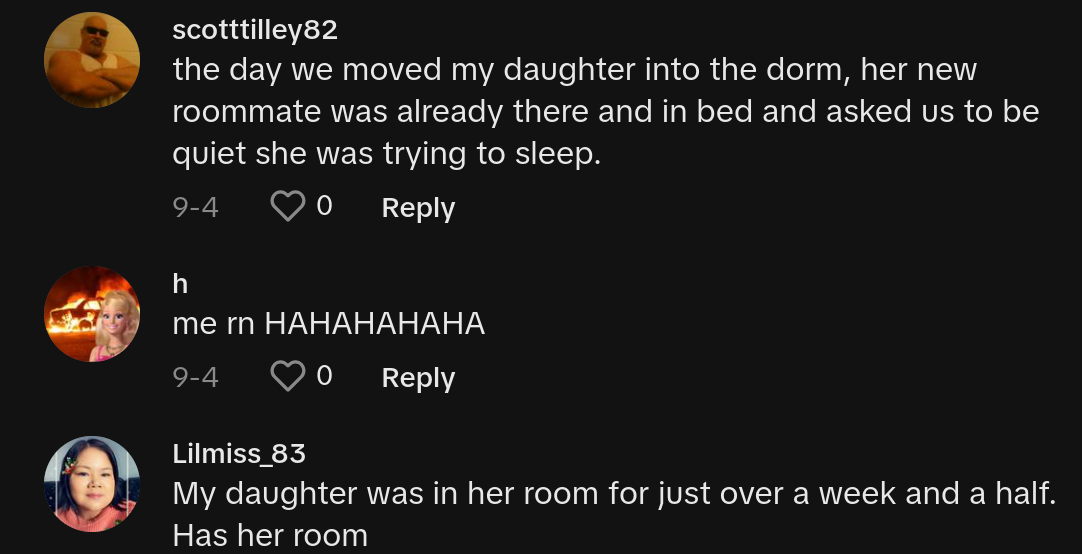 "literally me with my roommate and it's week 6," another person penned.
For another dormer, they barely got to know their roommate at all before they ultimately parted ways: "me and my roommate didn't speak for the first whole month of school, then she got a new room"
Article continues below advertisement
"week 4 and i've barely spoken to 2 of my roommates," someone else wrote.
There were also several other TikTokers on the platform who were dying to know just what happened to Jane's roommate and if they ever did get off of Facetime with their boyfriend.
Jane did post a follow-up video that seemed to indicate her and her roommate are indeed getting along, at least that's what it looks like in this viral TikTok that she uploaded on her account.
Article continues below advertisement
In the video they are seen sitting side by side, lip-syncing to a track about friendship, bopping their heads side to side, so it does look like Jane's roomie did ultimately get off of Facetime, or is, at the very least, interacting with other people while communicating with her boyfriend through her phone too.
Article continues below advertisement
If you're with your high school sweetheart while venturing into college and want to know if data supports the two of you staying together, looking at the numbers may make your heart sink a little bit.
According to Online Divorce, only 2% of high school sweethearts end up getting married, and 54% of those who did enter into holy matrimony end up calling it quits.
Article continues below advertisement

An article from The Guardian urges folks who are in a relationship while headed into college to end things, in a piece titled: "Don't even think about starting university in a relationship."
Article continues below advertisement
The Albion Period also writes that "distance rarely makes the heart grow fonder" when it comes to high school relationships with folks headed into college.
So, statistically speaking, it seems that Jane's roommate and her boyfriend, while starting things off hot and heavy in the beginning of the semester over Facetime may seem like a good sign, might fizzle out.
Or maybe they'll be part of those 2% who see things through, and are 46% of those who do end up together who stay together through thick and thin.
Not that it's anyone's business except their own.