Boy Asks for a "Fairy House" for Christmas and His Grandma Totally Delivers
Sometimes kids' Christmas wishes can be hard to understand, but a boy who asked for a "fairy house" this year got exactly what he wanted thanks to an amazing grandma.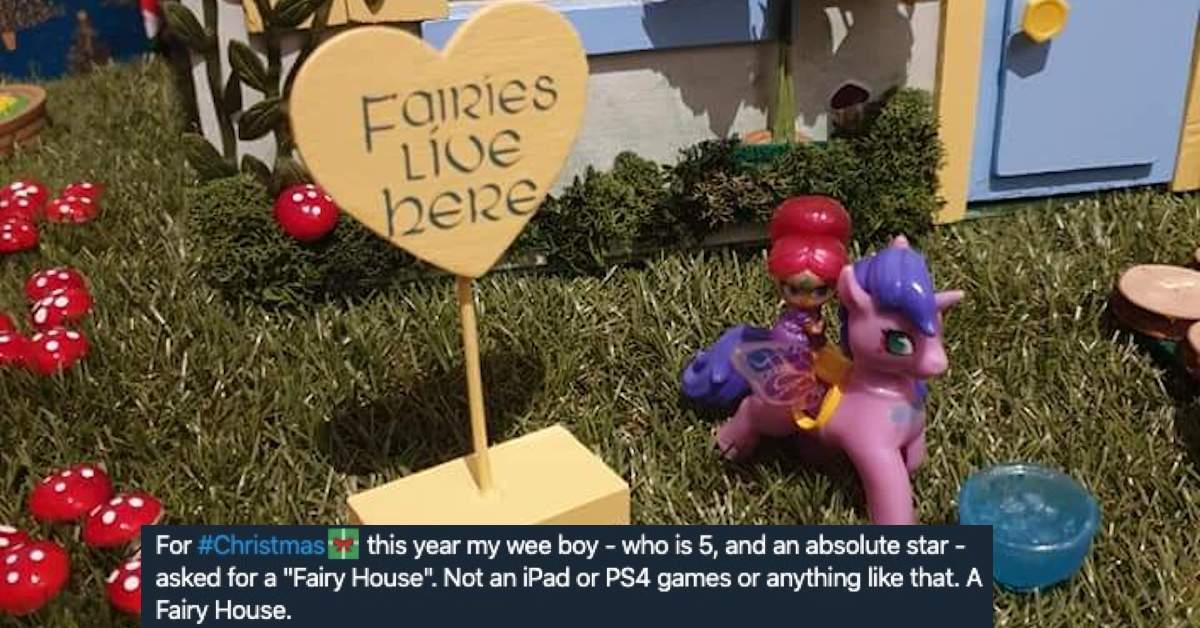 When kids craft their letters to Santa or tell their folks what they want for Christmas, fulfilling their yuletide wishes can sometimes be a tall order. Setting aside requests that are too expensive to make possible, sometimes it can actually be difficult to understand what they've envisioned. Take, for example, James McEnaney's 5-year-old son, who asked this year for a "fairy house."
Article continues below advertisement
This isn't some sort of Fisher Price playset or Barbie dollhouse one could procure at your normal toy shop or department store. This youngster had his heart set upon something that didn't seem to exist.
Even though dad was baffled by the request, his son knew Santa would bring him his heart's desire, as he has been a Very Good Boy. Thankfully, James's mom is apparently a certified Santa's Helper, because she totally understood her grandson's vision.
Article continues below advertisement
Not only did she know what a fairy house should look like, but she knew how to carry out the vision. She didn't have to start from scratch, either.
Article continues below advertisement
James's mom has apparently been making kids' Christmas dreams come true for generations, having made this frankly amazing dollhouse for her daughter 30 years ago. After bringing James's sister so much joy decades ago, this house was about to get a major renovation that would help make another kid's dreams come true. "What if she converted that into a Fairy House?" James wrote. "Well, sure, but that's a lot of work surely? It was — but she insisted it was no problem. Would you like to see what she made?"
Yes, James, obviously!
Article continues below advertisement
The results were spectacular:
What an incredible transformation! The attention to detail is remarkable. But as impressive as this fairy house is, did it match up with what her grandson envisioned?
Article continues below advertisement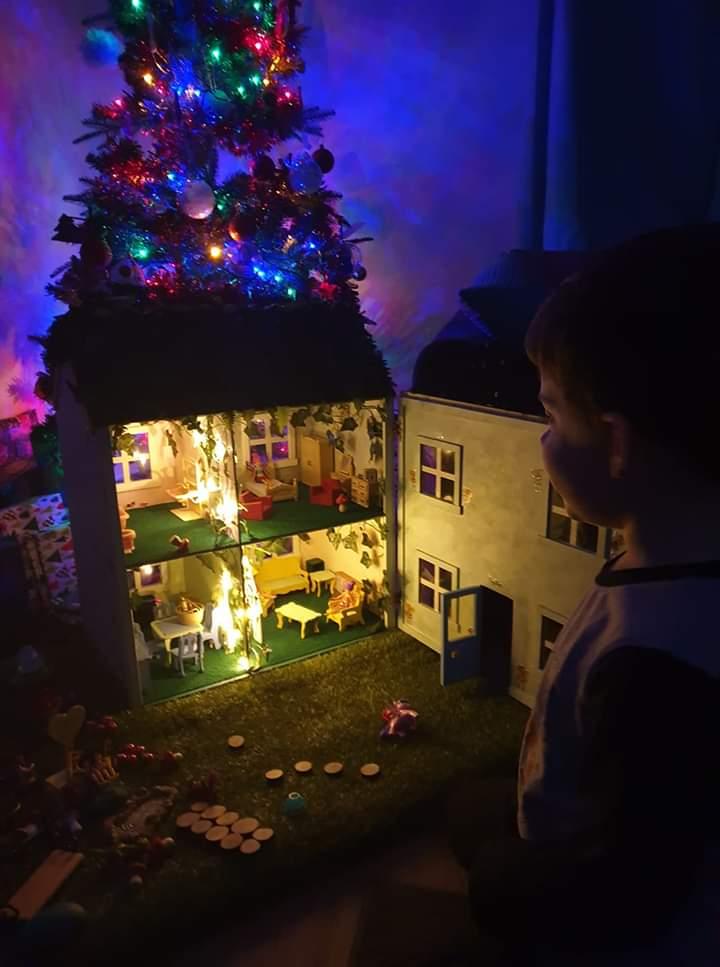 Even in profile, you can see he's clearly delighted at this house, which is just as impressive from the inside as it is on the exterior. Each room is furnished exactly as a fairy might decorate. It's a true Fairy Dream House.
"As soon as he saw it this morning he burst into a huge smile and beamed: 'It's *exactly* what I wanted!'" reports James.
Article continues below advertisement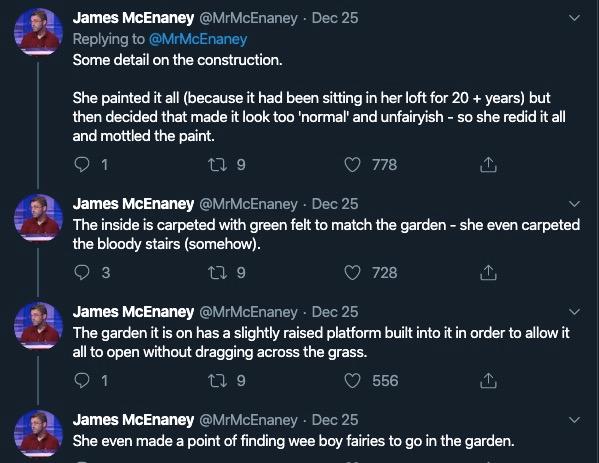 Rightfully impressed with his mom's work. James explained some of the process involved the construction, which involved repainting and then distressing the finish to make it properly fae, and constructing a garden fit for a pixie around it. She also made sure to have proper gender representation, because boys can be fairies, too.
Article continues below advertisement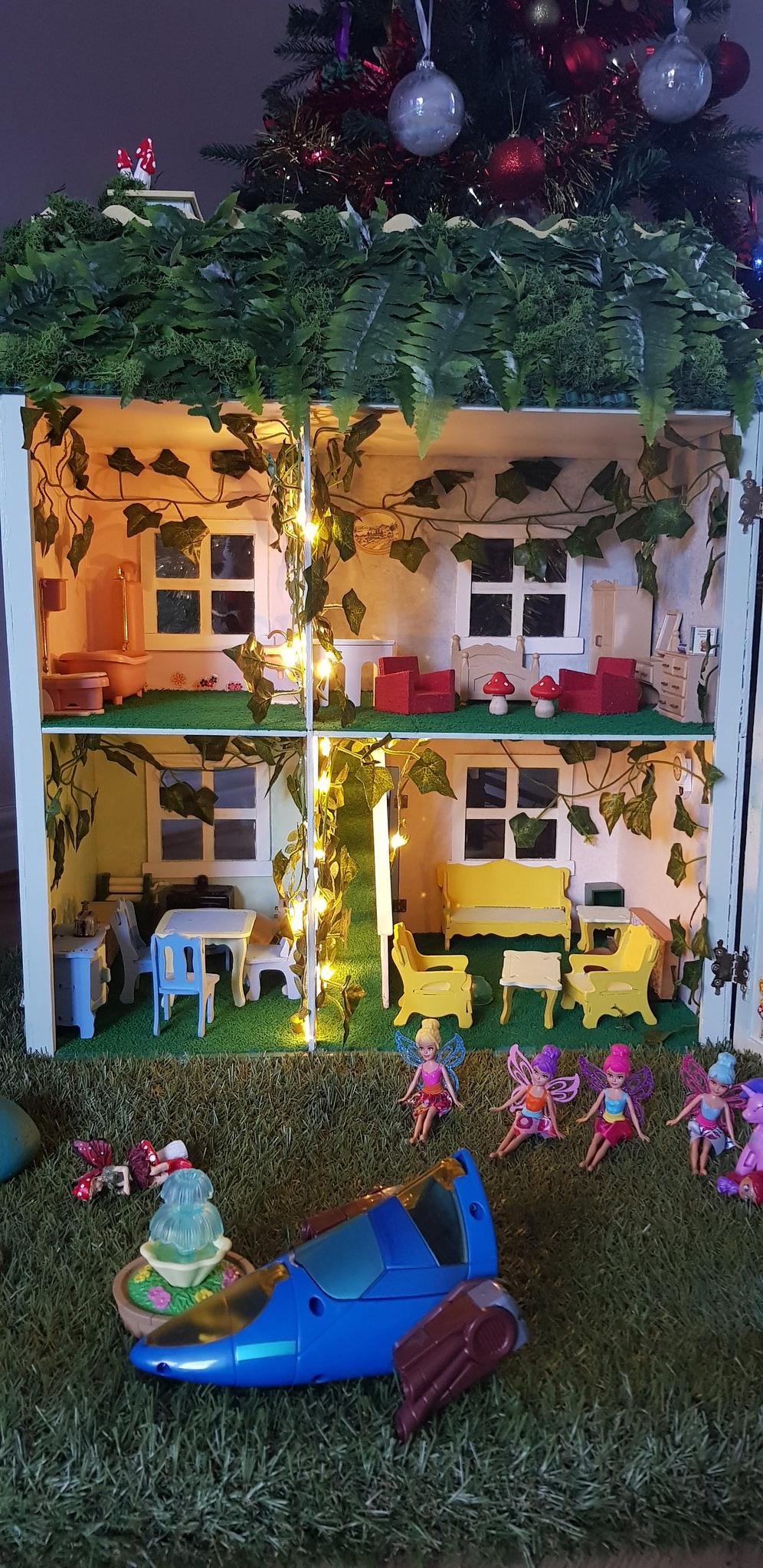 Each room has its own color scheme, incorporating botanical elements one would expect to find in a typical fairy home, like creeping vines and toadstools for guests to rest upon.
Article continues below advertisement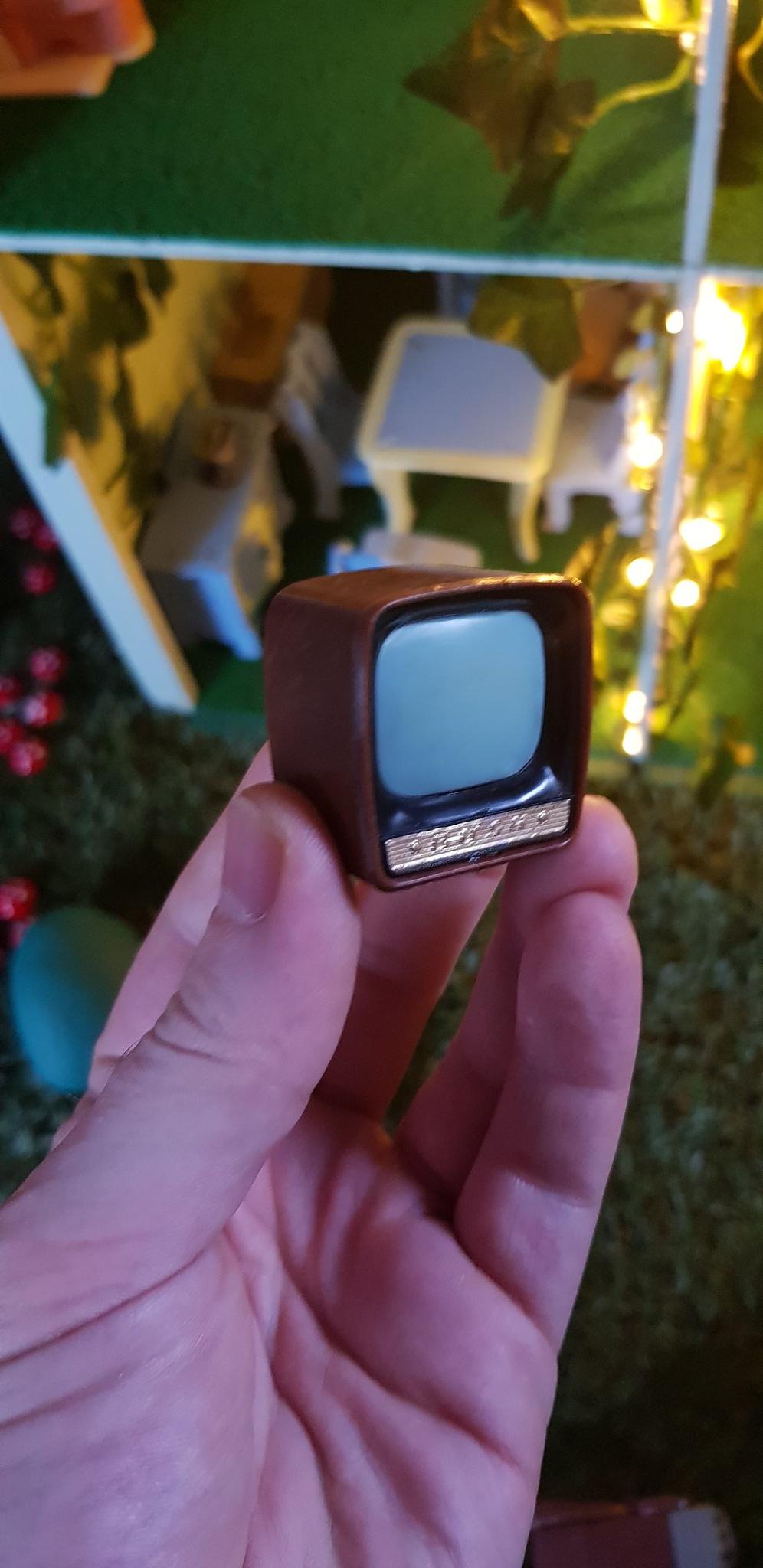 Many of the accessories were actually repurposed from the original dollhouse James's mom put together for her daughter 30 years ago, like this tiny vintage TV set. The new proprietor of this fairy mansion was so impressed, he called up his aunt in America to tell her all about it.
Deservedly, James's thread totally blew up on social media, garnering thousands of likes and retweets.
Article continues below advertisement
The fairy architect herself: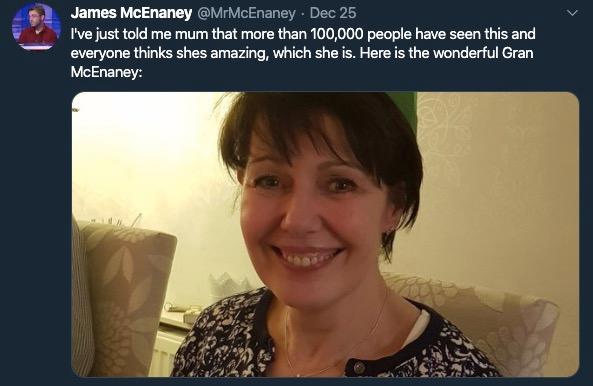 Gran is delighted that the internet loved her creation, but, of course, the opinion that matters most to her is that of her grandson. Just goes to show that the best gifts rarely come from a store. What makes this fairy house so special is that there's not another like it, and it was built with a love that says, "I see you."