Farm Sanctuary Connects Injured Animals to Kids With Special Needs
Safe In Austin is a farm sanctuary that helps kids with special needs by letting them interact with injured rescue animals.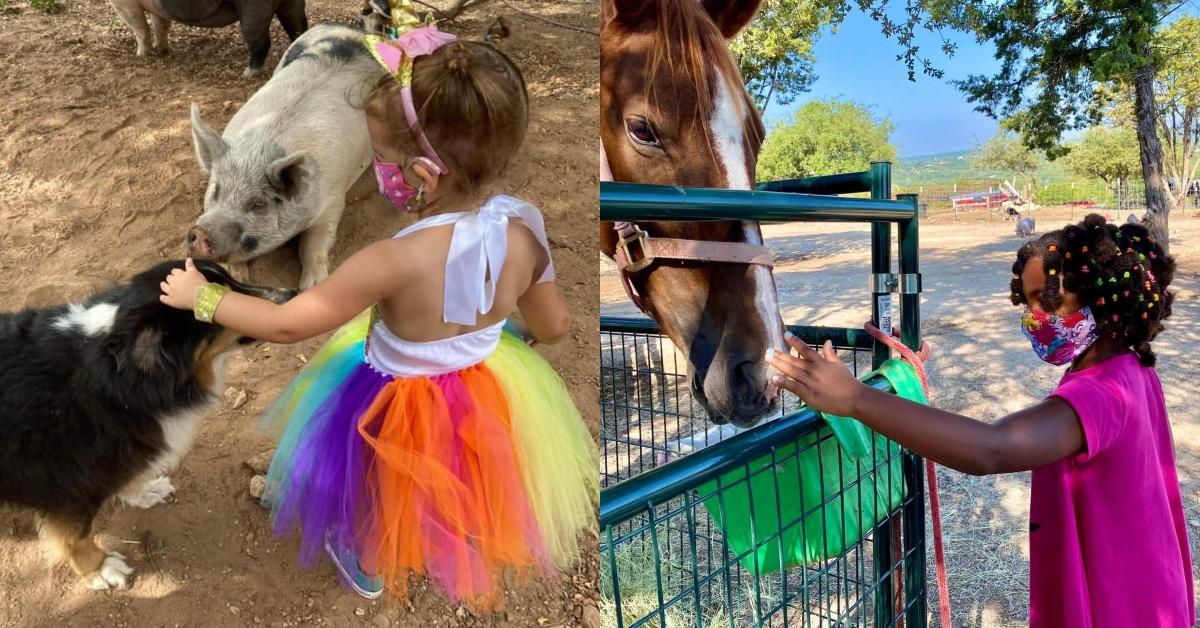 Safe in Austin is an Austin, Texas-based farm sanctuary that helps special-needs kids by connecting them with injured animals they've rescued. Farm owner Jamie Wallace-Griner was inspired to set up the sanctuary after seeing her autistic son interact with his service dog, Angel.
Article continues below advertisement
"Angel gave my son confidence and strength beyond anything I was capable of doing as his mother," she told the Washington Post. We saw a dramatic difference within weeks." So Jamie and her husband David decided to buy a farm.
Article continues below advertisement
Safe in Austin rescues animals from "severe abuse or neglect" and rehabilitates and rehomes however many they are able to, according to their website. "Once they are healthy enough and we have earned their trust, we introduce our rescues to children that come from similar backgrounds of abuse, neglect, and / or special needs," the website reads.
"Our animals provide healing to trauma, at-risk, and / or special-needs children by way of unconditional friendship and a clear, loving example of what they are looking for most...hope."
Article continues below advertisement
Wallace-Griner said, "We have animals that are blind or deaf, have diabetes, cerebral palsy, deformities, missing limbs, broken spines ... They all become part of our family." Right now there are more than 120 animals on the farm of lots of different species.
Safe in Austin recently gained some media attention because of Ruby Sue, a disabled baby cow that they adopted. Ruby Sue was born with her back legs fused together, but thanks to a custom wheelchair, she can now move around and play with the kids.
Article continues below advertisement
The farm opens up to visitors in several ways. There are Healing Hearts visits, open to families, special-needs classes, or extra needs groups who need "a healing space where you can meet and love on some rescue animals."
Article continues below advertisement
Before the pandemic, they also held Public Days, which were open to any and all people who wanted to get some animal snuggles in. Wallace-Griner also offers private tours where you are able to learn more about what goes in to rescuing and rehabilitating animals.
They're a nonprofit organization that relies on donations from these visits, so it has been a struggle, especially during the pandemic. "We're a very new nonprofit," Wallace-Griner said. "Our bank amount is limited to donations. As I said before, anyone is welcome here, no matter what. So we do not charge a fee ever to anybody that needs healing."
Article continues below advertisement
Recently, they've started holding events like the Fall Family Fun Fest, geared at spreading the word about what they do in the community and attracting more fans and visitors.
Article continues below advertisement
In addition to donating when you visit, you can also sponsor an animal and set up a monthly recurring donation to Safe in Austin. Their "Meet the Family" page shows you lots of their wonderful animals and explains each of their individual stories.
Head to Safe in Austin's website to learn more about this wonderful organization and find out how you can help give support!