Mailman Takes Adorable Selfies With Every Pet He Passes on His Route
Cristiano da Silva Antunes is basically an Instagram celeb because his pet selfies bring people so much joy.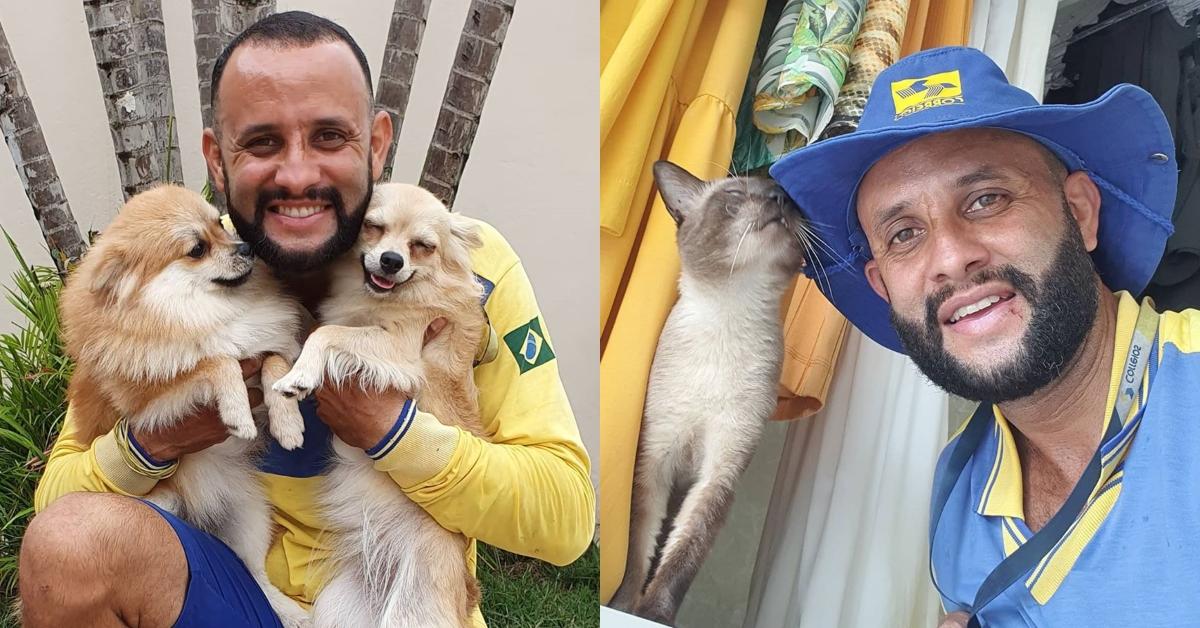 Mailmen and pets — specifically dogs — have a sordid reputation. Historically, they don't mix. Dogs chase mailmen away, or so the trope goes. But Cristiano da Silva Antunes is not your average, textbook mailman. Cristiano loves dogs and cats and animals of all kinds. And he encounters many on his mail delivery route. So, he started taking selfies with them.
Article continues below advertisement
Anytime Cristiano stops at a house with a pet, he stops for a picture! And in Sao Paulo, Brazil, where he lives, there are lots of pets. So Cristiano decided to start an Instagram account to house all his pet pictures.
It's called Carteiro Amigo Dos Animals, which translates to "Animal-Friendly Postman." And since 2018, when he started the account, he has garnered quite a fan base.
Article continues below advertisement
Cristiano has nearly 90,000 followers at this point. And every one of his posts earn thousands of likes and comments. After all, they are extremely adorable.
But humans aren't his only fans. The cats and dogs that Cristiano stops to take selfies with clearly absolutely love him. They all smile for the camera and are clearly so happy to see him.
Article continues below advertisement
I mean, look at that face! It doesn't get any cuter than that. Maybe the animals love Cristiano so much because he loves them back. Not only is he a friendly mailman. He also takes his love for animals to the next level.
In Cristiano's spare time, he also rescues animals he sees who are clearly in need. He brings them to the vet to get treatment. Once they're doing better, he enlists the help of some friends to foster the animals and then help them find forever homes.
Article continues below advertisement
In addition to posting pics of his mail route friends, Cristiano also updates his fans on the status of his rescues. It's gotten to the point where others will get in contact with Cristiano whenever they see an animal who clearly needs help. They know that he is the man for the job.
Can you even with this little Pomeranian? These two look like they've been best friends for years. They look like an unstoppable duo who always go shopping together and skip down the street holding hands and paws. This is too cute.
Article continues below advertisement
I can't tell if this cat is super into the photo or not, but Cristiano certainly is. Cristiano's caption makes it clear that he also wasn't sure whether this cute cat wanted to be in the photo, but he still loves cats anyway.
On the other hand, this pup looks like Cristiano just told the funniest joke. "Her smile was so big that I thought it wouldn't fit in the photo," wrote Cristiano in his Instagram caption.
Article continues below advertisement
Now these two are dance partners. They look like they've been doing this for years. But this kind of camaraderie doesn't happen overnight. Sometimes it takes a few trips of saying hi and letting them sniff his hand before the dogs and cats are comfortable being pet by Cristiano.
He doesn't want any of the animals to feel like he is scary or intruding on their space. Clearly, this kitty is just happy to have a friend and a large hat to rub up against.
I think it's safe to say that Cristiano is doing a whole lot to dispel the rumor that mailmen and dogs don't get along. He's the animal-loving letter carrier we never knew we needed but that we're so glad we have. If you follow him on Instagram, I promise your feed will get a little brighter.