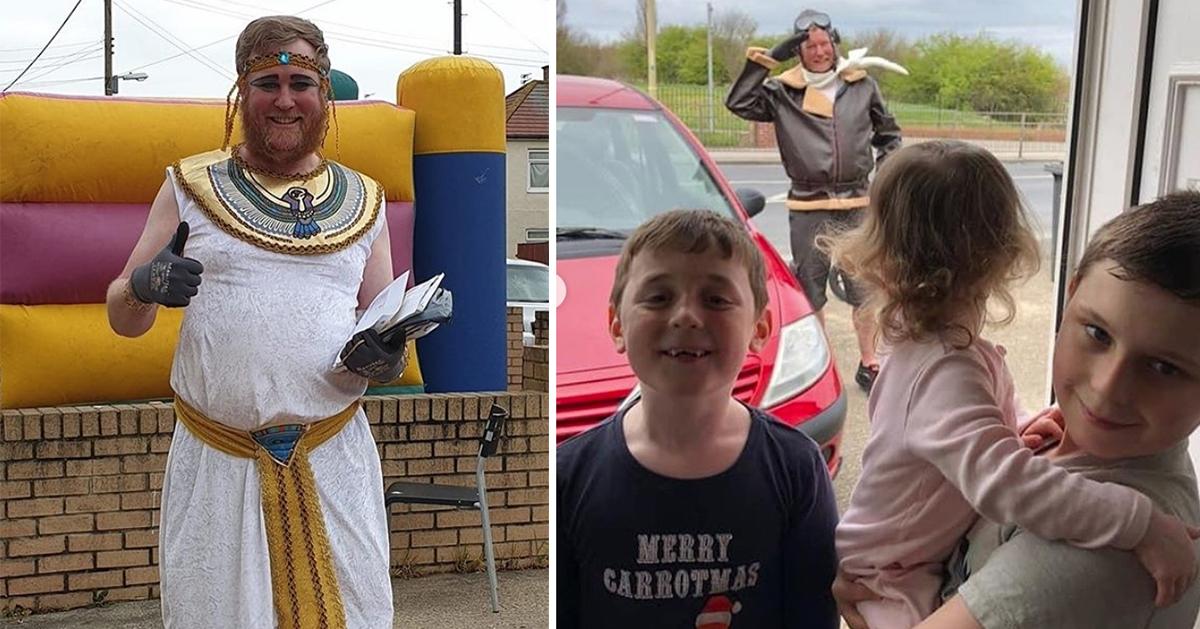 Mailman Wears Different Costume Every Day to Cheer up Kids During Lockdown
Depression and anxiety can be a major problem during a lockdown, but his mailman is doing his part to keep spirits high.
A mailman from Sunderland in the United Kingdom has found a creative way to bring cheer amid a global lockdown. After seeing the mood of people on his route deteriorate amid the lockdown, Jon Matson decided to dress up and bring some cheer.
Article continues below advertisement
Every day, Matson has been digging into his wardrobe to deliver mail as a cheerleader, Little Bo Peep, and even a gladiator. And since Matson takes part in a charity event every year, he has plenty of costumes to get through.
The 39-year-old and father-of-two told ITV News: "From doing my rounds every day I've got to know people well and I saw how their moods changed. I had a drawer full of outfits so I thought why not dress up and cheer them up."
Article continues below advertisement
While Matson had only planned to dress up a few times a week, word quickly got around the community and he's now doing it every day after being overwhelmed by the reaction of his customers and on social media.
Article continues below advertisement
"It's been fantastic," Matson said. "It's been so lovely to be able to bring a smile back to my customers' faces. After my first round as dressed as a cheerleader, the next day people were already out waiting before I even got there dressed as Little Bo Peep."
Article continues below advertisement
Matson explained that while he's concerned about contracting coronavirus, the dress up also helps him to keep his mind off it.
"Of course, as a key worker, I'm obviously worried about the coronavirus but that's always in the back of mind but I have to keep it there and carry on. By doing this and seeing my customers smiles it's helping me to keep my spirits up too."
Article continues below advertisement
And it seems to be helping locals, with Zoe Grant, who lives on Jon's postal route, telling ITV: "Being on lockdown is hard for all residents, not being able to go see family and friends is an emotional experience. Most people now only have the postman and his outfits to put a little cheer in their day. He's doing an amazing job keeping community spirits high and bringing a smile to the people of Boldon."
Article continues below advertisement
Commenters were also quick to praise Matson on his Instagram, where he's been posting daily pictures of his outfits. One user wrote: "Such an incredible idea by you! Keep it on! Cheers!"
While another added: "This is one of the best things I've seen. You've got a great heart."
Article continues below advertisement
Article continues below advertisement
The best way to prevent contracting or spreading coronavirus is with thorough hand washing and social distancing. If you feel you may be experiencing symptoms of coronavirus, which include persistent cough (usually dry), fever, shortness of breath, and fatigue, please call your doctor before going to get tested. For comprehensive resources and updates, visit the CDC website. If you are experiencing anxiety about the virus, seek out mental health support from your provider or visit NAMI.org.