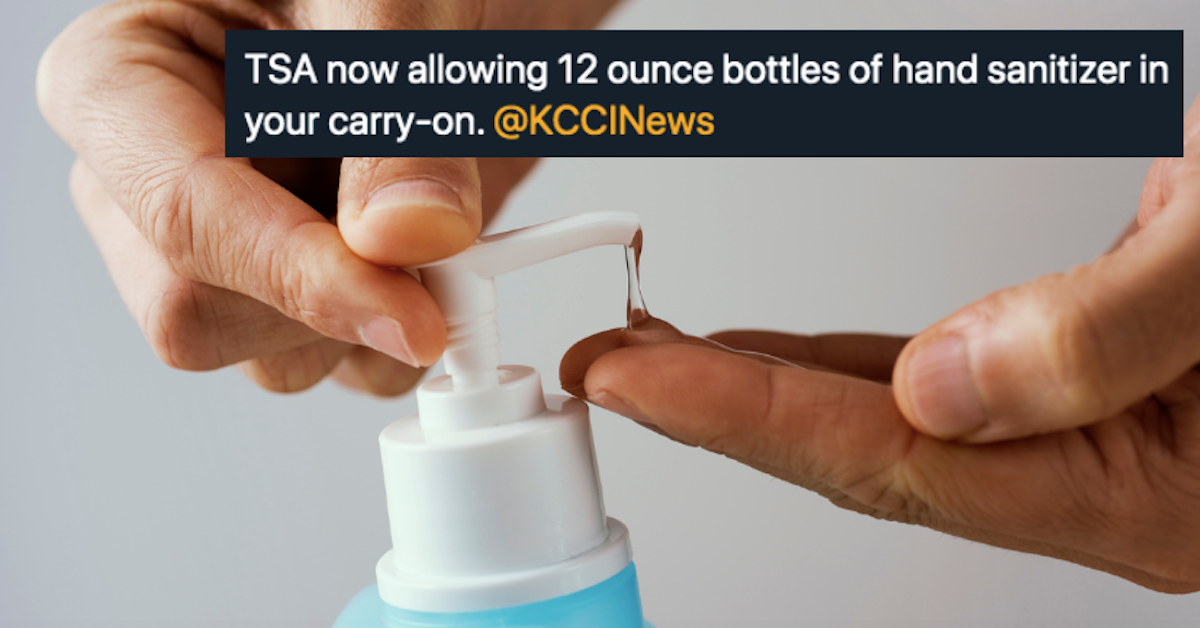 10 Policies the Coronavirus Has Proven to Be Completely Arbitrary
Suddenly, kids will be offered free meals from schools and you can bring 12 oz. containers of hand sanitizer on planes. Interesting.
The coronavirus pandemic has people hunkering down in their homes, businesses closing left and right, and governments trying to make the best decisions for the greatest number of people.
It's hard. When businesses shut down, people lose work and money. This unprecedented situation has led to the reversal or halting of many public policies that we've just sort of accepted as the norm until now.
Local, state, and the federal government are making allowances and shifting policies in real time to allow for our new reality, but in the process, they've revealed that many of these operating procedures, which are by and large designed to take advantage of the vulnerable and punish the poor, are so easy to get rid of. It's so simple to support the people who need help most, and this pandemic response suggests that we haven't been doing it this whole time because, well, the privileged few just didn't wanna.
Twitter user Francis Tseng has been collecting examples of this phenomenon in a thread that has quickly gone viral. Here are some of the standouts.
Article continues below advertisement
TSA regulations
I have been transferring all my liquids to 3 oz. containers pretty much ever since I've started flying, and just like that, the rule goes out the window. This is undeniable proof that TSA is just "security theater." None of it really matters or makes sense. We've all been dutifully taking off our shoes and buying travel-sized shampoo for no reason. Cool. Cool, cool, cool.
Arrests for minor offenses
You know another time this would be a good policy? Always. Our jails and prisons are overcrowded and corrupt and racist and we could reform the system and keep nonviolent offenders out of jail on a regular basis, not just when a pandemic rages through our country. At least the anger this is causing is distracting me from how scary everything is.
Article continues below advertisement
Lack of shelter for unhomed populations
It has taken a pandemic for the governor of California to take any comprehensive step toward finding housing for the state's unhomed population. This exact step (and many others) could have been taken before there was a virus sweeping through the streets, but the state waited until there was a threat to wealthy and privileged people to take action instead.
Make no mistake; they're not doing this out of genuine care for those without homes. If they did care, they would have done something a long time ago.
Article continues below advertisement
Lunch for students
It's the same case with these hand-washing stations and with providing children free school lunches. No kid should go hungry, but it took the coronavirus for officials to give hungry kids food. It was so easy to do!
Let's hope that when we start to return to normal, people fight to keep these policies in place. Lunch debt should not be a thing.
Article continues below advertisement
Data caps
Huh. It's almost like the internet should be a public utility, free and accessible for all. It's almost like capping people's data was an arbitrary way to ensure people who don't have loads of disposable income can't have the same access and privileges wealthier people enjoy.
Vice reports, "Telecom experts told Motherboard this morning that broadband caps and overage feeds don't serve any real technical purpose." They're just a scheme to exploit people! Awesome!
Article continues below advertisement
Internet service cancelation
Likewise, major internet providers have agreed not to suspend the service of those consumers who are unable to pay their bills. It would be so easy for the internet to become free for all. We're so close I can feel it! Let's just extend that 60 days to... forever!
Article continues below advertisement
Stops in service for unpaid utility bills
People have already been living without water and electricity due to their inability to pay bills. Why would the coronavirus crisis suddenly cause cities to start turning these services back on regardless of whether or not the bills have been paid?
Oh right. Because it's OK to treat people inhumanely until it becomes too obvious that's what you're doing.
Article continues below advertisement
Evictions
Similarly, cities and counties all over the United States are freezing evictions in light of this pandemic, and that's good. Very necessary. So many people are losing their jobs because of this virus and won't be able to pay their rent.
However, evictions aren't waived in other crises, such as when individuals get sick with cancer or other illnesses that prevent them from working. We should always operate with a sense of compassion and understanding.
Article continues below advertisement
Cleaning public spaces
Cities like New York proudly exclaimed that because of the coronavirus, they would be deep-cleaning public spaces like subway stations every two days. This led people to question whether these spaces were getting cleaned at all before this. Have you ever been in a NYC subway station? They certainly don't normally look like they've ever been sprayed with disinfectant.
Article continues below advertisement
Student loan interest
Huh. The president can just snap their fingers and waive federal student loan interest. Huh. Interesting. You know what else I bet they could do if they tried? They could just cancel all student debt. Forever. Period. Just like that. Really makes you think, doesn't it?
Article continues below advertisement
The best way to prevent contracting or spreading coronavirus is with thorough hand washing and social distancing. If you feel you may be experiencing symptoms of coronavirus, which include persistent cough (usually dry), fever, shortness of breath, and fatigue, please call your doctor before going to get tested. For comprehensive resources and updates, visit the CDC website. If you are experiencing anxiety about the virus, seek out mental health support from your provider or visit NAMI.org.