Taco Bell Onesies, Queso Candles, and Popeyes Art for the Fast Food Aficionado in Your Life
For your boyfriend who loves cheeseburgers, dad who loves burritos, or your sister who loves queso, check out these fast food gifts anyone would love.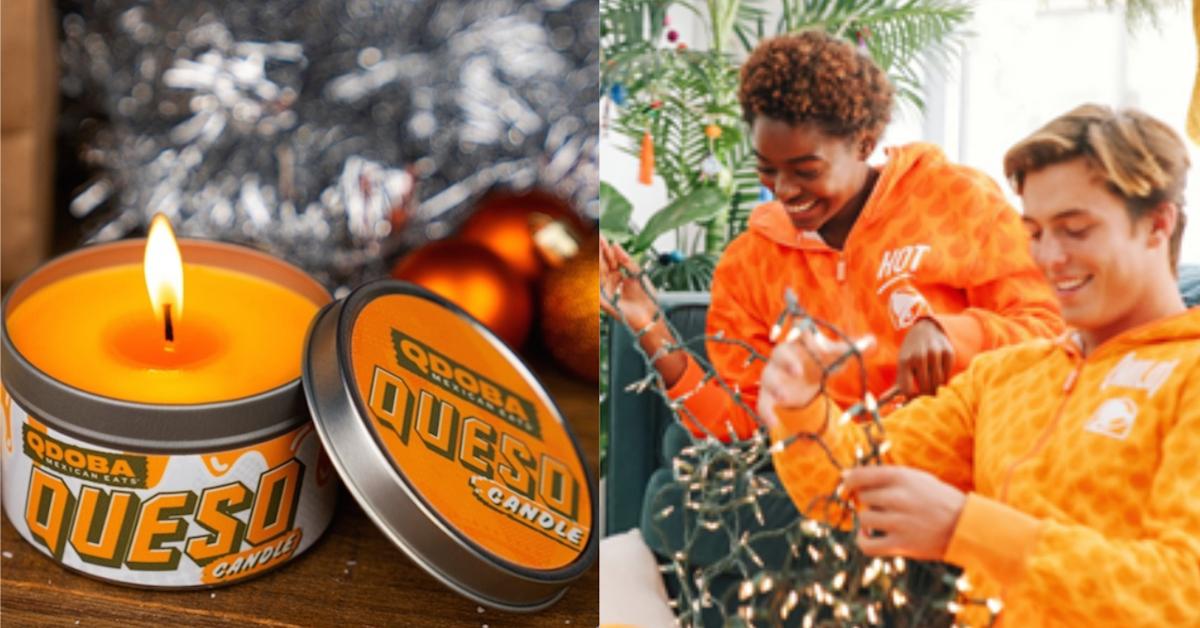 Buying gifts for your friends and family can be undeniably difficult, but for the token fast food enthusiast in your life, we've rounded up the best fast food-themed gifts. From Taco Bell snow globes, to McDonald's popsockets, and – of course — fried chicken-scented logs, there are so many delectable presents that are guaranteed to bring joy to your beloved fast food fanatics.
Fast food gifts for everyone in your life.
So before you consider heading to the mall to roam for hours on end. Just prepare to send all your friends straight to Flavor Town.
Article continues below advertisement
1. Taco Bell Onesies, Snow Globes, Ornaments, Inflatable Lawn Decorations, and MORE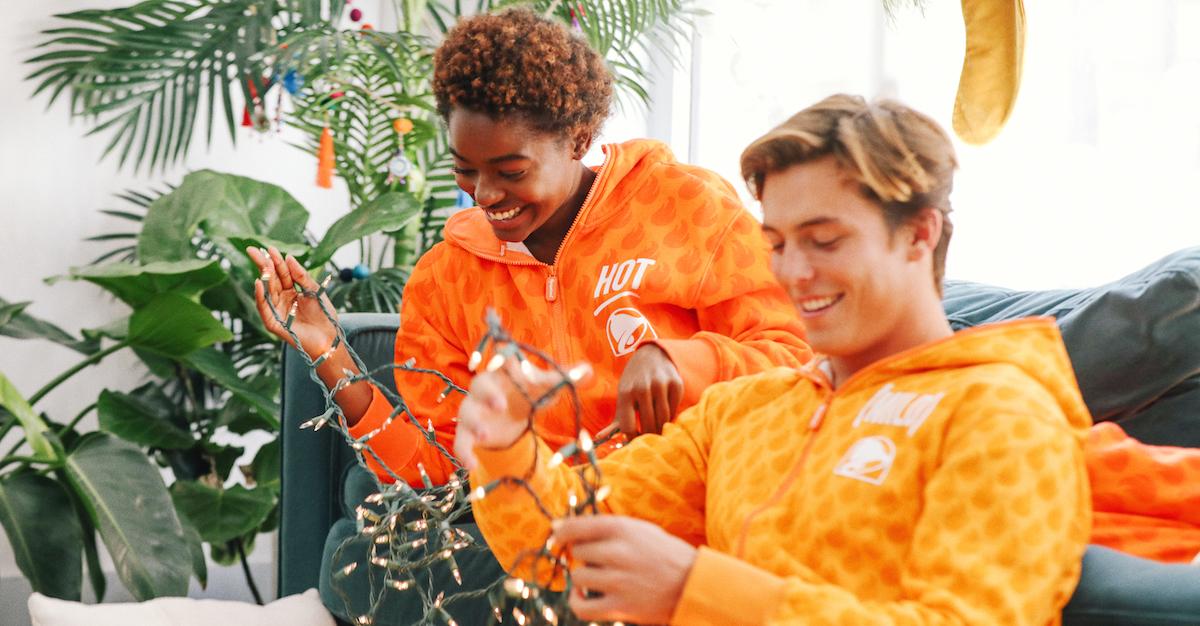 On Taco Bell's online holiday shop, you can find onesies for $79.95, a snow globe for $30, ornament sets for $20, and an inflatable fire sauce packet for $200. According to the brand, there is also a variety of sweatshirts, pajama sets, tees, blankets, pillows, necklaces, and tie clips. It's definitely worth looking into for your salsa-lovin' boo.
2. KFC's Fried Chicken-Scented Logs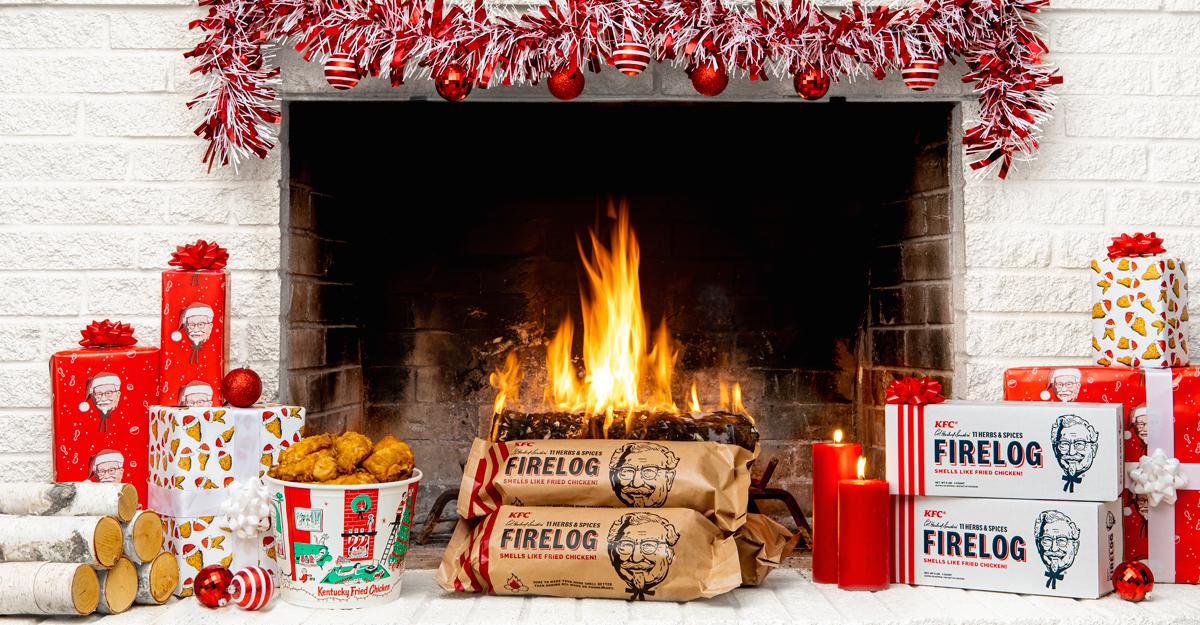 For $18.99 on KFC's website, you can buy a fried chicken-scented fire log, according to the brand. That's right — it accurately emulates the scent of KFC's 11 herbs and spices, and if your mom is half as obsessed with the Colonel as mine is, this will definitely be at the top of her Christmas list this year.
Article continues below advertisement
3. Popeyes' Chicken Sandwich Art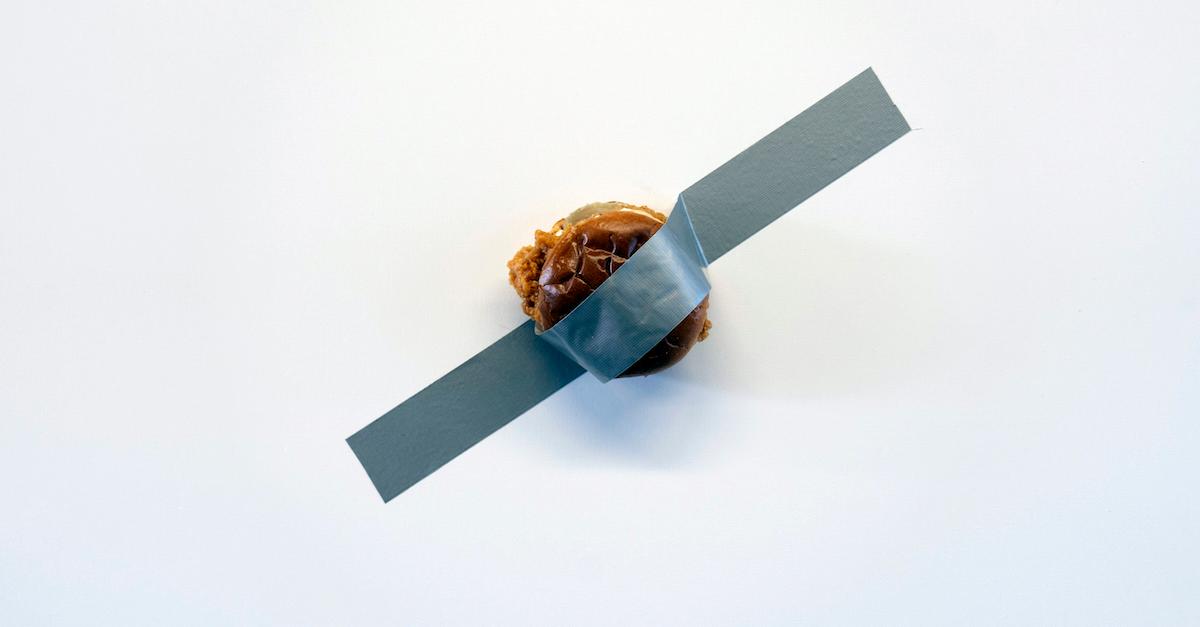 Art is seriously priceless, so you'll be happy to hear Popeyes partnered with San Paul Gallery Urban Art to display the chain's beloved chicken sandwich duct taped to a canvas. The piece, called "The Sandwich" costs $120,003.99, and all proceeds will go to the POPEYES Foundation to combat world hunger.
Article continues below advertisement
4. QDOBA's Queso-Scented Candle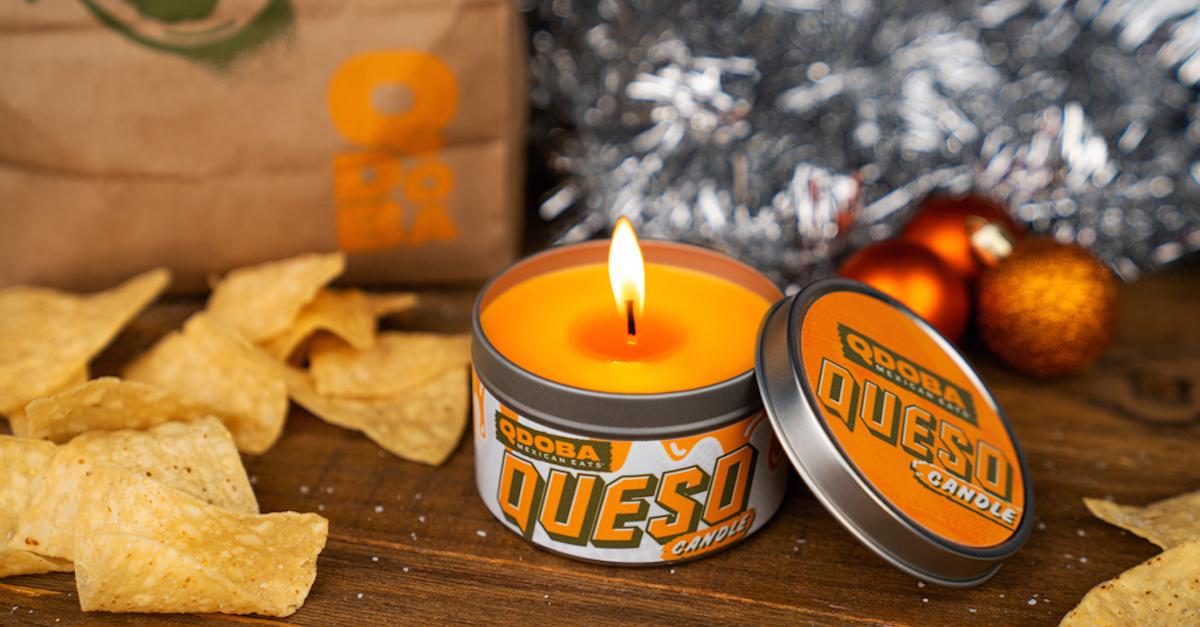 QDOBA Mexican Eats just released a limited-edition Queso Candle, to make your entire home smell like three-cheese queso. They cost $10 each on Qdoba's online shop — just make sure you don't dip your chips in it.
Article continues below advertisement
5. Chipotle's Free Burrito Codes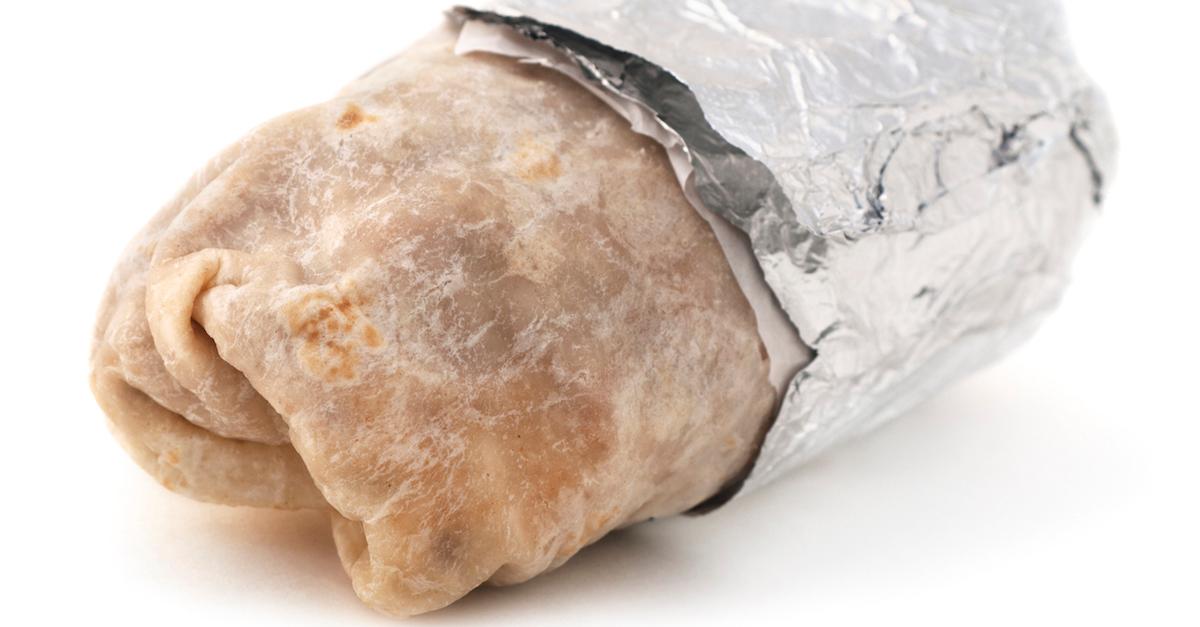 From Dec. 9 through Dec. 13, Chipotle is offering fans the chance to win a free burrito via Instagram, according to the brand. The first 500 people to text the code to 888-222 will be gifted a free entrée, and if you end up gifting your freebie, it's bound to make your co-worker's day (and especially their lunch hour).
Article continues below advertisement
6. McDonald's Tees, Meal Pins, and Popsockets
If you just can't stay away from those Golden Arches, make sure to peruse McDonald's permanent merch shop — from beanies to ornaments, sweaters, bags, pins, and popsockets — there are so many mouth-watering offerings. And aside from the $65 sweater, most of the items are under $30.
Article continues below advertisement
7. 7-Eleven Limited-Edition Slurpee Cups
7-Eleven is offering limited-edition to-go cups that get you unlimited Slurpee, Big Gulp, or coffee refills through Dec. 31, 2020. They're exclusively available on the 7-Eleven website for one day only, starting Dec. 11 at 12 p.m. ET for $129.00 each. That would make your daily cuppa cost only 35 cents until the deal ends.
Article continues below advertisement
8. Red Lobster's Holiday Sweater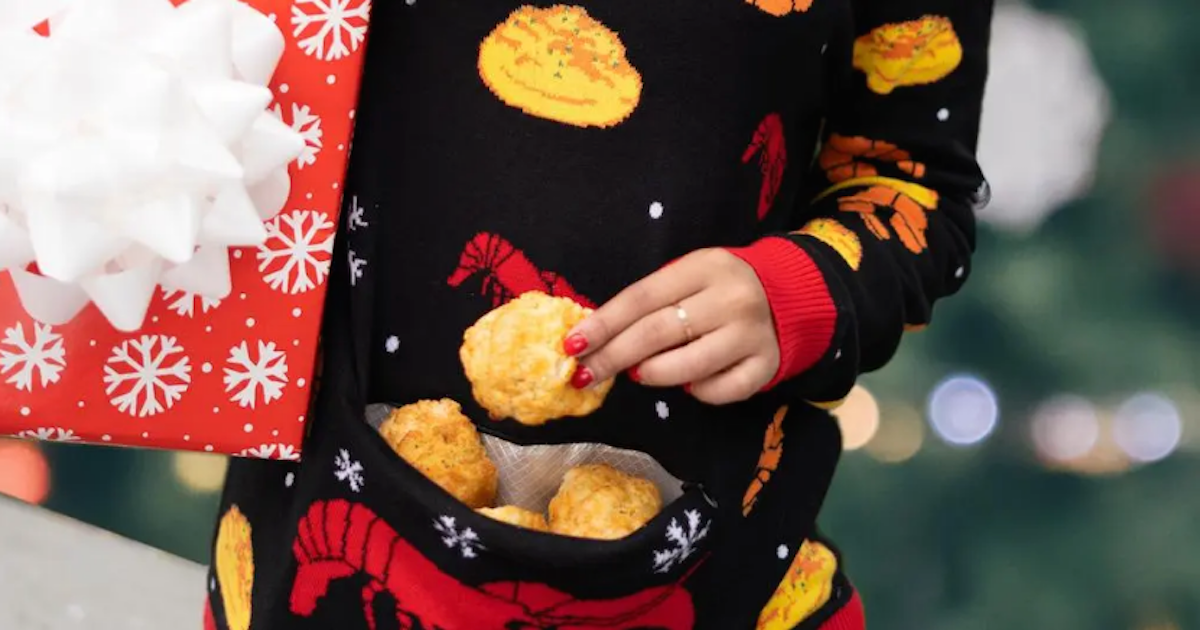 Since Cheddar Bay Biscuits are life, check out Red Lobster's limited edition holiday sweater available on their website for $39.99. The print features Red Lobster's classic offerings, and boasts a built-in insulated pocket for keeping your biscuits fresh and warm.
Article continues below advertisement
9. Del Taco Wrapping Paper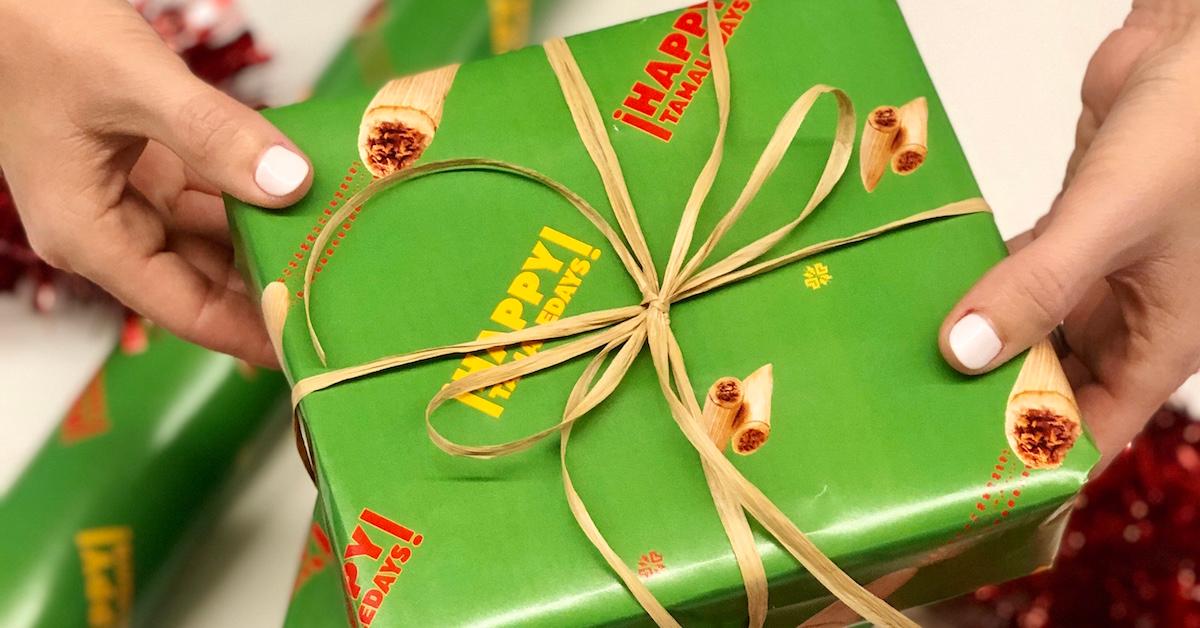 With the release of shredded pork tamales, Del Taco is unleashing limited edition holiday wrapping paper. As of Dec. 18, it will be available for purchase online. Featuring a green and red tamales pattern, its festive and delicious.
Article continues below advertisement
10.
Fast food-themed gifts are all the rage this season — from Red Lobster sweaters to McDonald's beanies, your greasy gift options are incredibly plentiful. Just warn your loved ones to eat before that highly anticipated gift exchange, because these are guaranteed to make some mouths water.