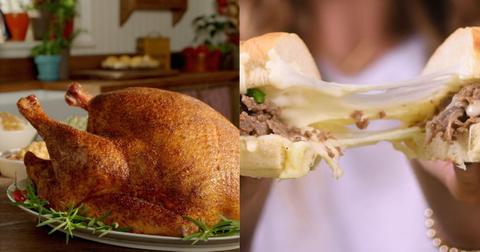 Fast Food On Thanksgiving? Don't Mind If I Do
By Lizzy Rosenberg

Updated
When Thanksgiving comes to mind, you might think of an extremely labor-intensive day, filled with cleaning, family commitments, and — most importantly — cooking.
And while I'm a big fan of making home-cooked meals, sometimes preparing a ton of food for a massive crowd sounds truly daunting. So if you're looking to supplement your holiday feast with some extra goodies, these Thanksgiving fast food deals will make your life so much easier.
Article continues below advertisement
1. Hardee's 'Thanksgiving in a Box'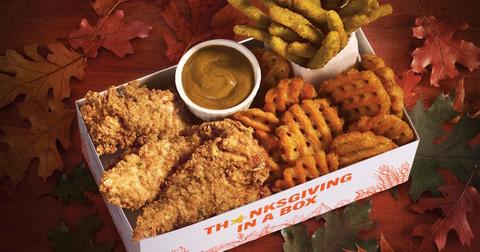 If you happen to be located in Jacksonville, Fla., Hardee's has a festive treat for your feast.
From Wednesday, Nov. 13 to Dec. 3, participating restaurant locations will be offering "Thanksgiving in a Box," an eclectic assortment of Thanksgiving-themed bites including: Stuffing Tenders (chicken breaded in sage and herb stuffing), Sweet Potato Waffle Fries, Toasted Onion Coated Green Beans, and Savory Chicken Gravy. Each box costs $6.99 and will be available while supplies last.
Article continues below advertisement
2. Taco Bell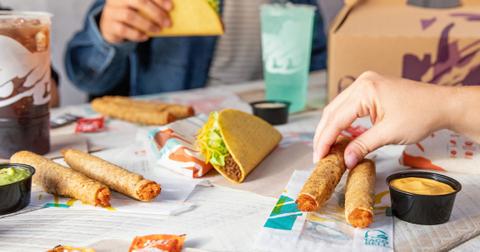 Just in time for the holidays, Taco Bell is gracing fans with Rolled Chicken Tacos Party Packs. Starting Nov. 21, they will be available for Grubhub orders over $12. Each pack includes six Rolled Chicken Tacos and six Crunchy Tacos, with your choice of Spicy Ranch, nacho cheese, or guacamole for dipping.
To be completely honest, this is truly a holiday blessing... especially if cooking a 30-pound turkey isn't in the cards this year.
Article continues below advertisement
3. Popeyes' Cajun Style Turkey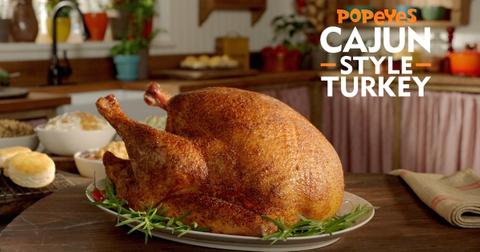 Popeyes is bringing back it's pre-cooked and already-seasoned Cajun Style Turkey. Each bird weighs between 13 and 16 pounds, with prices starting at $39.99, but you'll want to pre-order ahead while supplies last.
Once you have your turkey, the chain recommends heating it up at 300 degrees Fahrenheit for 2 to 2.5 hours until its internal temperature reaches 140 degrees Fahrenheit. Let it cool for 20 minutes before carving and save the drippings as gravy, if desired.
Article continues below advertisement
4. QDOBA
While the Tex Mex chain isn't serving up any sort of deals on its queso — per se — QDOBA recommends alleviating your Thanksgiving Day stress by serving QDOBA queso to your guests. And honestly, I am so on board with that.
I mean, think about it — QDOBA queso is free with any purchase, and it makes for an excellent appetizer, or even as a side dish. Smother your taters or douse your green bean casserole in queso. Either way, it'll make for a tasty freakin' meal.
Article continues below advertisement
5. Subway's Cheesy Garlic Bread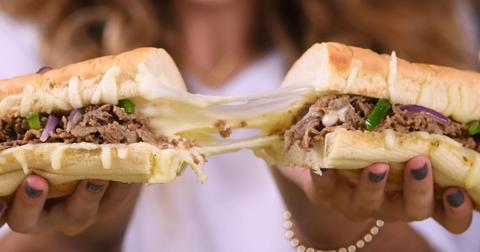 Subway is bringing back its ever-popular Cheesy Garlic Bread, which was tested last year in 2018. But now through Dec. 31, guests can get in on that garlicky goodness, meaning it's bound to be the star of your Thanksgiving spread.
Additionally, Subway is offering free delivery between Nov. 24 and Nov. 30, in case any turkeys are burned during your chaotic Thanksgiving prep... some solid backup, if you ask me.
Article continues below advertisement
6. Free Late Night McDelivery To Fuel Pre-Thanksgiving Fun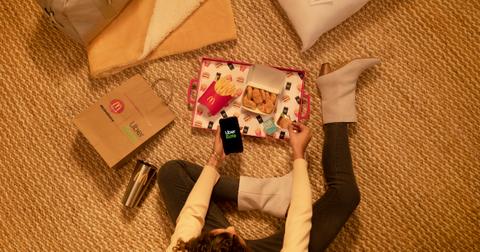 From Nov. 27 to Dec. 2, Uber Eats customers can order free McDonald's delivery, per the brand, to fuel any and all late-night holiday-at-home shenanigans.
Additionally, during the above dates, one McDelivery fan can win one a year of free late-night McDelivery through Uber Eats for a year, and 50 runner-ups can snag a "late-night weekender bag" with all hangover essentials. To win, tweet your go-to McDonald's order and tag #McDelivery, #Sweepstakes, @McDonalds, @UberEats.
Article continues below advertisement
7.
Home-cooked meals on Thanksgiving are great, but a little fast food to supplement your feast never hurt nobody. Bless your guests with a Hardee's Thanksgiving box, Taco Bell's Rolled Chicken Taco Party Packs, an entire Popeyes Turkey, some QDOBA Queso, or even some Subway Cheesy Garlic Bread.
Regardless of what you choose, there are so many options out there. There's no doubt in my mind your friends and family well-fed this holiday season, so prepare yourself for a massive food coma.