How to Dress Up Like Your Fave Fast Food Items, Inspired by Taco Bell's Costumes
Taco Bell's hot sauce packet costumes have gone viral, so here are five fast food Halloween costumes so you can dress like your favorite food.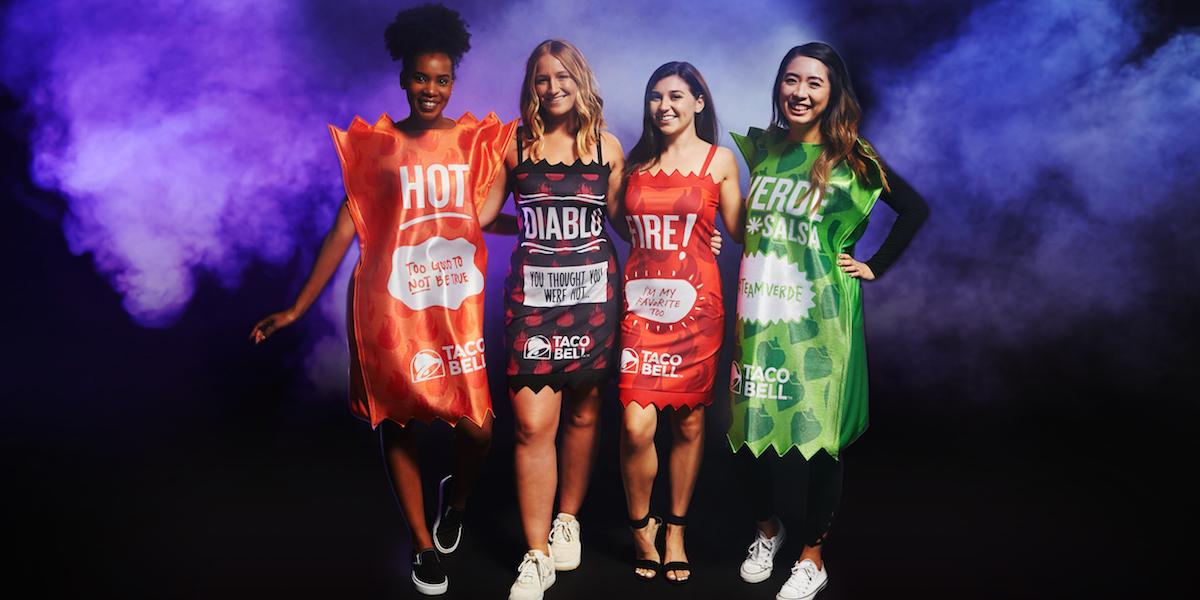 Taco Bell's Hot Sauce Packet costumes have gone viral amongst Tex Mex enthusiasts and hungry Halloween fanatics alike. For $39.99 you can dress up as your fave sauce, for $44.99 you can be a Cheesy Gordita Crunch, and for $24.99 you can snag a seven-layer burrito costume for a baby. It's a foodie's dream.
Since you are what you eat, though, finding a fast food costume that accurately portrays your diet is vital. So here are five fast food Halloween costume ideas that are bound to tickle your fancy.
These fast food Halloween costumes are *almost* good enough to eat.
Article continues below advertisement
1. Burger King's Impossible Whopper
To dress up like Burger King's new meatless staple, start out by locating a burger costume on Amazon. Then, take a white flag, write "IMPOSSIBLE" on it, and — most importantly — pick up a BK crown from your nearest Burger King location.
It's the perfect highly relevant costume idea... plus, you're advocating for meatless Mondays, and that's rad.
2. Pizza Hut's Stuffed Crust Pizza
Stuffed crust is obviously the best kind of crust — no ifs, ands, or buts. So, this Halloween, follow your cheesiest dreams and transform an old pizza costume into your favorite Pizza Hut staple.
Start out by buying a pizza costume on Amazon. You've definitely seen them before — at least one person in college always dressed up as the cheesy delicacy. But you'll take things a step further by attaching off-white ribbons to the crust to look like cheese. You'll give off stuffed crust vibes in no time.
Article continues below advertisement
3. Chipotle Guac
Yes, yes, we know Chipotle guac is extra, but as usual we're getting it anyway. And luckily, dressing up as the elusive topping is so simple.
Start out by finding an avocado costume from Amazon. Then, make or buy a sign that says "extra." While Chipotle's guac fee is a major inconvenience, everyone is bound to recognize your costume — it's just too good.
Article continues below advertisement
4. Wendy from, well, Wendy's
OK, guys, this one is totally simple. Start out by finding a basic Pippi Longstocking costume on Amazon. Then, either go to Wendy's and buy a burger like the one above. Or, alternatively, make one at home. Square burgers, however, are preferred, since it's Wendy's we're talking about.
Once you have the burger, you're all set. There's no doubt in my mind you'll be the most popular person wherever you decide to spend Halloween... you're guaranteed to smell delicious.
Article continues below advertisement
5. Popeyes' Chicken Sandwich
While the Popeyes Chicken Sandwich was short-lived, it can still live on through your Halloween costume. Start out by choosing a Popeye the Sailor costume from Amazon. Then, take a chicken sandwich with you, or tape a photo of a chicken sandwich to your shirt. Once again, the relevance factor is out of this world.
Fast food costumes are all the rage this Halloween. And whether you buy one of Taco Bell's or DIY is entirely up to you. Either way, you're about to pull off a truly delicious 'fit this year.