Fence Lady TikTok Drama Explained — Team Fence Lady for Life
It's really hard to love thy neighbor when one is trying to remove your fence while the other spreads half-truths via social media. Details ahead.
Mister Rogers really taught a few generations of kids about what it means to be a good neighbor and by extension, a good person. Sometimes I think about what an episode of Mister Rogers' Neighborhood would look like today. Social media would probably dominate every show and in particular, how people have weaponized it.
Article continues below advertisement
Based on watching his show as a child, and revisiting it as an adult, I feel confident when I say he would not be a fan of social media. The kindness that he preached on his show would go against the rage regularly found on platforms like TikTok. At the risk of depressing myself, I'm not sure Mister Rogers would be able to reach today's youth. Could he have helped Tiffany Mraj (@tiffanymraj) and a woman known as fence lady, as they publicly battled about a fence that separates their houses? Decide for yourself.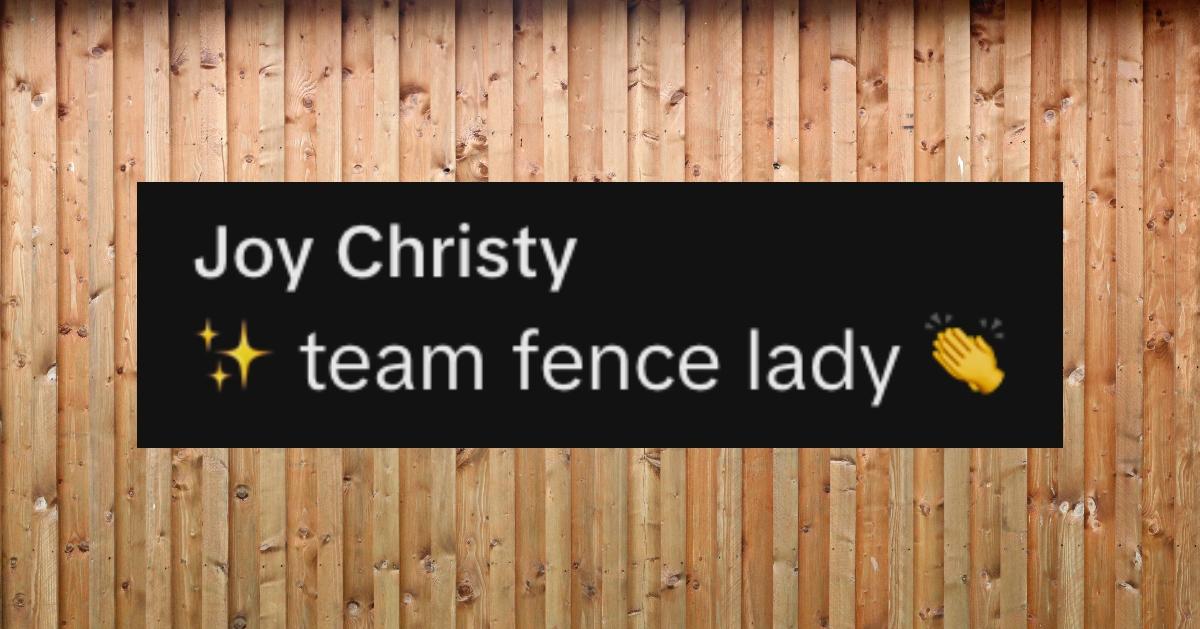 Article continues below advertisement
There are two sides to every story. Here is Tiffany's.
In a series of now-deleted TikToks, a young woman from Toronto by the name of Tiffany Mraj documented her neighbor cutting down a fence that separated her home from Tiffany's parents. Some of these TikToks were captured by @soogia1 on TikTok, who had much to say on the matter.
"Our neighbor has taken our fence down without any papers," claims a caption over video of said fence being removed. Tiffany goes on to say, "She has threatened our contractors and has caused chaos in the neighborhood. This needs to STOP." Admittedly, the video is damning as Soogia points out.
Article continues below advertisement
According to Soogia, the video is meant to make people believe that Tiffany's neighbor is "out of her mind." In another video, Tiffany's sister and the neighbor get into a bit of a scuffle. The sister is heard yelling, "Stop cutting the fence! What the f--- are you doing?" as a foot comes through the fence, pushing it down.
Article continues below advertisement
The neighbor is yelling at Tiffany's sister about her property so the sister goes over to the other side, while filming. It looks as if the neighbor tries to grab the phone while the sister is screaming about being a minor, as if that matters. Young people can be awful too. This is the narrative Tiffany was peddling. Her neighbor is irrational. Their family is the victim.
Welcome to the other side of the story by way of the 'fence lady.'
It's important to note that the neighbor, who begins calling herself "fence lady," is an older Chinese woman who speaks English as a second language. "I am the fence lady," she says in her first TikTok. "I want to use this opportunity to tell my side." And boy does she ever.
Article continues below advertisement
Fence lady cuts to a video she recorded earlier that morning showing that Tiffany's parents' fence is "blocking the pathway" on fence lady's property. It's so close to her house, she isn't able to squeeze by and can't get to an AC unit in her window, which she needs to remove. She couldn't fully install the drain for the AC because the fence is mere inches away.
Article continues below advertisement
"This has caused me a lot of pain," she shares. "I have tried to communicate with them many times. According to a survey from the government, this fence is on my property." Fence lady delivered a letter to their home on April 29, 2023, kindly asking Tiffany's parents to move the fence. On May 15, 2023 she got a letter from their lawyer stating their plan was to take her to court. The letter claimed she was "harassing them." At this point in the video, Tiffany's sister begins spraying fence lady with their hose.
Article continues below advertisement
Is this the end of the story?
What Tiffany didn't bank on was the fact that despite being older and not speaking English very well, fence lady was fully capable of sharing some TikToks of her own. Tiffany clearly thought that telling only her part of the story was gonna get her some clout. It didn't work. In another deleted TikTok, she pleaded with the public to leave her alone. Soogia caught that TikTok as well.
The cognitive dissonance displayed by Tiffany is shocking. Her family has been targeted, writes Tiffany in a TikTok. What was Tiffany hoping to accomplish when she shared her original TikTok videos? Tiffany is making a string of excuses and is "victimizing herself," says Soogia. "The only reason anybody knows about this, Tiffany, is because of you," Soogia reminds her.
Article continues below advertisement
Soogia also addressed several things that Tiffany conveniently left out, beyond the fence being on fence lady's property line and the hose incident. Her sister made a racist comment to fence lady. "Learn English, then come back to me. How about that," says the sister. These omissions have made Tiffany an unreliable narrator which means her pleas for help are garbage.
In one last video, fence lady asked Tiffany to delete all of her personal information from social media and to Tiffany's low bar credit, she did. What Soogia points out is one of the reasons Tiffany and her family thought they could get away with this is because fence lady is an older immigrant whose English isn't great. What Tiffany did was "underestimate the sense of self-worth and intelligence" that immigrants have. "I'm happy to see it blow up in Tiffany's f------ face," said Soogia. Honestly, same.