Neighbor Caught on Doorbell Camera Wrongfully Accusing Woman of Stealing Chick-Fil-a
A woman uploaded doorbell camera footage of her neighbor accusing her of stealing a Chick-fil-A delivery: she didn't.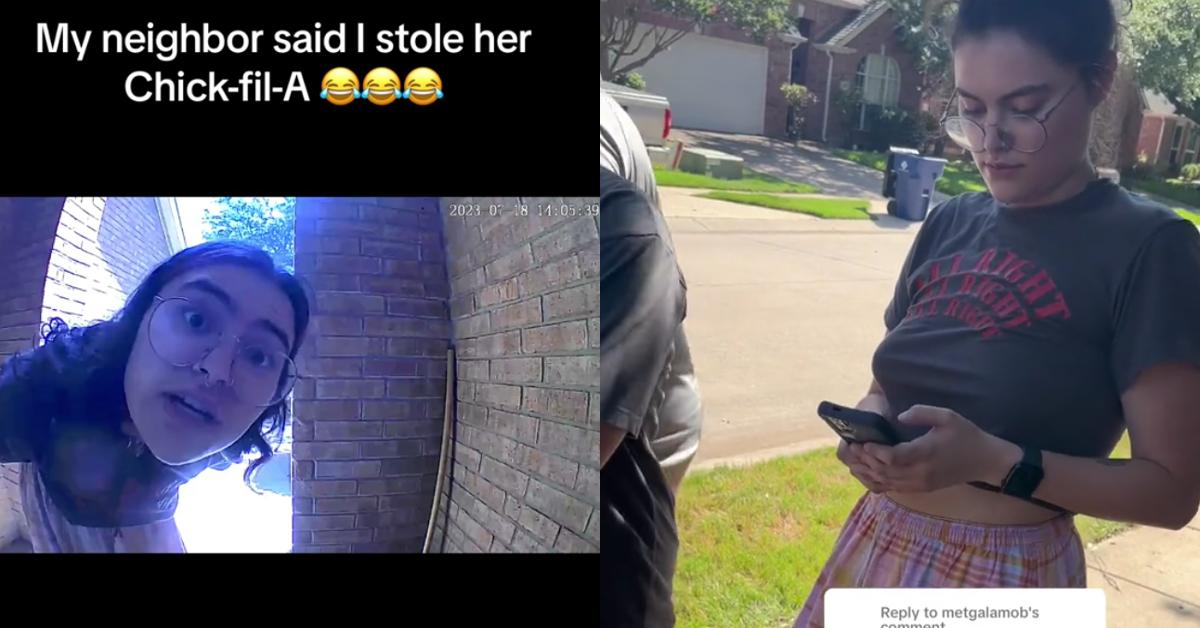 "Hanger" is a widespread problem among many folks. In fact, CBS News Minnesota reported that 75% of Americans have admitted to becoming "hangry" five times a week.
Article continues below advertisement
If you're not familiar with the term: it basically is a play on the words "hunger" and "anger," and describes the mood shift many folks experience when they haven't had something to eat in a while, resulting in them having a short fuse and becoming somewhat testy with those around them when their tummies are grumbling.
Article continues below advertisement
And it seems like one TikToker captured their neighbor experiencing a fit of hanger in a viral clip that they uploaded of their neighbor's reaction to discovering that their Chick-fil-A hadn't been delivered to their home.
Article continues below advertisement
In the clip uploaded by Amber Broughton (@bodiedbyamber) she writes that the woman "said [she] stole her Chick-fil-a," and uploaded doorbell camera footage of her outburst onto social media.
The neighbor angrily knocks on the door and rings the doorbell several times, while cursing out Amber and the folks who live in her home as well.
Article continues below advertisement
There's a quick cut in the clip and the neighbor bends down to look into the doorbell camera's lens while shouting angrily, "Taking other people's food? F----- losers."
Article continues below advertisement
After her outburst she walks away from the home to someone who was standing back, presumably a friend or partner of hers.
In a follow-up clip, Amber dishes out some more information on what went down with the food theft accusations, remarking that the grub the woman was so irate over wasn't even hers — it was another neighbor's meal.
She highlights that the food delivery service was the one in error, and that the next door neighbors' clarified that everything was "cool" between them and Amber.
In another clip, Amber uploaded her confronting the neighbor for what sounded like a threat at the end of the doorbell-footage clip.
Article continues below advertisement
Amber addresses' the woman about this threat, referencing her vow to "do something to them one day."
"You said it on the Ring camera," Amber can be heard yelling at the woman, interrogating her about her outburst.
What's more is that it seems like the Chick-fil-A accuser ended up getting her parents to intervene on her behalf to talk it out with Amber.
Article continues below advertisement
After some back and forth, the woman who accused Amber and her family of stealing a neighbor's food ends up grabbing her mother by the arm and dragging her away from the verbal altercation. One TikTok commenter remarked that they thought the father in the scenario seemed "embarrassed" by their behavior.
One TikToker who responded to the first video said that they encountered a similar situation with someone they lived next to: "2 years ago my neighbor did the same I told him he knows I know better that if he wanted to come in and check he could but if he did I'd get to"
Article continues below advertisement
Another person couldn't believe someone would be so up-in-arms over Chick-fil-A, even if it was the woman's food that got stolen: "all for sum damn chick fil a which she could refund"

Article continues below advertisement
One TikToker echoed this sentiment: "Banging on someone door and making threats is crazzzyyyyy.."
While another couldn't believe that the young woman would treat her mother in such a manner: "If I ever grabbed my mom like that she would beat my ass and let the neighbor finish it"
There was another person who thought that Amber's strong stance against the neighbor and calling her out for her behavior was the right thing to do: "Good for you for calling her out on her bs. Coming up to your home like that over chick fil a, how embarrassing"
Article continues below advertisement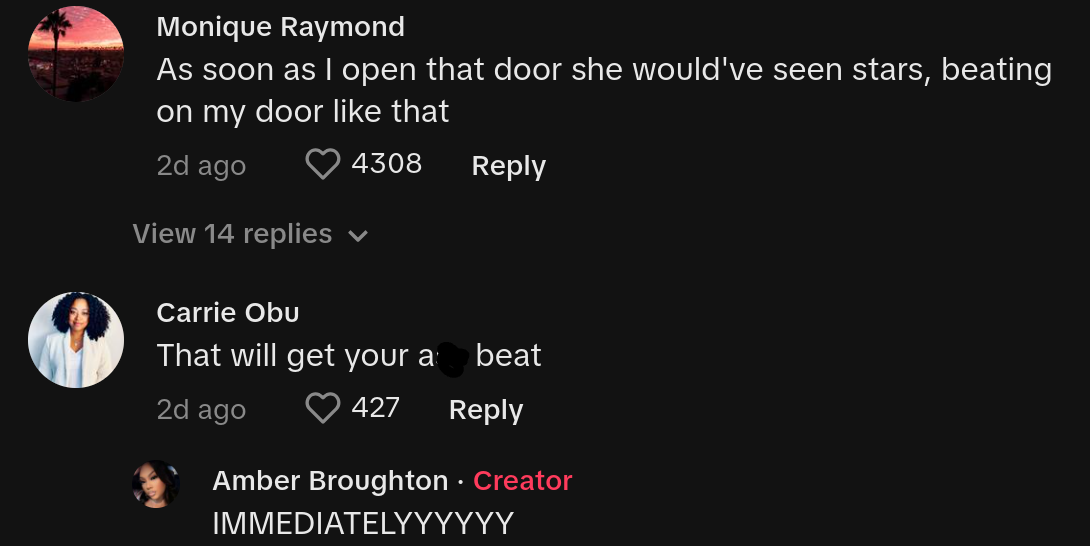 What do you think? Have you ever confronted a neighbor for allegedly stealing your food delivery order? Or do you ultimately think it's not worth it? How have you handled being wrongfully accused of something in the past?