Figs Apologizes for "Insensitive" Ad but People Aren't Buying It
Figs Scrubs controversy erupted on social media after an "insensitive" ad targeting osteopathic doctors went viral with people criticizing the company.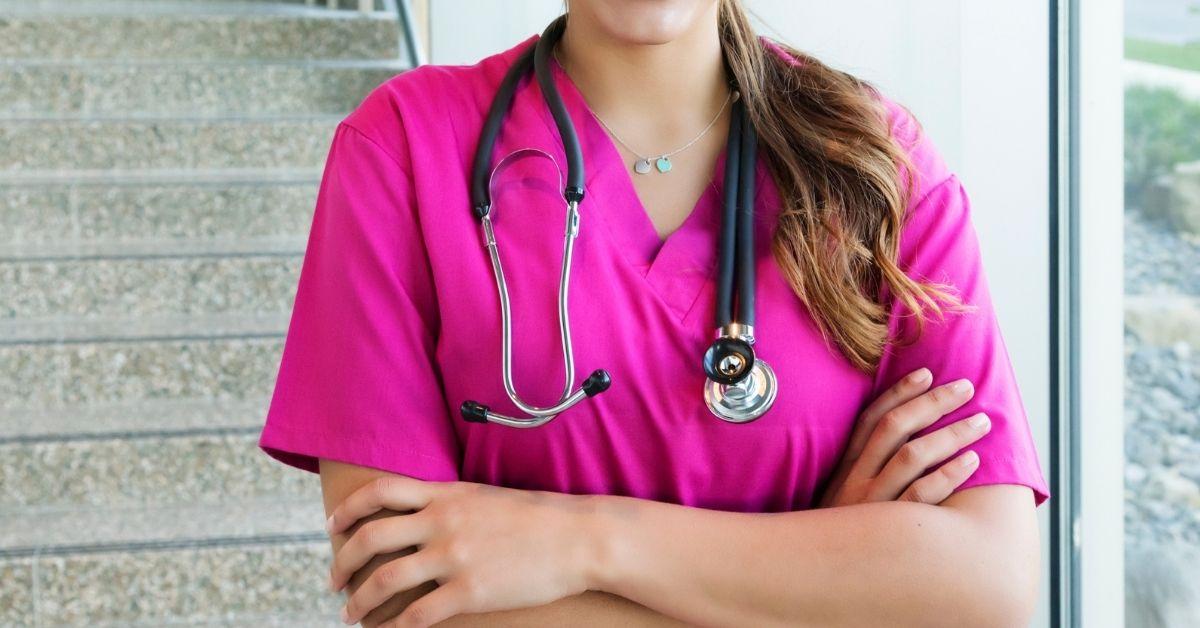 When it comes to advertisements, they can say a lot about a brand and are designed to influence people to purchase or use from the company. However, the opposite is true as well and it became clear to one company after controversy erupted on social media for an ad that featured a female doctor. Here's what scrub brand Figs did.
Article continues below advertisement
What started the Figs Scrubs controversy?
A medical apparel company, Figs, which makes stylish scrubs among other things, are in hot water after an advertisement that was placed on its website went viral for the wrong reasons. The video ad targeted female doctors — specifically in the osteopathic medicine field — and some who viewed the ad called the company out.
The company took to social media to address some private call outs they were receiving. "A lot of you guys have pointed out an insensitive video we had on our site — we are incredibly sorry for any hurt this has caused you, especially our female DOs (who are amazing!)," the company said in a statement posted to its Twitter account. "FIGS is a female founded company whose only mission is to make you guys feel awesome."
Article continues below advertisement
"We dropped the ball and and [sic] we are so sorry," the statement continued. "We love you guys and we'll always listen to what you have to say!"
Article continues below advertisement
The controversy centered around an advertisement featuring a woman wearing one of the company's neon pink scrubs. However, she walked into the frame reading a book, upside down, titled, "Medical Terminology for Dummies." The camera then zooms down slightly and onto the waist of the woman wearing the pants to show her work identification card which reads, "DO."
According to Mayo Clinic, DOs, which is an acronym for doctor of osteopathic medicine, are fully licensed physicians who have attended and graduated from a U.S. osteopathic medical school.
Article continues below advertisement
Despite the public apology from Figs over the scrub ad, the controversy continued to unfold.
"As a current DO student and future physician, the disrespect for female physicians and DOs exhibited in this ad (attached since it was removed from your website) is unforgivable," one woman tweeted. "I will not be supporting FIGS, and encourage all those who purchase scrubs to join me."
The American Association of Colleges of Osteopathic Medicine also shared its reaction to the controversial ad on its Facebook page. In a statement they said, "We are outraged that in 2020, women physicians and doctors of osteopathic medicine are still attacked in thoughtless and ignorant marketing campaigns."
Article continues below advertisement
The statement continued, "A company like FIGS that asks us to spend money on its product should be ashamed for promoting these stereotypes. We demand the respect we've earned AND a public apology."
Article continues below advertisement
After continued backlash, Figs returned to social media to share a secondary statement, and mentioned they had spoken with the American Osteopathic Association (AOA) to discuss the advertisement and Figs announced its donation to the association of $100,000 in an effort to ensure they have the resources to continue their work.
Article continues below advertisement
Some users pointed out their feelings that Figs only made that move after the AOA had threatened to sue for defamation. One Twitter user wrote, "It's not reassuring that AOA was threatening to sue for defamation and less than 24 hours later ya'll are giving them $100k. (Not that AOA doesn't do incredible work.) Additionally, your misogyny extends beyond that ad and into your general marketing and product development."
Article continues below advertisement
In addition to the attack on DOs, social media users pointed out the company's previous ads, specifically when it comes to women in the medical field, haven't been much better. Another Twitter user shared, "And here's a compilation of clips from some of their other videos. Unsurprisingly, I couldn't find equivalent clips of their male models dancing (while eating bananas, while singing into stethoscopes), bunny hopping, being weird with gloves, or jumping on a trampoline."
According to NBC News, Figs was launched in 2013 in Los Angeles by Trina Spear and Heather Hasson.