Joe Rogan's Endorsement of Bernie Sanders Has Been Labeled "Controversial"
UFC and podcast host Joe Rogan is an enigma. When you think of stand-up comedians, you don't really picture dudes with eight-packs who could probably kick your butt five weeks from Sunday.
Nor do you think of hosts of TV shows who make people eat bugs and jump out of moving airplanes or guys who commentate on cage fighting, or openly laud the benefits of psychotropic drugs like mushrooms and DMT. This is why he's such an interesting individual who is never afraid to speak his mind, which usually sparks controversy.
Article continues below advertisement
It's why Joe doesn't really fall into a particular "movement" or political bubble, which allows his guests to come from pretty much everywhere. He's had everyone from Alex Jones to Elon Musk on his podcast and a large number of political movers and shakers. His most high profile guest quite possibly has to be Democratic presidential hopeful Bernie Sanders who has amassed a cult-like following online, much like Rogan himself.
Article continues below advertisement
Joe Rogan endorses Bernie Sanders on his podcast.
While Joe's "hyper-masculine" tendencies and disdain for "snowflake" mentality has led many people to decry him as an "agent of the far right," this couldn't be further from the truth. During his interview with Bernie, the two discussed a variety of topics ranging from gun laws to whether or not the existence of aliens (if they do exist) will be kept from the American people if he ever becomes president (he won't).
In the past, Joe has had Tulsi Gabbard on his podcast several times, along with Libertarian Gary Johnson (who Rogan voted for in 2016), so it came as a bit of a surprise that he would endorse Bernie, who has policies that are wildly different from both Tulsi and Gary. In fact, Joe went as far as to say he would vote for Bernie in the upcoming election, which would be a huge boon to the senator from Vermont.
Article continues below advertisement
Joe Rogan's influence cannot be diminished, his YouTube channel has a whopping 7.29 million subscribers with the majority of them active participants in the comments section of his videos who watch the majority of his clips. To put into perspective how successful Joe's podcast is, he earns a reported $75,000 per episode. With some five episodes a week, that's pretty substantial.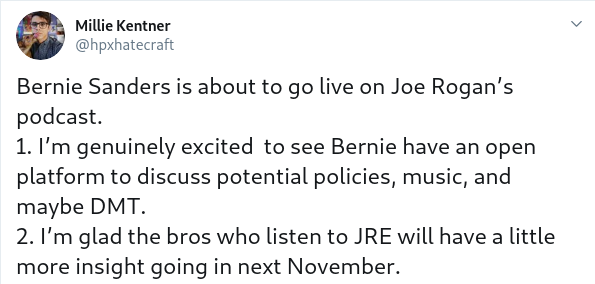 Article continues below advertisement
Is Joe Rogan transphobic?
Joe made headlines a while back after calling the first Ace Ventura film extremely transphobic with its "Einhorn is a man!" scene. However, advocates of the trans community slammed Rogan for calling out MMA fighter Fallon Fox's ability to compete as a female fighter despite being born a man and eventually transitioning into womanhood. Joe cited Fallon's genetic advantage as the reason why she's been able to dominate fights.
Joe's comments incited ire from some members of the LGBT community, and his disapproval of allowing transgender athletes to interchangeably compete in men's and women's divisions, especially in combat sports, started a greater conversation about the future of sex and sports.
Some on Twitter weren't happy about Bernie Sanders' decision to appear on Rogan's podcast, saying Democrats should "marginalize" the comedian and personality and went so far as to call him a "bigot."
Article continues below advertisement

Joe Rogan accused of being racist for 'Planet of the Apes' reference.
Joe's come under even more scrutiny after folks started looking through old footage of the comedian and found a clip where he compared a predominantly black neighborhood to The Planet of the Apes, which had even more folks on the internet lambasting the UFC commentator.
Article continues below advertisement
Despite his throngs of critics who aren't too thrilled with the fact that he "rarely" challenges guests and allows speakers to share potentially "harmful" thoughts on his platform, Joe's popularity continues to soar. He's currently on a wildly successful comedy tour with stand-up legend Dave Chappelle, which is only broadening the audience of his already booming podcast.
You can see Joe's interview with the Democratic hopeful in episode 1330 of the Joe Rogan Experience above.