"First Date Horror Story" — Guy Answers Call from Woman Mid-Date, Says She's "Just a Friend"
A woman shared the first "date" she went on with a man who answered a phone call from another woman in the middle of their time together.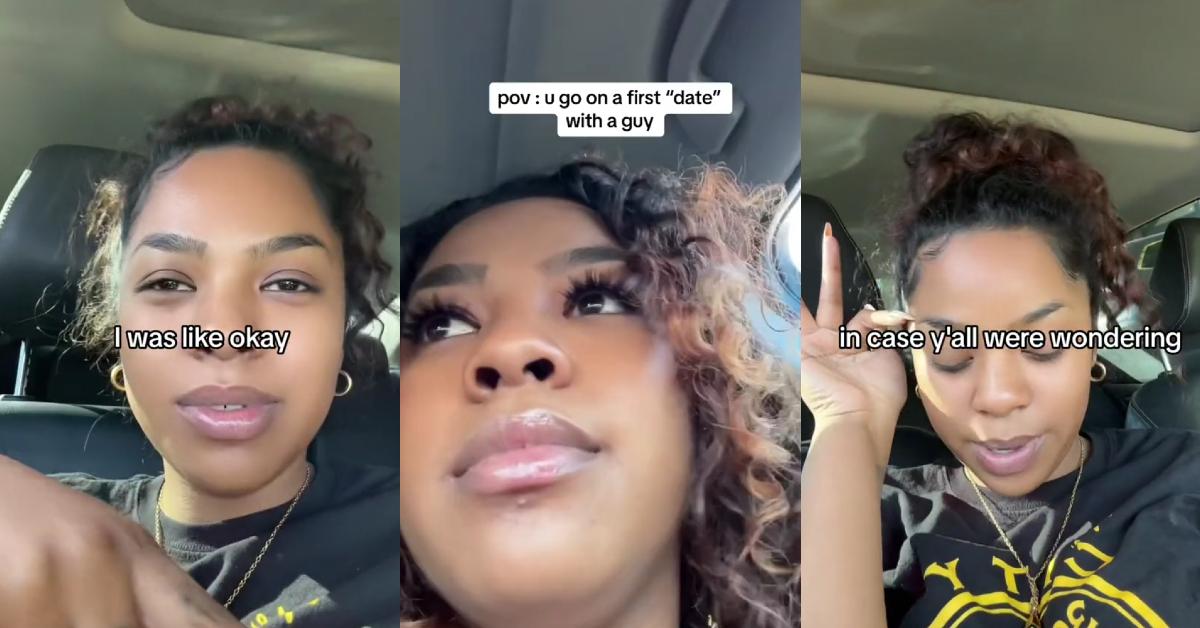 A TikToker named Orio (@xoorio0) was left shocked by the first date she had with a man she met on the popular dating application Hinge, who asked her if she wanted to tag along with him while he completed errands. While she found that was a weird way to make a first impression, things only got worse: he kept receiving phone calls from another woman during their time together.
Article continues below advertisement
She posted about her experience in a viral clip.
"pov: u go on a first 'date' with a guy," a text overlay in the video reads as Orio records her face as she rides in a car. A man can be heard off camera referencing that he has to catch a flight at a certain time but before that, he needed to do some shopping.
After that short snippet, Orio's video transitions to her speaking on camera, delineating what went down between her and this dude on their first. The first hint that things didn't do over so well is the fact that she appears to hesitate even classifying their time together as a date at all.
Article continues below advertisement
"Okay so first things first I met the dude on Hinge that was my first mistake, okay? But I knew him from elementary school so I thought hunh, maybe could be cool? Wrong."
Article continues below advertisement
She went on to talk about her perception of him prior to their meet-up: "He was like super ugly back then, I mean he's okay now, but nothing to be acting like that. Anyway, let me tell you what happened. So we got Jamba Juice and then he was like oh come with me I'm gonna run some errands and I was like okay that's kind of a weird thing to do for the first time of us ever hanging out."
Despite thinking that this was a strange basis for a first date, Orio decided to tag along with her Hinge date as he completed his errands: "I got nothing else to do so I was like f--- it why not. So we're running errands and then this Bri popped up on his like car caller dashboard and he like declined it and then he answered it finally because she kept calling and she's like where have you been like I've been trying to contact you."
Article continues below advertisement

So right off the bat the picture for this dude isn't exactly being painted all that well: their first date is Jamba Juice and then him taking care of some shopping and then a girl it looks like he's currently romantically involved with is hitting him up.
Orio continues her story, "[Bri went on to ask] what are you doing? What are you up to? He's like I'm just running errands, you know, the first video."
Article continues below advertisement
"And then he hung up after that video ended. He like straight up hung up in her face and then she called hella times and I was like are you gonna get that? Like what is going on? He's like oh she's just a friend she's just a friend. I knew better I was like okay yeah I'm sure. Anyway she kept calling and he answered and she was like who the hell are you with?"
At this point any doubt that this dude was seeing/dating Bri was completely eradicated: "She was like who the hell are you with. Like last time you said you were with a friend you were with Miriam and she was like last time you were with Miriam you were being hella weird and he's like, nah me and Miriam didn't do nothing."
Article continues below advertisement

Orio then edits in another recorded snippet from her time during the first date, which includes audio of Bri questioning Mr. Hinge date over the phone about the time he spent with Miriam, stating that Miriam is saying the two had something hot and heavy going on.
Article continues below advertisement
Hinge man then laughs in response to that, calling Miriam delusional and that she's probably off of her meds. Orio went on to say: "So after he hung up on her again and I'm sitting there like you got me really f---- upright. And then she started calling again and so what'd I do? I hit on the touch screen I answer the call."
Not wanting to listen to Bri continually call, Orio decided to take matters into her own hands, answer, and then speak with her directly, "I was like hey girl I don't know who you are but this is my first time hanging out with this n---- and he about to drop me off back to my car right now."
Article continues below advertisement

Bri didn't seem too happy about hearing that: "And she's like are you f---- serious? And he hung up in her face. And he was like why would you do that? And I was like what the f--- you mean why would I do that? You got a reason to lie to the girl, I do not. You just say here talking about how she delusional this, this other girl delusional that clearly you out here trying to play the field, but, I am not a team player."
Article continues below advertisement
Orio went on to tell the guy that he needed to take her back to her car, but the Hinge date tried to argue that he wasn't doing anything wrong as Bri wasn't even his girlfriend. "I don't give a d--- what she is dude, I don't care if she could be your Mama I'm not dealing with this."
Hilariously, the TikToker said that Mr. Hinge hilariously thought that the two of them were going to continue seeing each other: "So he was driving me back to my car and he was like so like next we hang out I swear it won't be like this and I was like, next? Next time? B--- you're delusional if you think there's gonna be a next time and I got out my car or I got out his car and walked the f--- away because I was just done. Had me f--- up but yeah so that's the update on my dating life in case y'all were wondering even if you weren't."
Article continues below advertisement

Folks who saw Orio's video were equally shocked by the Hinge Date's behavior, with many highlighting the laundry list of issues they have with the man's behavior and actions.
Article continues below advertisement
Others said that they, too, have been having bad luck in meeting people via online dating apps, while many were just flabbergasted he would answer the call on speaker in the first place: "The way he just expected to have his cake and eat it too IN FRONT OF YOUR FACE" one person wrote.
What do you think? Have you ever been on a first date where the person you were out with was clearly talking with someone they were romantically linked with in the middle of your date?