'Five Days at Memorial' Cast Talks Recreating Hurricane Katrina Disaster for Apple TV Plus Series (EXCLUSIVE)
The Apple TV Plus miniseries 'Five Days at Memorial' recreates New Orleans during Hurricane Katrina; the cast and crew tell 'Distractify' how they did it.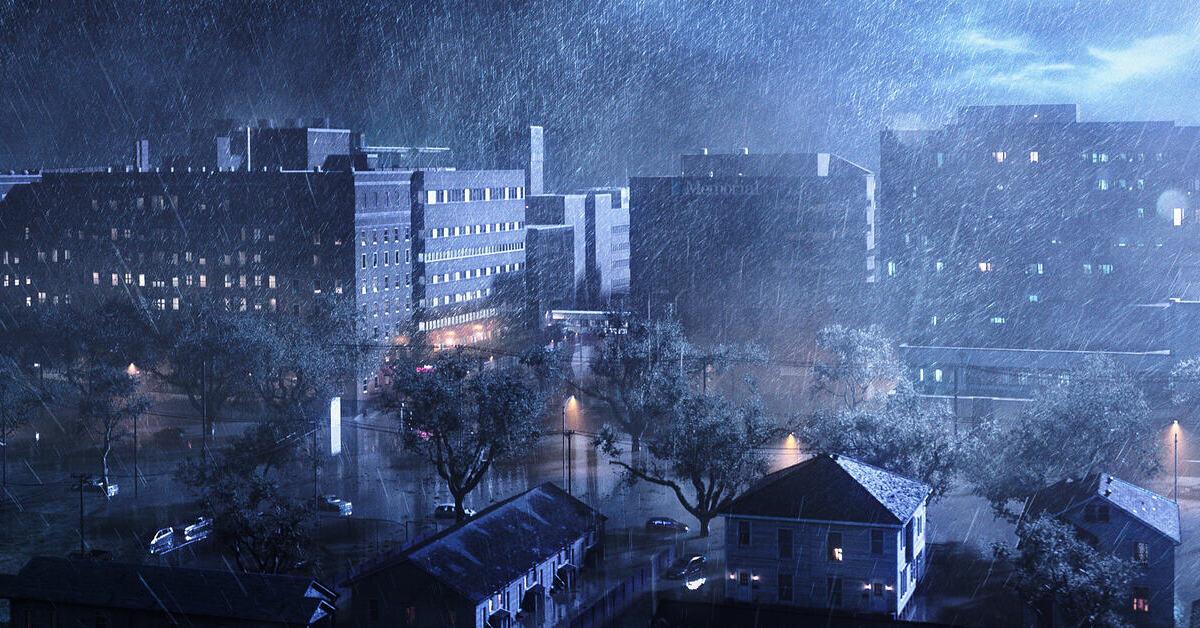 The Apple TV Plus miniseries Five Days at Memorial focuses on the beleaguered staff of the titular hospital during Hurricane Katrina — and brings the natural disaster to jaw-dropping life. It's one of the most awe-inspiring and nail-biting productions on TV, and Distractify has the behind-the-scenes scoop on how it was possible.
Article continues below advertisement
Five Days at Memorial executive producer/co-showrunner/director Carlton Cuse and actors Julie Ann Emery (who plays Diane Robichaux), Adepero Oduye (Karen Wynn), and Robert Pine (Dr. Horace Baltz) spoke exclusively with Distractify about the show's incredible environment, put together by production designers Matthew Davies and Christopher Stull, and discussed filming in the faux-hurricane conditions.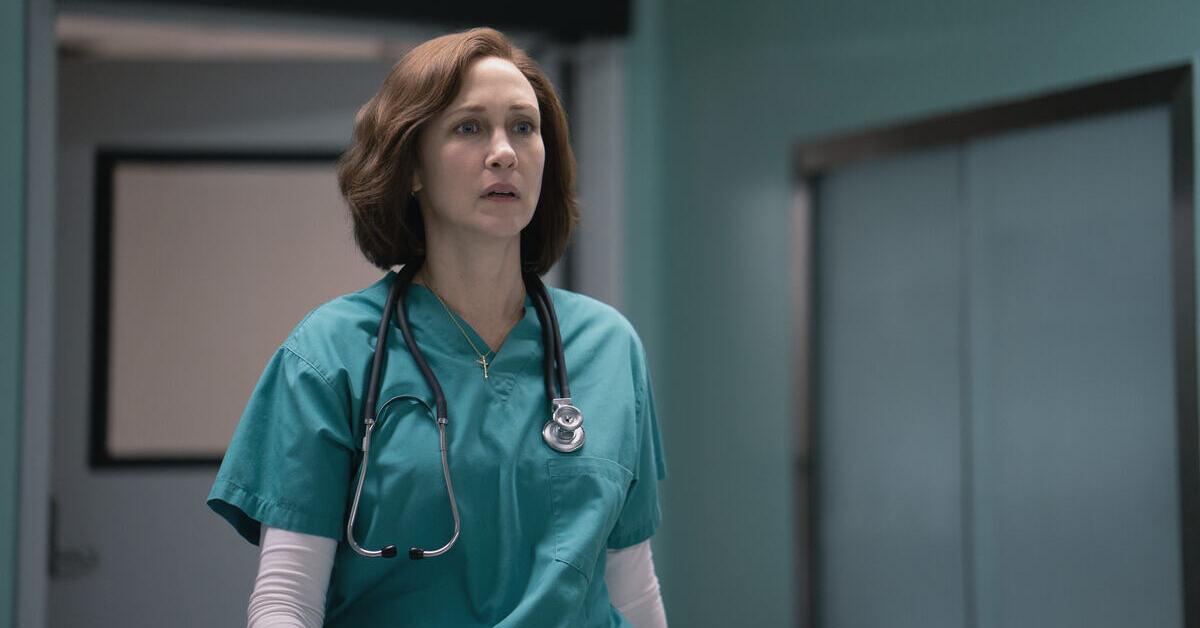 Article continues below advertisement
'Five Days at Memorial' recreated Hurricane Katrina in Toronto.
The events of Five Days at Memorial take place almost entirely during the hurricane, so it was an ambitious production. "We had to recreate what New Orleans was like when 80 percent of the city was under ten feet of water and this hospital was submerged," explained Carlton. "[We showed] these characters in a flooded hospital, with water all around it, trying to rescue patients to take them up to the top of this perilous helipad."
They succeeded in their mission because Sheri Fink, who wrote the book on which the miniseries is based and visited the real Memorial Medical Center, gave her seal of approval when she visited the hospital set in Toronto.
According to Robert, "She said, 'This looks exactly like what I remember the hospital looked like when she went in shortly after it had been abandoned finally' ... and so we were working in conditions that were very similar to Memorial."
Article continues below advertisement
For Adepero, who's known for her role as Sam Wilson's sister Sarah in The Falcon and the Winter Soldier, filming this series was even more massive than being part of the Marvel Cinematic Universe.
"This was definitely bigger and crazier," she said, "in terms of constructing everything and just the detail ... [It] definitely tops my experience [on] Falcon at that."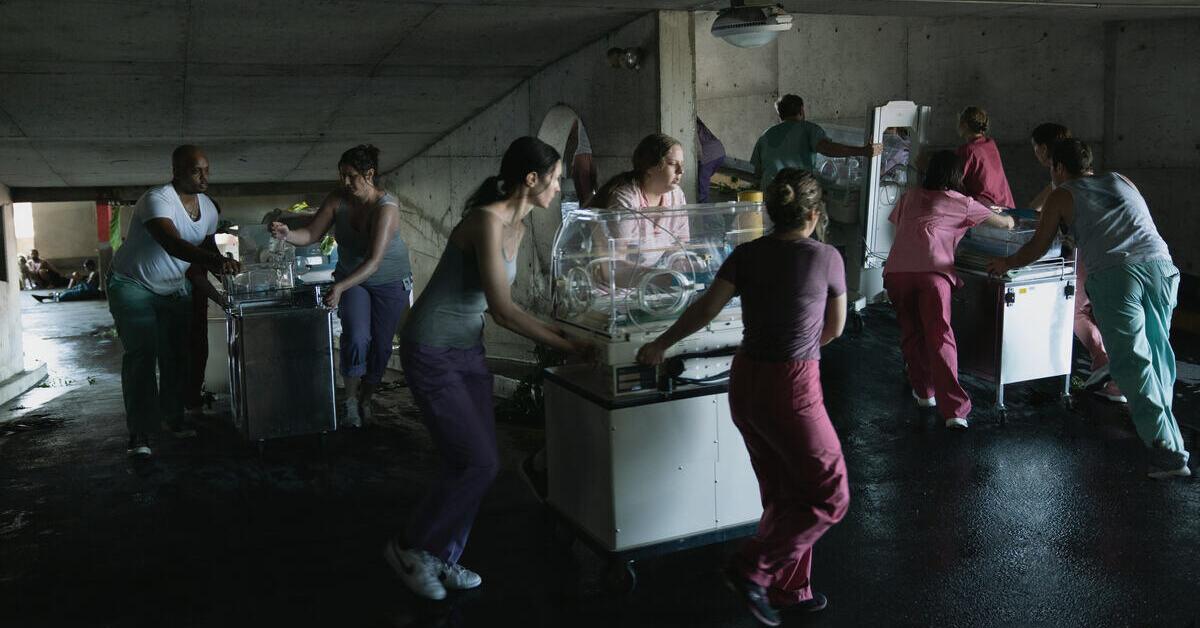 Article continues below advertisement
The 'Five Days at Memorial' hospital had working components.
What viewers see in Five Days at Memorial isn't for show or filled with special effects. Julie Ann revealed that there were several working parts on the set that were maintained by actual engineers.
"We built a working helipad and landed actual U.S. Coast Guard helicopters on it," she explained. "We built the largest water tank that's ever existed in Toronto. There were sunken cars and working boats that [went] up to the ER ramp."
"All that stuff was really technically challenging on a filmmaking level," Carlton said. "I hope that it's just integrated in the story, that it doesn't call attention to itself, but we had to put in a lot of work, a lot of thought and a lot of effort, to make it feel authentic."
That effort and the incredible amount of time and resources comes across in the finished product. Five Days at Memorial accurately captures the harrowing conditions that Memorial's staff and patients endured.
Article continues below advertisement
Viewers have seen plenty of disaster shows and movies, but this series is as epic as anything ever seen on the big screen. Its reenactment of Hurricane Katrina isn't just sound and fury and chaos. It's put together down to the last incredible detail. It also creates a feeling of genuine tension and claustrophobia that makes the series even more intense.
"On the page, it just says 'Cut to hurricane,'" Robert told Distractify, "but then when you see [it] ... the production values are outstanding."
Audiences will be on the edge of their seats watching the show, but they won't be the only ones. The cast members were also floored by the incredible filming locations.
"All of us showed up to watch our crew pull off these extraordinary feats," Julie Ann reflected. "We were so taken with the lengths that production was going to really tell the story in a beautiful way."
Five Days at Memorial premieres Aug. 12, 2022 on Apple TV+.