"Worst Part Is, I'm Wearing a Bodysuit": Lady Says Flight Attendant Walked in on Her in Bathroom
When a woman was spending a bit too much time in the bathroom of an airplane, the flight attendant decided to just unlock the door and come on in.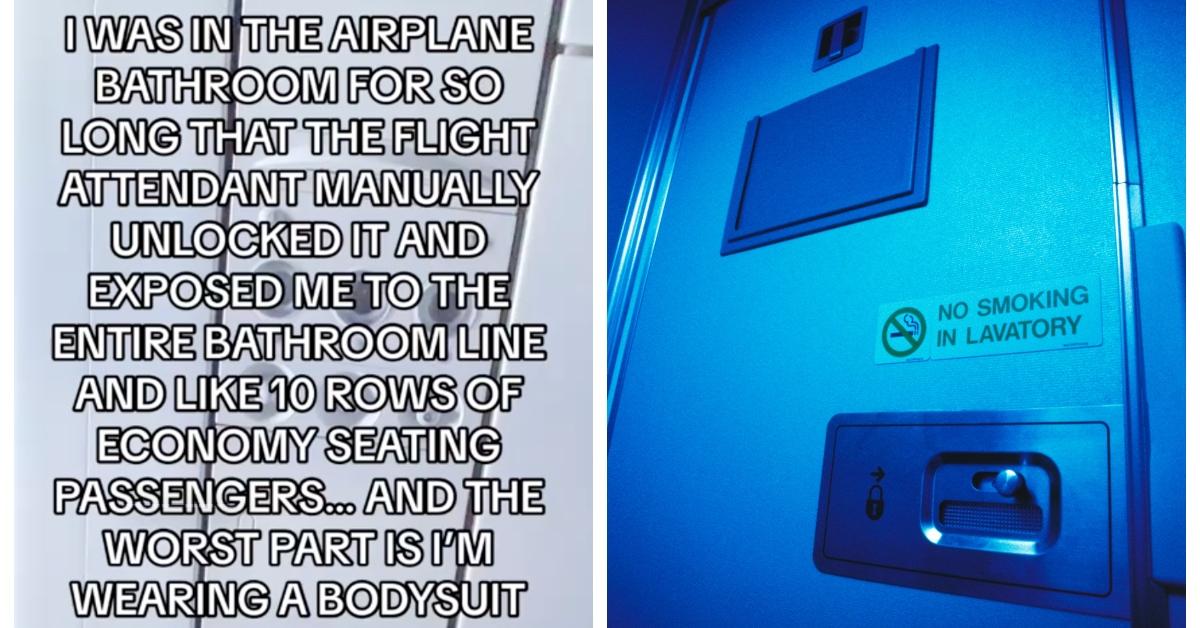 It's not easy being a flight attendant, and ever since the COVID-19 pandemic hit, it seems to have gotten worse. From unruly passengers throwing punches to massive diarrhea on planes, it's difficult to be a concierge in the clouds. I truly don't understand what kind of person treats service people poorly and yet, it happens all the time.
Article continues below advertisement
To be clear, I'm not suggesting flight attendants are free from flaws. Like anyone, they too can make mistakes while doing their jobs. For example, look at what happened to Louisa Melcher when she was lounging in the loo for a bit longer than normal. Let's just say a flight attendant introduced Louisa to her fellow passengers in a rather unusual way. I'm calling this story The Oopsie While She Poopsie'd.
Article continues below advertisement
Did a flight attendant really walk in on a passenger in the bathroom?
Before diving into this tale of toilet woe, it's important to mention it might not be real. Louisa, who goes by @loulouorange on TikTok, is a notorious prankster when it comes to content. In this TikTok from June 2023, Louisa is begging her fans to stop calling out her videos by commenting that they are lies. Instead, she asks everyone to just have fun and go with it. So, that's what we'll do (or should I say poo) with this one.
The fact that Louisa posted this particular plane-centric TikTok on 9/11 certainly didn't escape me. According to her story, Louisa was struck by a personal fear of mine (and I'm willing to bet many others as well): She was trapped in the bathroom for a bit longer than usual.
Article continues below advertisement
It's safe to assume this was happening because she was buying a bowel (movement), and couldn't hurry the situation along. A lot of people cannot drop a deuce in public. I am not one of them. I'll go anywhere, and apparently Louisa is the same. It's always good to be aware of a fellow friend in fecal matters.
Article continues below advertisement
Per Louisa's TikTok, a flight attendant manually unlocked the door after noticing how long she was in the restroom. And while that is embarrassing, her discomfort was made worse by the fact on this day Louisa was wearing a bodysuit.
Some sections of the population might not know what a bodysuit is and, as such, can't understand why this made things worse. A bodysuit is basically a bathing suit which means anytime one has to go to the bathroom, they get completely naked. It's very similar to a romper or jumpsuit which is what people wear when they want to drag an entire outfit across the pee-stained restroom floor of a bar. It's a look!
Article continues below advertisement
Picture this: Louisa is already feeling the stress of being in a bathroom for an unusually long time. She's also on a plane, where the restrooms are mere inches from the passengers. Also, there could be a line of people waiting to use the lavatory as there are usually only two available.
Article continues below advertisement
By the way, she is "butt-a-- naked" due to the aforementioned bodysuit that she has to remove entirely in order to do her business. Suddenly, the lock slides open and a flight attendant opens the door, exposing a nude Louisa to an airplane of strangers. I hope she got some free cookies out of this.
Article continues below advertisement
People in the comments were skeptical.
Despite Louisa's plea for people to "yes and" her TikToks, people in the comments were still calling her out for lying. When one woman said she'd be "mortified," another person replied, "It's a lie. She makes up stories every day." More than one person almost fell for this one because it's very believable.
Here's what I find interesting about Louisa's content. People don't go into a novel or some other work of fiction screaming about the fact that it's not true. Everyone is very accepting of the fact that what they are reading is entirely made up by the author. Why can't Louisa get the same level of understanding? Is it because she works within a visual medium? I agree with her. Everyone get on board this wacky train. After all, would you yell at Stephen King for Pennywise the Dancing Clown? Never.