Man Claims Flight Attendants Play Secret Game With Passengers Whenever They Say THIS
A man on TikTok suggests that flight attendants play their own secret game with passengers by saying a certain phrase. Have you ever heard it before?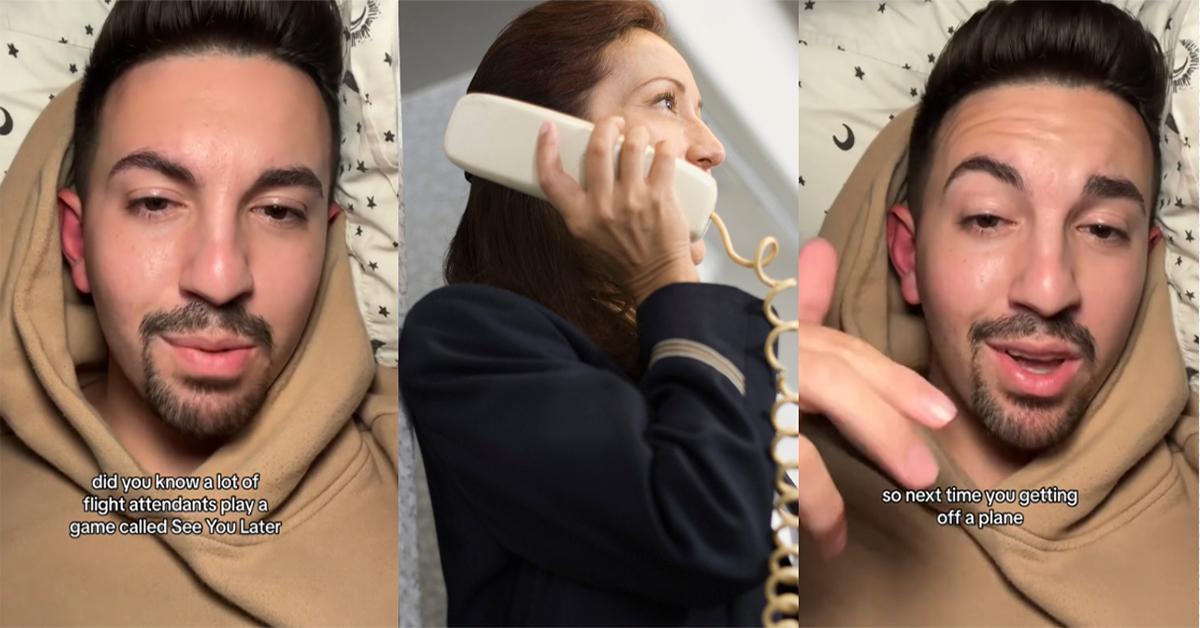 Aside from the fellow passengers whose faces you'll come to recognize for the duration of your airline flight, you're probably going to get at least somewhat acquainted with the flight attendants aboard your vessel. That's usually because they'll be going up and down the aisles distributing snacks and refreshments as they do their best to accommodate the needs of the passengers on board.
Article continues below advertisement
But while we try to busy ourselves with whatever in-flight entertainment is available to us, flight attendants may just be passing the time with some amusement of their own. In fact, Garret Clanton on TikTok (@gowithgarret) suggests that if you hear this phrase being said to you when you deplane and pass by the flight attendants, they've been playing a secret game among themselves and you're basically reaping the benefits.
Article continues below advertisement
This man claims that flight attendants play a secret game with passengers.
In his quick videos, Garret claims that flight attendants have their own little game that they play among themselves. It even sort of involves the other passengers on board. The game is reportedly called "See You Later."
According to him, the game only takes place when folks are deplaning. Normally, the flight attendants are there at the exit to extend a friendly farewell or wish you a nice stay at your final destination. Most of us may offer a similar kind word in return, especially for all the hard work they did on the flight. But if you happen to hear one of them say "see you later" to you, it may just mean something else.
Article continues below advertisement
As the rules of this little game dictate, anyone who says "see you later" to a passenger means that they find that passenger attractive and may just be interested in you.
Article continues below advertisement
"Next time you're getting off a plane [and] that flight attendant says 'see you later,' I'd think twice on what that really means," Garret suggests.
Article continues below advertisement
Does that mean you should start flirting with any and all flight attendants who say this? Probably not, especially when there's probably a whole line of people behind you waiting to get off the plane. However, Garret suggests that it certainly couldn't hurt to try and shoot your shot if you do happen to hear it.
In another video, Garret presents some potential follow-ups that you could use to see if something could happen between you and the flight attendant.
"Just give them your number," he suggests. "Feel out the vibes, don't make it weird. If they text you, they text you. If they don't, guess what? They were just saying 'see you later.'"
If nothing else, at least even Garret is open to the reasonable explanation that flight attendants are just being friendly in their own way.
Article continues below advertisement
While the legitimacy of this rumor is dubious at best, it has gotten plenty of folks thinking about the next time they fly.
One person joked, "Thanks, new fear of rejection now," implying that they may get super disappointed if they don't hear it on a flight.
Article continues below advertisement
One TikToker who claims to be a flight attendant claims to have been telling people "see you later" constantly on flights without meaning anything by it.
"Imma keep saying it though," they boast.
Will you be listening out for this the next time you get off a plane?