"You Got the Landlord Special" — Woman Finally Discovers Reason Behind "Weird Spot" in Her Wall
A woman discovered the reason why her wall looked so weird after catching glimpse of a "landlord's special" on TikTok.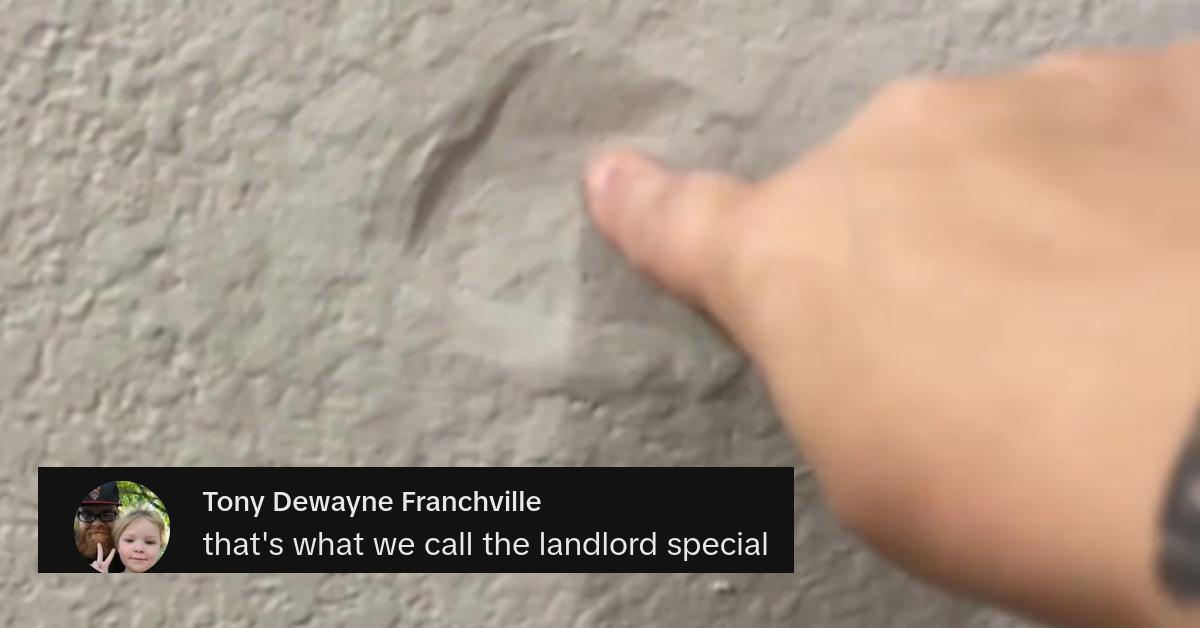 Article continues below advertisement
One such example of this is a TikTok uploaded by a user named Mels, who showed folks how to cover up holes made in sheetrock using nothing but a wet sheet of paper and some paint.
Normally, for one to fix this type of issue, the correct way to do involves multiple steps including cutting out of a patch of drywall, getting yourself some drywall compound, then measuring the patch and cutting out any extraneous bits in the wall to fit the new patch to the wall, putting the right amount of compound to it, fitting in perfectly, affixing more compound, sanding it down, and then painting it over.
Article continues below advertisement
It can be an extremely involved process, especially for someone who hasn't been doing it for all that long. If you own you're own home and don't want to pay someone else to do it, or maybe you don't trust their work, you might take the time to do this for yourself.
But if you're renting you, may want to follow the advice in Mels' clip which is called "The Landlord Special."
Article continues below advertisement
In the video, a man can be seen affixing a wet piece of paper to a hole in the wall. If you're moving out of a place, a hole in drywall can easily cost you the security deposit that you handed to your landlord when you rented your place.
You want that money back, obviously, and you're going to be darned if a measly little hole in the wall is going to stop you from getting it. So you can just do what Mel does: affix the wet piece of paper to the wall to cover the hole, and then paint over it.
Article continues below advertisement
After the paint dries, it appears that the problem has been fixed, at least, for a little while, until the paper starts to wilt and cave in a bit, recessing into the drywall.

Article continues below advertisement
This is something that was demonstrated by TikToker @justthem0m who stitched their clip with Mels', showing the downside of this type of temporary solution.
In the video she says, "Wait, wait, wait, hold on, this is paper? Wait? Oh my God," she says, poking her finger into a strange divot-looking portion of the wall that recesses inward.
Article continues below advertisement
It looks like whoever owned the home before she decided to stage that portion of the wall to make it look like there wasn't any damage to it. However, the paper depresses when she puts her finger up to it in the video.
Article continues below advertisement

The TikToker further shared her frustration in a caption for the video which reads: "Previous homeowners….woooooow"
But there were other folks on the platform who said that they thought the trick was a handy one that they were going to pull on their landlords for not wanting to fix issues inside of their units.
Article continues below advertisement
"NGL I might do this to my landlord who never wants to fix anything," one person penned.
It looks like it wasn't just tenants who were trying to pull one over on Landlords to get their security deposits back, but Landlords themselves trying to perform patch jobs so that they could rent their spaces while keeping up appearances.
"I just found out my landlords used cardboard as my windowsill," another viewer wrote, suggesting that there were other methods employed by property owners that don't really fix problems, but just give off the image that they do.
Article continues below advertisement

Judging by the remarks from some of the folks who responded to her post, some DIY-ers got pretty darn creative with their materials: "Found a hole covered with a krispy kreme donuts box lol"