Can you Eat Food at the Grocery Stores Before Paying? Legal Expert Weighs In
An online legal expert says that while it's technically illegal to eat food in supermarkets before paying, some stores will give customers gravitas.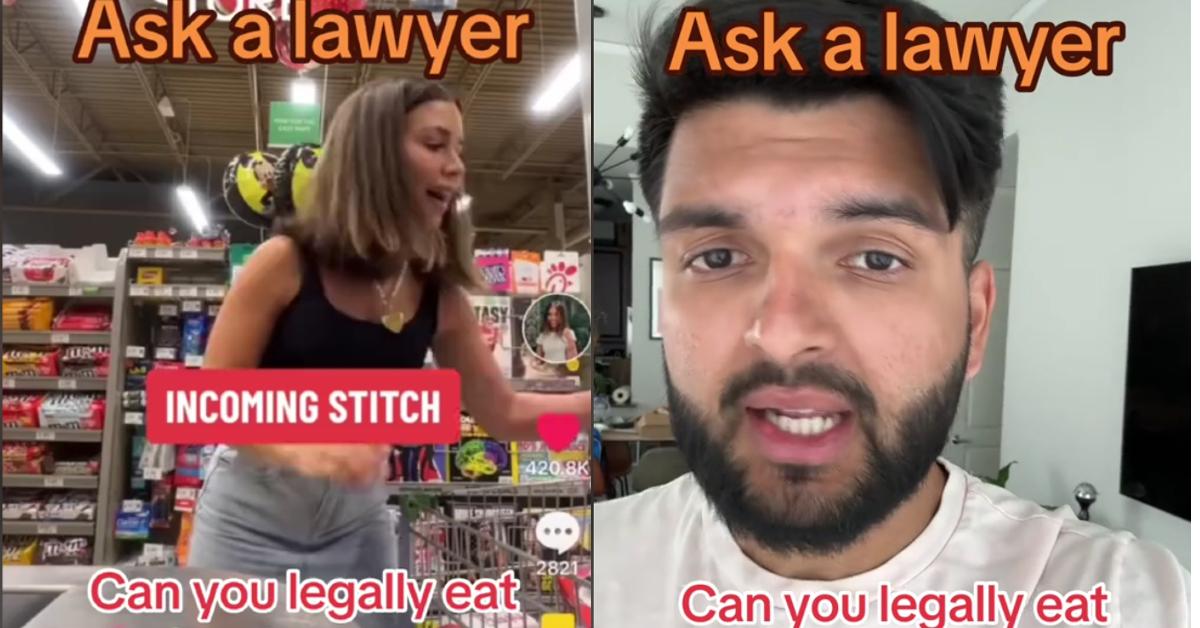 We've all either seen it or know someone who's done it: chomping down on some food or cracking open an ice-cold beverage in a grocery store before the item's been paid for.
Article continues below advertisement
Sure, it seems like a perfectly innocuous thing to do: it's not like you're not going to pay for the item in question — and opening the tab/breaking the seal of a drink or package of cookies doesn't magically erase its UPC code, making it impossible to ring it up.
But is this legal? Well, according to a TikTok legal expert named Haseeb (@haseeblegal) the answer to that is basically that it "depends" on the discretion of the store and the nature of the products that you're purchasing.
Article continues below advertisement
He says on the onset that digging into whatever food you're planning on buying or slurping down a drink prior to purchase is, in no uncertain terms, "theft" as, legally speaking, until that item is fully paid for, it's property of the retailer you're purchasing it from.
Article continues below advertisement
"Can you legally start consuming an item before you check it out at a grocery store? The property ownership of an item before you checked it out belongs to the grocery store so your consumption of it before you actually own the product is technically theft," Haseeb says.
However, he continued to state that there are a lot of stores that turn a blind eye to this kind of behavior, "But most grocery stores as a matter of policy, in good business practice, will just let you do it."
Article continues below advertisement

Not all items are created equal, however, when it comes to these policies, there are some that get looked at differently, such as products that need to be weighed in order for there to be an accurate assessment of their purchase price, Haseeb says.
Article continues below advertisement
For instance, if you're buying a bag of grapes that you packed yourself and the retailer is selling the fruit by the pound, if you decide to gobble down a few before you hit the register, that could affect the final price of the item you're buying.
"But I think the line gets iffy when what you are consuming is to be weighed and then you pay for whatever the item weighs," Haseeb went on to say. "Grocery stores will handle that differently some will actually press charges because you can't actually calculate how much you ate."
Article continues below advertisement

It would seem that there are other online resources, like Taste of Home, that echo Haseeb's reasoning. The general rule of thumb is that if it's a product with a pre-set price that you can just scan a UPC code on and be on your merry way, you might be able to get away with eating/drinking it before you pay.
Article continues below advertisement
However, just keep in mind that it's still illegal. So if you head inside of a store in a part of town, or area you're not that comfortable with and you feel like there might be some employees giving you the stink eye, maybe it's best to just pay for whatever it is you're getting before you chow down.
There were some TikTokers who responded to Haseeb's post who said that they have clear rules when it comes to consuming products before leaving a store.
Article continues below advertisement

Like this one person who said that while they don't feel right eating food before they've hit the checkout line, they will slam down a drink and ring up an empty bottle and not feel some type of way about it: "i don't eat in the store before buying cuz that's wild but I'll drink an entire drink and then ring up the bottle"
Article continues below advertisement
Another person said that it seems like a weird double standard because restaurants typically allow customers to eat food before they pay: "But at a restaurant, you can eat before you pay."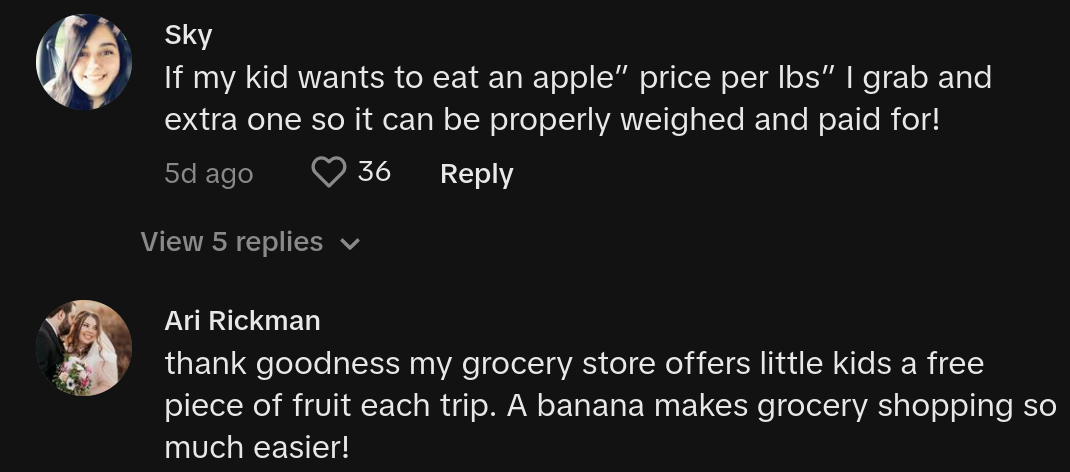 There were also anecdotes of some folks who said that the shops they visit even let kids grab whatever fruit and veggies they want free of charge while customers roam aisles: "A store near me allows children to eat the fruits and vegetables no issues"
Have you ever drank/eaten a product before paying for it at the grocery store?