"You Have Patients That Will Not Be Pleased With Anything" — Nurse Vents About Patient
A nurse explains that patients can be difficult and she won't apologize for not caring about opinions as opposed to focusing on her job.
It has long been said that being a nurse can sometimes feel like a thankless job. These medical professionals wear many hats in the workplace ranging from coordinating patients' care to making sure the care provided meets the standards of their employer.
That said, nurses deal with patients from all walks of life. And while some folks are forever indebted and thankful for nurses, others waste no time tearing them down — in-person and on social media.
Article continues below advertisement
So, when one nurse took to TikTok to share her experience with an unruly patient while she was in charge, folks applauded how she was able to navigate the tricky situation. Here's the scoop.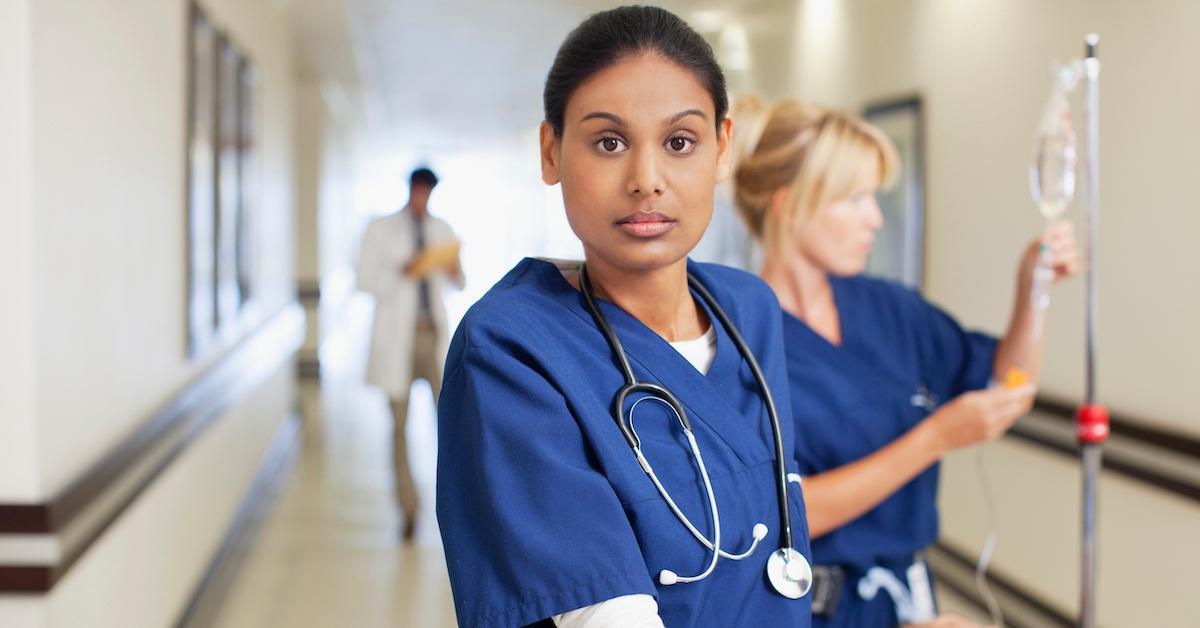 Article continues below advertisement
A patient complains about the nurse in charge and the nurse discusses the experience on TikTok.
It's time that we recognize and appreciate nurses for all that they do. In a Sept. 3, 2023, TikTok post, creator Eunice (@nurseeu) shared her experience as the nurse in charge of dealing with a problematic patient.
"I love it when I'm in charge for this reason," the video caption reads.
As the video starts, Eunice sits in her car and talks about her problematic patient.
"Sometimes you'll have patients that will not be pleased with anything," Eunice said.
Eunice said that she arrived mid-shift and got a warning that the patient had been problematic towards staff — from requesting new nurses to the family being rude.
Article continues below advertisement
However, Eunice said she typically stays out of it, goes into the patient's room, and does her job.
"I just want to get money, learn something, and leave," Eunice said.
So, once she entered the patient's room and introduced herself, she was met with requests and complaints. Eunice went to the other side of the room to throw something out and the patient said something she couldn't hear. So she asked, 'What's up?"
Article continues below advertisement
The daughter of the patient had a huge problem with Eunice's verbiage and made a scene.
"Her daughter rises like Jesus from the dead from the corner of the room and goes, 'Did you just say what's up to her?'" Eunice recalled.
Eunice replied, "Yes," the daughter went on a rant saying that her mother is an older woman and shouldn't be talked to in that matter. From there, things accelerated.
The daughter called out the new generation of nurses as being disrespectful and continued to bash Eunice to her face. Eunice decided to exit the room.
"Oh OK. Thai conversation is no longer productive so I'm going to leave the room now," Eunice said.
Article continues below advertisement
She shared that whenever things get testy and folks start mouthing off, she says that phrase to excuse herself.
After leaving the room, she gets an alert that the same patient needs assistance. The patient asked to be turned in the bed and Eunice and her co-worker got the job done. Unfortunately, the patient and her family complained about Eunice and her co-worker being too forceful and "aggressive."
Article continues below advertisement
Eunice left the room to work with other patients. When she returned after 40 minutes, she was asked if there was another person (nurse) who could work with them. After asking them if they specifically wanted a new nurse, the family said, "They want someone else to work with."
Eunice asked if there was a problem and the patient said that she was being "aggressive."
"And you're like a new generation of nurses and we don't like that," the family said.
"Excuse me, you don't have to like me. I'm coming in here to do my job. I'm giving you meds, and I'll get out. We don't have to talk," Eunice replied.
The family then tried to say that they never expressed not liking her and accused her of putting words in their mouth. Tensions continued to heighten and they asked for the nurse in charge. Eunice left the room and returned letting them know that she was the nurse in charge.
Article continues below advertisement
After not being pleased, they asked to speak with her supervisor. She contacted the supervisor who supported her and said that the patient has been problematic towards the staff and it's up to her if she prefers to work with them.
Interestingly, Eunice said that people try to shame her for not caring since it's a job where the staff cares for patients, but she said that it's a job at the end of the day. So, she will do her job and go home.
Article continues below advertisement
TikTok users agree with Eunice's sentiments.
It's unfortunate how badly nurses can be treated. Truth be told, some people are simply out of their minds and would prefer to cause tension as opposed to having a smooth experience in a hospital.
"Welcome to working in a hospital! Where we never get appreciated as healthcare workers! Where SOME treat it like a hotel and we are just slaves," one person said.
"It's the 'you are here to help people' people that disrespect just like it's the 'this is a calling not career' boss that tries to short change 😂," another person said.
"People treat nurses badly because they literally think we can't stand up for ourselves. We love an assertive nurse that stands up for herself 🥰🥰🥰," one user shared.
You would think folks who play a role in saving the lives of others would be given respect, but here we are. In the name of all that is holy, please do better.