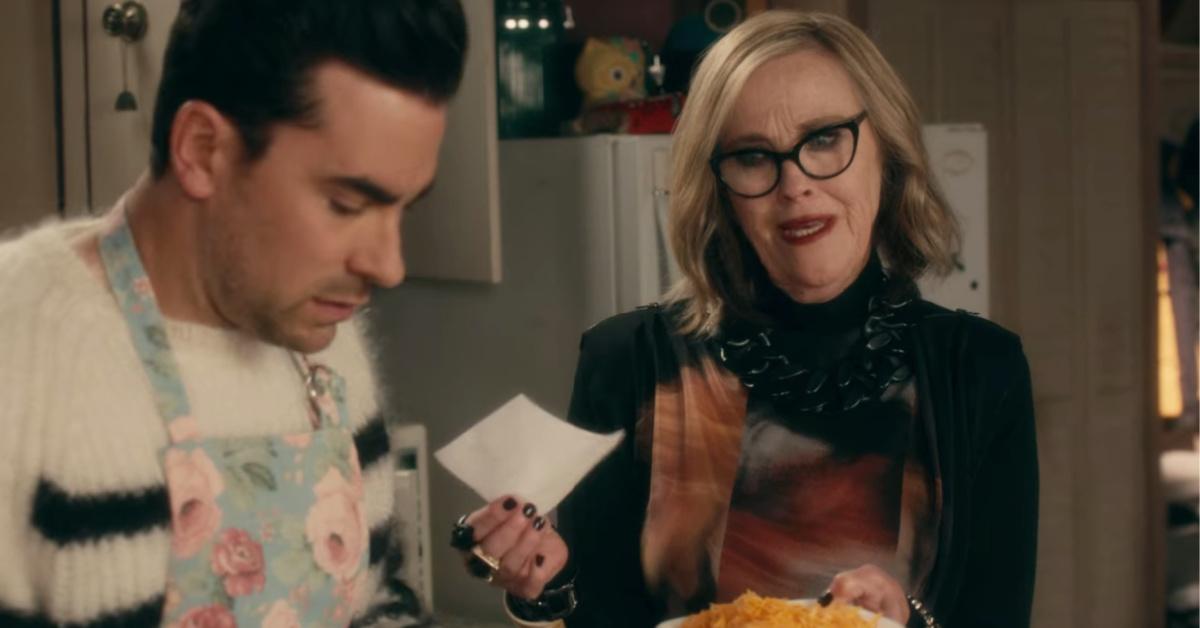 TikTok Is Obsessed With the "Fold in the Cheese" Scene From 'Schitt's Creek'
If you were to make a Venn diagram of "people who are fans of Schitt's Creek" and "people who are fans of TikTok," you probably wouldn't get a perfect circle, but there'd certainly be a lot of overlap. One particular clip from Schitt's Creek is especially popular on the video-sharing app — it's the "fold in the cheese" convo from Season 2, Episode 2.
Article continues below advertisement
If you haven't seen the show, the conversation takes place between Moira (Catherine O'Hara) and her adult son David (Daniel Levy), both of whom have lived a very privileged life but who suddenly find themselves stuck, staying in a motel in the titular town of Schitt's Creek. They decide to make enchiladas but run into problems when the recipe calls for them to fold in the cheese:
Article continues below advertisement
"Fold in the Cheese" is one of TikTok's most popular sounds.
For whatever reason, a lot of popular videos on TikTok make use of lip-syncing to popular songs and clips from TV shows or movies — maybe it's tied to TikTok's Musical.ly origins. Anyway, it didn't take long for the "fold in the cheese" sound clip to become popular on TikTok. You can find hundreds of videos of people acting out the hilarious scene, perfectly capturing each character's personality and mannerisms.
Moira instructs David to "fold in the cheese." When he asks what that means, she clearly has no idea, but she doesn't want to reveal that (the recipe is supposed to be one of her signature dishes, after all).
"You fold it in," she says, providing no additional instruction. David becomes more and more irritated before finally walking away to let Moira figure it out herself.
Article continues below advertisement
Videos using the #foldinthecheese tag have a total of nearly 3 million views — clearly, the clip is loved by many. And while most of the videos are simple recreations of the scene, some TikTok users take things one step further, making the clip surprisingly relevant to real life.
Article continues below advertisement
TikToker @professordavis2019 used the "fold in the cheese" clip in a viral video.
The original clip captures a conversation between two people: one who wants to sit on their high horse and simply give instructions for the other to carry out, and one who has no idea how to carry out said instructions. TikTok user Professor Kayla Davis thought this was a perfect analogy for something going on in the real world.
Article continues below advertisement
She made a video identifying Moira as the U.S. Department of Education, instructing David (U.S. teachers) to simply "use blended learning" while teaching in the midst of the COVID-19 pandemic. When the teachers (as David) ask for clarification, the Dept. of Ed. provides none, and the result is two frustrated parties who, in the end, don't actually come to an agreement on the best way to "fold in the cheese."
Professor Davis' video quickly gained popularity both on TikTok and on other social media platforms where it was shared. "Literally how I imagine Betsy Devos to be," one commenter on TikTok wrote. "You can also replace 'Teachers' with 'Parents,'" another pointed out
Article continues below advertisement
Honestly, we love pretty much every video that features the "fold in the cheese" conversation (how could you not?), but this one might be our new favorite. It's almost a little too perfect, ya know?
The best way to prevent contracting or spreading the coronavirus is with thorough hand washing and social distancing. If you feel you may be experiencing symptoms of the coronavirus, which include persistent cough (usually dry), fever, shortness of breath, and fatigue, please call your doctor before going to get tested. For comprehensive resources and updates, visit the CDC website. If you are experiencing anxiety about the virus, seek out mental health support from your provider or visit NAMI.org.