"Food Prices Are Wild" — Guy Shares Pictures of Grocery Prices from Last Year vs. Today
Let's go on a little tour of Costco prices courtesy of one brave social media user who documented the insane increase from 2022 to 2023. You will get mad.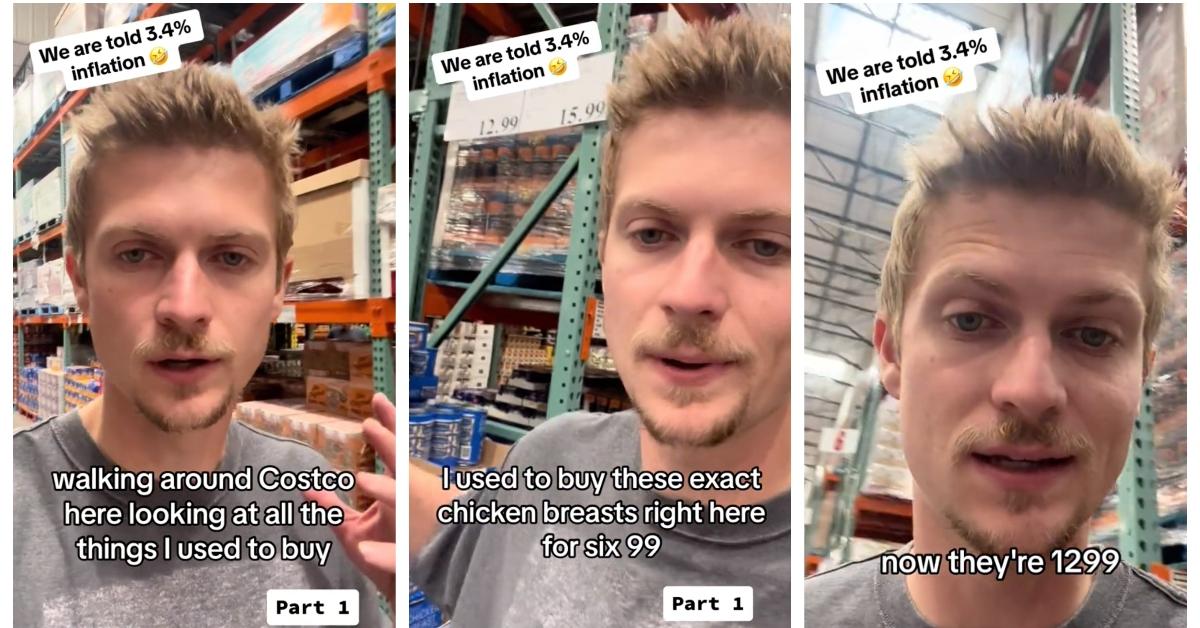 I love a Costco. In fact, I love any big bulk store. Take me to BJ's. Spirit me away to a Sam's Club. I am ready to buy in bulk. It's not enough to have 6 razor cartridges. I need 36. God knows the hair on my legs grows at an alarming rate. I can barely keep up! I'm also coming for comfortable sweatpants. You simply haven't lived until you've bought a weird brand of inside clothes from a wholesale store. I could not be more serious.
Article continues below advertisement
These places also have wild options that you can never find anywhere else. I'm talking massive wheels of cheese, a reclining chair for your pet, or caskets. Actually maybe I do need 20 caskets. I want my funeral to be a parade. But let's be real, the actual reason to head to one of these stores is their prices. They end up being more reasonable than other spots. Or at least how things used to be. One TikToker took pictures of items from 2022 and again 2023. The price increase is maddening.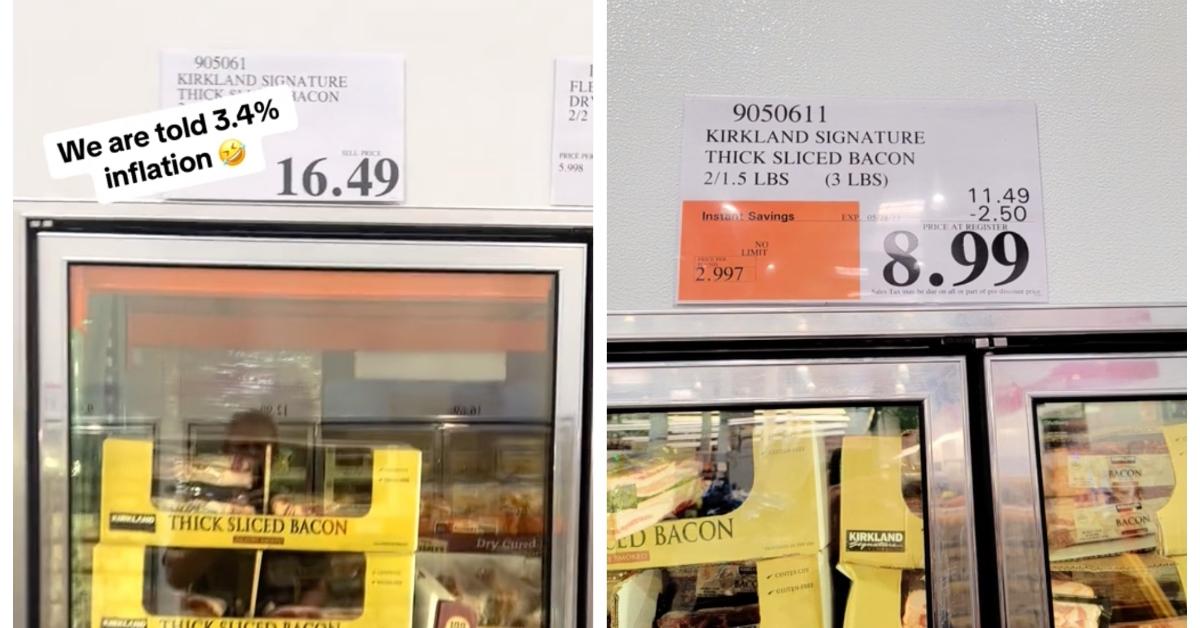 Article continues below advertisement
These price increases are insane.
Tom, who goes by @sidemoneytom on TikTok, is doing putting in the work by documenting price changes at Costco from 2022 to 2023 . I don't know how he does it. When I take a picture of something and then post it, I forget about it until it's time to delete all my pictures. I would have to scrub through my social media to locate it again. Is it in the cloud? Who can say. I don't know where the cloud is. Cloud? I don't know her.
Unlike me, Tom is organized and diligent. He strolls through sizable Costco aisles, pointing out the price increases for items he bought in 2022. It's shocking. "I can't believe the inflation on some of these items," he says. Costco? More like CostMo. Is that a good t-shirt?
Article continues below advertisement
His examples are alarming. Chicken breasts that cost only $6.99 the previous year, are now $12.99. A pack of bacon jumped from $8.99 to $16.49. You're bacon me feel pretty mad! How about that for a t-shirt?
Article continues below advertisement
The good news is, Tom is no longer buying a package of Idaho Spuds potatoes due to the price increase and now endeavors to buy "real potatoes" because they are cheaper. Also, actual potatoes are probably not as bad for you. I kind of consider this one a win.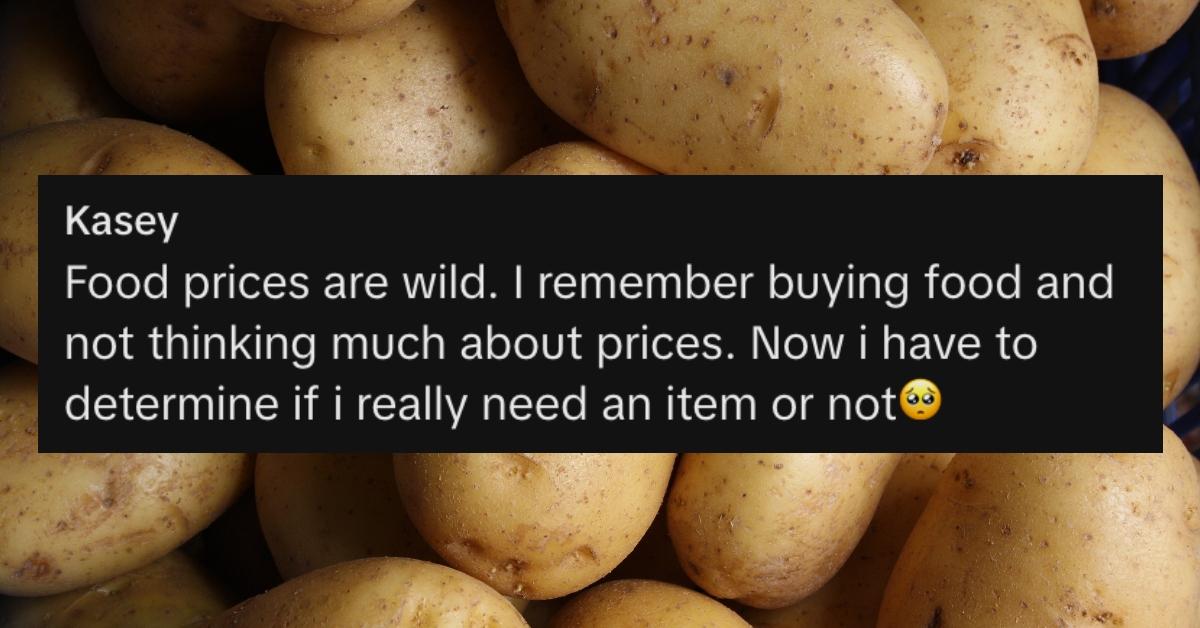 Article continues below advertisement
The hits keep coming with Tom pointing out the price differences in other items, including mayonnaise which is a condiment I cannot live without. People in the comments are equally as incensed. "I went to WinCo the other day and spent $70 on two bags for four meals," said one person. Another said, "Dude, I bought some body wash, toilet paper, and bananas and my total came out to $28. $28???!!!??" Now that's bananas!
So, why is this happening? According to the U.S. Government Accountability Office (GAO), inflation isn't the only culprit. Things like "global disruptions to the food supply chain ... may have had a greater impact."
Article continues below advertisement
Typical things like animal and plant diseases always affect prices. For example, an outbreak in Avian Flu caused the price of eggs to skyrocket. "The war in Ukraine also disrupted the global supply of agricultural commodities—such as wheat, corn, sunflower oil, and fertilizer," said the outlet. "This reduction in supply, coupled with a U.S. drought, caused American consumers to see wheat prices increase." Prices also vary depending upon where a person lives.

Article continues below advertisement
There are some cheaper options but again, it all depends on what's available in your area. "One of the cheapest grocery stores in the U.S. right now is ALDI," says Jake Hill, CEO of the personal finance website DebtHammer (via U.S. News and World Report). "Many diehard fans enjoy the quality and exclusivity of most of ALDI's products, including the ever-changing seasonal items lineup."
Despite what one TikToker commented, WinCo is named in this list of cheap stores. This can be attributed to the fact that they "buy produce and other groceries directly from farmers and manufacturers in bulk so they get better prices per unit to pass on to shoppers," explained Andrea Woroch, a consumer finance and budgeting expert.
I have a suggestion that is impossibly niche and potentially frustrating because of that. I live near Pennsylvania, and have access to Amish markets which. Not only do they have incredibly fresh food, but the prices are nearly unbeatable. Obviously this doesn't help everyone, but if you're close to one that's my suggestion! In the meantime, hunting for coupons and staying on top of price comparisons is probably the best option. Good luck out there!