"$30 for Just That?!" — McDonald's Customer Slams Chain for Price Gouging, The Internet Agrees
A McDonald's customer went on a rant against the high prices of menu items after placing an order in a location's drive-thru.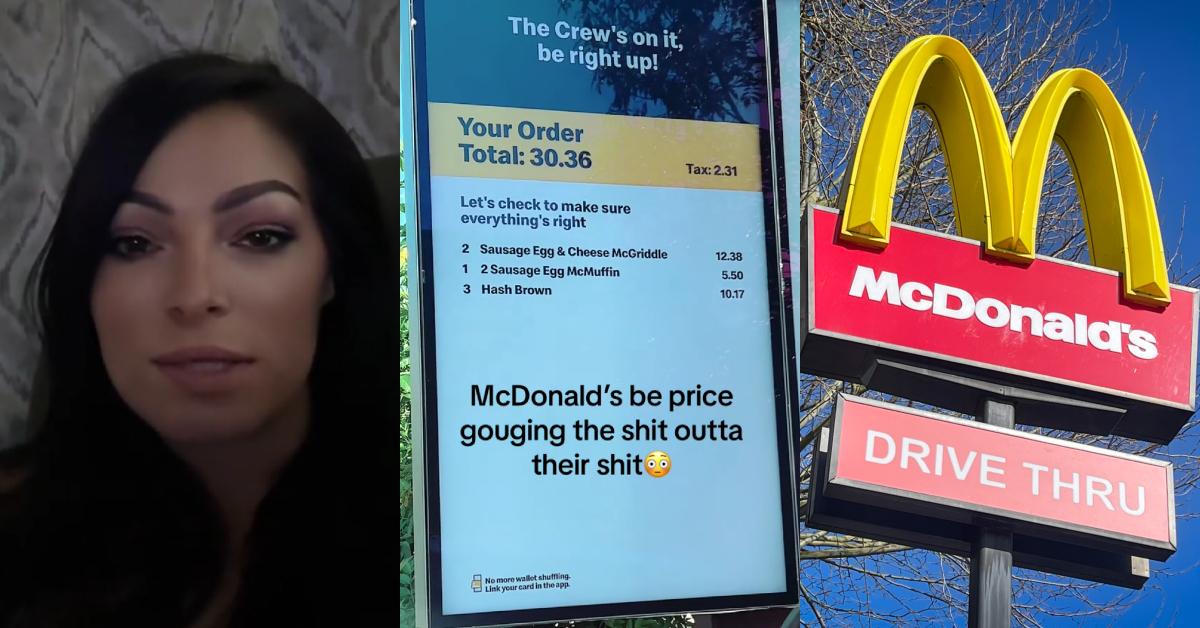 McDonald's customer Jammie Kathryn (@xxxjamdizzle2.oxxx) was left cursing the drive-thru menu after seeing what her total for 6 items came out to in an order she placed with the popular fast food chain. She uploaded her disgust in a viral TikTok video that's accrued over 2.8 million views on the video-sharing application.
Article continues below advertisement
"McDonald's be price gouging the s--- outta their s---" she writes in a text overlay of his clip, which shows a digital menu screen at the drive-thru window that reads: "The Crew's on it, be right up!"
So what's her gripe with her order? The fact that it costs $30.36 for 2 Sausage, Egg & Cheese McGriddles at $12.38, 1 double patty Sausage Egg McMuffin ($5.50), and 3 Hash Browns for $10.17. Add in $2.31 in taxes and the meal comes out to the aforementioned price.
Article continues below advertisement
Jammie uses a sound where someone curses over and over again saying, "Ain't no f----- way," as the audio for the clip, but sadly, this is the reality in America when it comes to food prices.
Article continues below advertisement
Article continues below advertisement
However, there are some folks who believe that fast food companies may be taking advantage of inflation in the United States and are using the current cost of living crisis to artificially jack up the prices of their offerings as it means they can move less product for more money.
There's also the fact that several fast food retailers seem to be moving many of their deals off of the standard pricing models on its menus and are instead, building these deals into their mobile applications.
Article continues below advertisement
However, this just means that if customers want to dine at McDonald's at a cheaper price, they'll have to sometimes be beholden to whatever the chain is offering at the moment, or they need to, at the very least, remember to scan their application whenever they place an order so that they can accrue the points necessary for discounts down the line.
Article continues below advertisement
Commenters who saw Jammie's post seemed to share in her shock at the current cost of the chain's offerings, like one person who wrote: "Remember when they would do 2 hashbrowns for $1?!"
Another seemed to attribute the rising item cost to the increased hourly wages that employees are enjoying as a result of attempting to get more people working in fast food: "Gotta raise the price when you have to pay 15-18$ to flip a burger"
Article continues below advertisement
Someone else seemed to think that paying all of that money for fast food they don't even find appetizing is an insane expectation from McDonald's: "$10 for hash browns that are NEVER crispy & ALWAYS cold"
It looks like there were other folks who thought that Mickey D's was out of their mind for selling hash browns at that price point as well: "I can't get over the price of a single hashbrown they're TRIPPIN!"