Man Tells Woman She's Being Watched but Is He the Real Stalker?
A woman's day out turns into a nightmare when a man tells her that she's being watched. But, is he really telling the truth about his role?
Everyone knows TikTok for being a social media platform filled with trending dance challenges, food recipes, and funny videos. But, sometimes more serious content goes viral instead.
Article continues below advertisement
In one particular incident, a video showcased a woman who was potentially being watched without knowing it. However, TikTok users are questioning the whole thing — especially the role of the guy who brought the situation to her attention. Read on for the whole story.
A man tells a woman that she's being watched by another man with binoculars.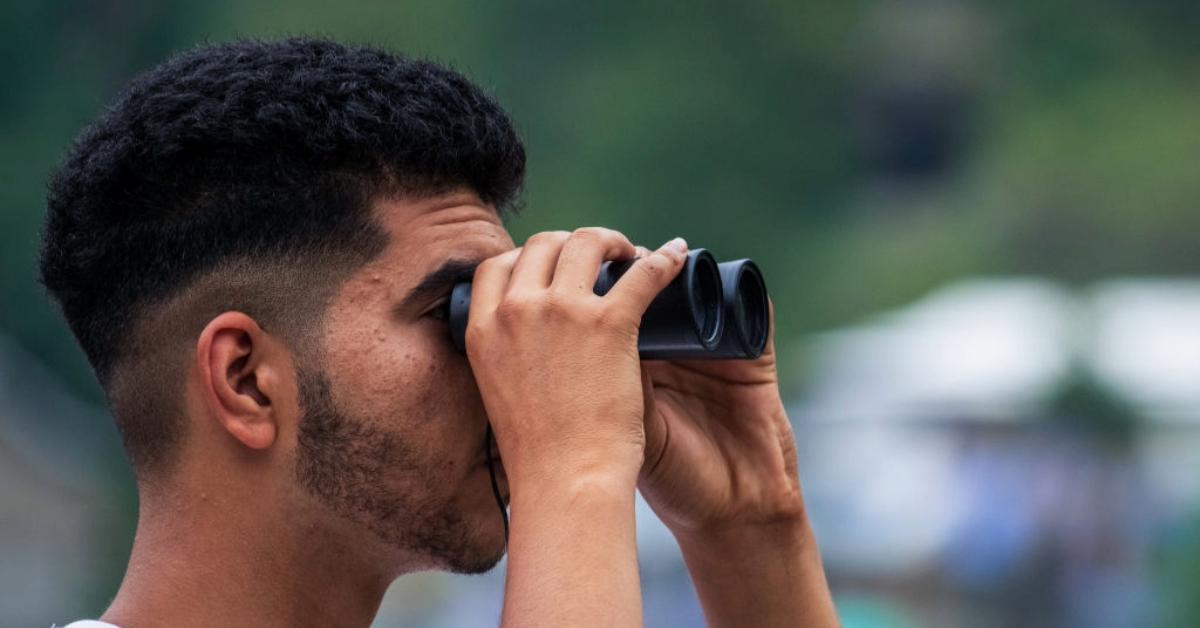 Article continues below advertisement
The popular TikTok account @volumeupvids uploaded a video of a woman having a pleasant day outside. Her afternoon quickly went south when a man approached her in a golf cart. He informed her that he noticed another man looking in her direction with binoculars.
He told her that when he approached the suspicious man and asked what he was looking for, his defense was that he was looking for people who needed water.
Article continues below advertisement
The woman of course instantly seemed nervous about the stalker, and told the man that she would probably not be staying in the area for as long as she had planned.
People think that the real stalker was standing right in front of this woman.
Article continues below advertisement
You'd think that the common reaction to the clip would be gratitude toward the man in the golf cart who was kind enough to warn the lady about her stalker. Instead, most folks seem to think that he was the stalker himself.
When the man was trying to point out the supposed "stalker" in the distance, consider that he told her to "come out here and I'll show you." Getting creeped out yet? TikTok sure was!
Article continues below advertisement
Needless to say, that entire situation seemed uncomfortable from beginning to end. Hopefully, the woman ultimately made it safely back home without issue — from one or two stalkers!
Article continues below advertisement
This isn't the first time a stalker has been caught on camera.
Sadly, this isn't the first incident of a woman having to record herself out in public for her own safety. In Aug. 2023, a video went viral of a Black woman who was being followed by a man inside a store. The man also followed her out to her car.
Article continues below advertisement
The second that she tried to get into her car, the man ran to the passenger side of her vehicle and tried to get in, too. Thankfully, he wasn't successful. Seeing that she was recording the entire situation, he then threatened to break her phone if she did not delete the recording. Um, what?
The video ended with the woman walking back to the store and telling someone to call 9-1-1. Good call!
It seems that in both of these cases, recording the incidents may have prevented something truly chilling from happening.