"I Don't Know Why You Are Following Me" — Woman Catches Stalker on Camera
In a viral post, a woman shares a scary encounter as she catches a potential stalker on camera as she heads to her car. Details here.
It's time to call a spade a spade when it comes to women navigating everyday life. Unfortunately, the world is not a safe place for women to function. Over the years, there have been countless stories of women being harassed, trafficked, assaulted, and many more heinous behaviors.
Article continues below advertisement
Unfortunately, it appears that women have to take extreme measures to keep themselves safe at all times — from being walked to their cars to recording encounters to use as proof should things escalate.
So, it comes as no surprise that a woman on TikTok catches her stalker on camera as she leaves a shopping location and the video is quite scary to watch. Here's the rundown.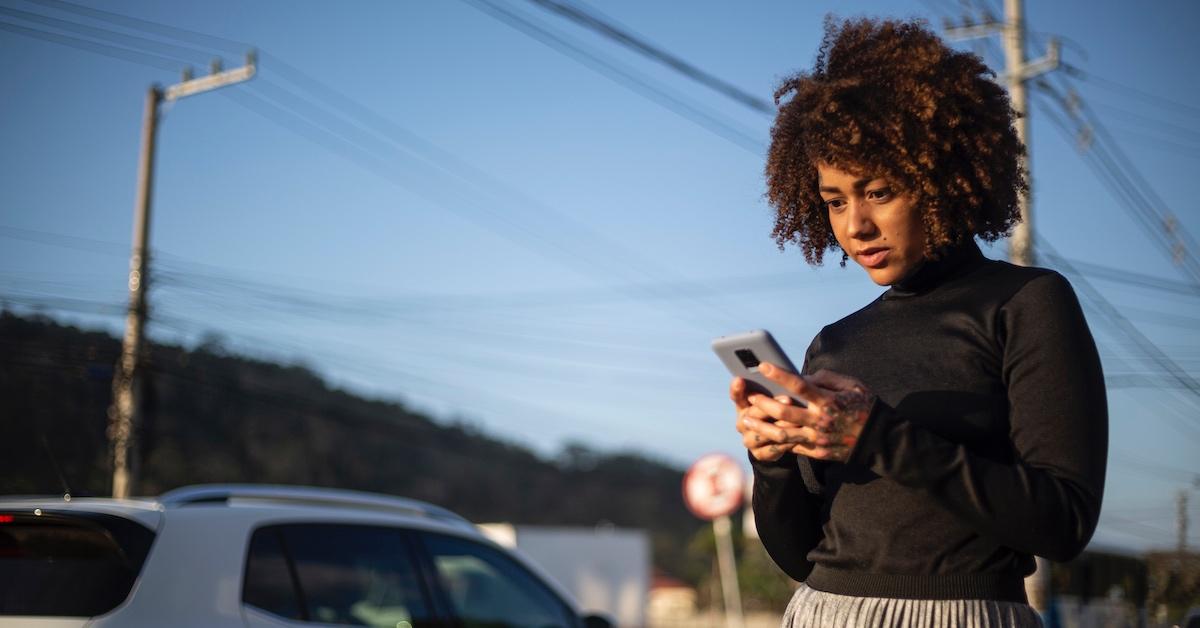 Article continues below advertisement
A woman catches a stalker on camera in a TikTok video.
Some men truly believe that they are entitled to women. In an Aug. 23, 2023, TikTok video, creator Lukas (@lukasroll1) shared a video of a Black woman's scary encounter with a random man.
"Wow, that is so scary. Good thing she used her pepper spray at the end. Should all women be carrying pepper spray in case a situation like this happens," the video caption reads.
As the video starts, the woman is seen walking as a random man stands closely behind her.
"Hold on, I'm about to record you because if something happens to me, they're going to have you on camera," the woman said as the man raised his hands and supported her decision. "Somebody come get their family member following me."
Article continues below advertisement
As the encounter unfolds, the woman is walking in a parking lot and attempting to get into her car. Interestingly, as she pressed her key fob to open her door, the man attempted to walk around to the passenger side to get in.
"Uh, uh, you're not getting into my car," the woman said in a loud voice. "You're tripping."
The man then walked over the the driver side to try and get close to the woman and told her, "Wait."
Article continues below advertisement
"I unlocked my door and you rushed to the passenger side, you are not getting into my car," the woman said again.
The man acknowledged her recording and then said to the camera, "She can't trust the most trustworthy [n-word]," the man said.
Interestingly, the woman said that she already told him that she wasn't single as she continued to walk around her car to prevent him from getting too close. However, the man continued to pursue her and tried to plead his case for the woman to give him a chance.
After the man realized that the woman was serious about her recording and wouldn't give him a chance in the romantic department, his tone switched.
"Hey, delete that camera or I'll grab that phone from you and break it," the man threatened.
The woman then said that there were plenty of witnesses outside and the man said that he didn't care.
Article continues below advertisement
She then asked again for him to get away from the car but he's more concerned with the recording.
"I'll delete the video once I see you walking that way," the woman said. "Because for my safety, you just followed me around this store and then you followed me to my car. So actually, I'm going to go back to the store because you are out of line right now."
The man told her to walk back to the store and delete the video.
Article continues below advertisement
As the woman walked back in the direction of the store, the man followed as he told her to repeatedly delete the video.
"I'm waiting for you to delete that s---," the man said. "You're not about to make any money off of me."
The woman clapped back and said it only looked like he could make money off of her. The woman then saw people off-camera and asked them to call 9-1-1. The man then got belligerent and started cursing at the woman about the video.
Article continues below advertisement
TikTok users are happy that the woman is safe.
Unfortunately, crazy things like this happen on an everyday basis. So, when folks share scenarios like this on social media, people are always ready and willing to share tips to protect themselves moving forward.
As usual, TikTok users shared their sentiments about the situation and also revealed that this occurred a few years ago. Still, many people shared various tips from going live on your phone instead of recording to walking with a weapon to protect yourself.
"Don't just record, they can take your phone! Always go live or on FaceTime," one person said.
"Man, she's better than me because I don't know what I would have done in that situation. I hope she's OK," another person shared.
"I would have activated my car alarm," another user said.
Article continues below advertisement
Ladies, it's very important to be aware of your surroundings. In a situation similar to this, never leave the store. It's always best to inform the store or security so they can deal with the situation.
Not to mention, it's always good to make a call to a loved one, preferably FaceTime, so they can see who's harassing you. Additionally, if you're able to secure footage of the assailant, it's best to call the authorities and provide them with the footage so they can handle the situation.
Some people are truly out of their minds, but it's imperative to stay diligent and make the right choices.