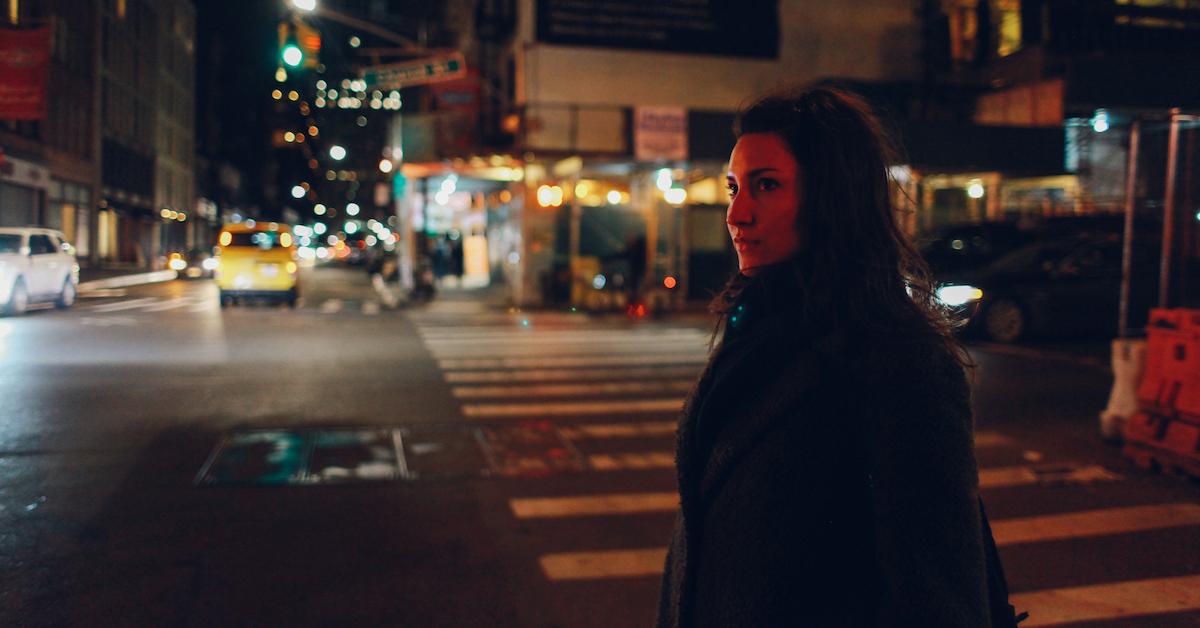 Man Recounts Moving Story of How He Helped a Woman Who Was Being Followed
There's a reason women feel unsafe walking alone. Women are harassed and followed and assaulted regularly, far more often than many men believe. One man recently witnessed this firsthand when a strange woman approached him in the street, hugged him, and asked that he pretend they know each other. She was being followed by a group of men and didn't know what else to do.
Luckily, the man she chose to help was a stand-up guy who helped her get home safely. Later, he shared his story on Twitter.
Article continues below advertisement
They were in New York, and he was hesitant at first, thinking it could be a set up. But, he writes, "her hug was too real to be fake." How devastating is that? How horrifying that a woman was just trying to go about her evening, and now she's scared out of her mind? So he did the right thing. He played along. He walked with her. And he may have saved her life.
That's the thing: She also had to make a judgment about him. She had to trust he would understand and would step up to help her. Talking to this man to save herself from three others... That was a risk, too.
Article continues below advertisement
But she trusted him, and it turns out she was right to do so. He even went through the extra step of exchanging phone numbers with her. Since he lives in the neighborhood, he told her he or his boyfriend would meet her at the train anytime if she was walking home and felt uncomfortable. That's a good guy right there.
Article continues below advertisement
The next morning, they spoke again and she explained exactly what happened. The three men followed her off the train and waited when she ducked into a store for a few minutes hoping they would go away. She noticed several people in her path, but none of them seemed up to helping her out.
It's absolutely infuriating that women are made to feel unsafe in the streets. She was forced to worry for her life and to exhaust her emotions trying to find a safe path to her own home. Men don't deal with this. For women, this is an everyday reality.
Article continues below advertisement
He actually thanked her for making him more aware of what women go through on a regular basis. Luckily, she picked the right person in this instance. She was so lucky he took his time to assess the situation and react in a way that helped her out. He turned out to have been trained for similar situations. She couldn't have possibly known that at the time, but she trusted he would do the right thing.
Article continues below advertisement
It really seems like a strong bond and a real friendship resulted from this harrowing experience, so that's one tiny strand of silver lining. That night, she was worried for her life.
Article continues below advertisement
I think that he's probably sharing this not to make himself look good or for the benefit on women out there, but he's sharing this to make men more aware of what it's actually like to have to move through life as a woman. Women aren't just statistics and trends. They're people who regularly get followed and assaulted while they are just trying to go to work, or return home.
Article continues below advertisement
And this guy totally got it. Men need to start to be proactive, to call each other out, to be aware of their surroundings and notice when there's a woman who's afraid. Men created this toxicity; it's on them to quash it.
Article continues below advertisement
It was extremely lucky that this guy was walking down that street that day. It's horrifying that women have to live in fear and be on the defensive all the time. Obviously, I'm glad this guy was there to help this woman that day. But it's heart-wrenching that women have to deal with this in the first place.