Twitter Explodes Over Conversation About Asking Friends for Consent to Vent
One woman provided a template for how to tell friends you didn't have the capacity to be there for them emotionally at the moment, and Twitter skewered her for it.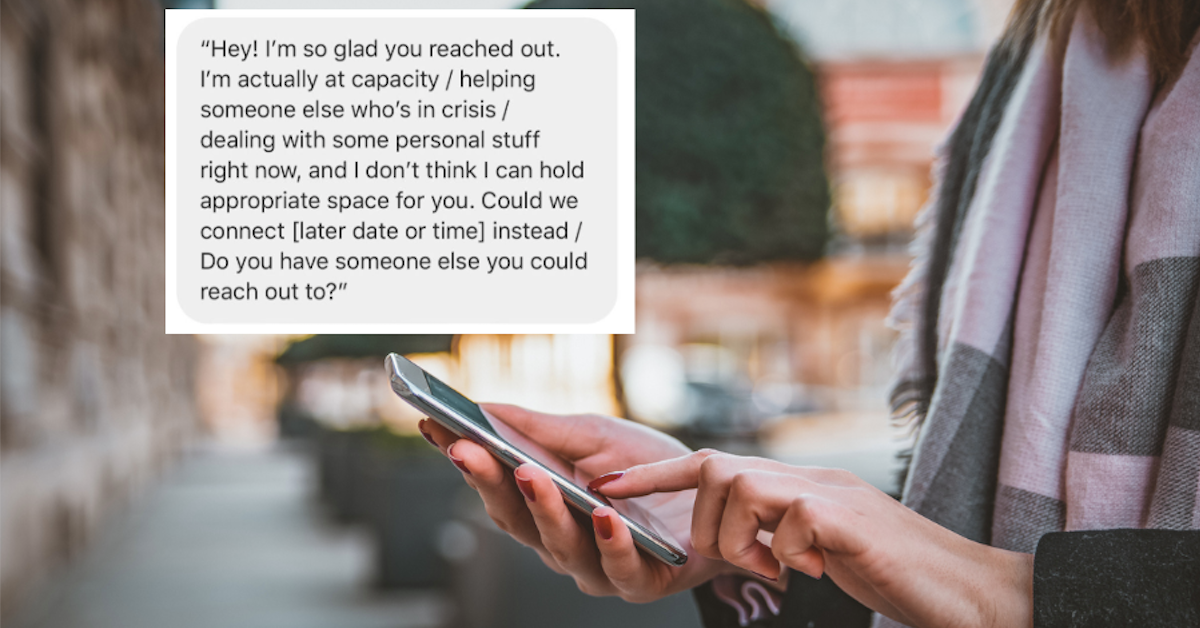 Have you ever gotten a long, emotional text from a friend, or sat across from them at a table while they endlessly vented about their relationship problems or professional woes and thought, I really cannot deal with this right now? It's not that you don't love and care about your friends problems. It's just that you have way too much of your own stuff going on at the moment to handle another person's problems too.
Article continues below advertisement
Well, that is essentially the problem at the center of Twitter's latest obsession. It all started with a thread from a woman named Melissa Fabello, a social justice activist, about what it meant to her that her friend asked permission before burdening her with their current frustrations.
Article continues below advertisement
In the thread, Melissa explains that while this is a friend who "doesn't 'have to' ask for permission" to vent, she still appreciated this message because it acknowledges that she is a person who has her own stuff going on, who might be dealing with a crisis of her own at the moment, and it warns her about the context of the conversation her friend hopes to have.
Melissa writes, "For someone to pause and think, 'I would really like to talk to Melissa right now, but let me check in to see if she has capacity for this' is *astounding* to me. And it really shouldn't be."
Article continues below advertisement
Sounds like a nice thing to do, right? If you've got an issue, and you want to talk to your friend about it, it doesn't hurt to ask them if they're around, able, and willing to help.
Article continues below advertisement
This thread sparked a lot of questions about what to do if you are on the receiving end of one of those messages and you don't actually have the capacity to help at the moment. How, in those cases, should you respond to a friend who is clearly in need? Melissa offered a template...and that's when things kind of went haywire.
Article continues below advertisement
Twitter took this and ran with it. I mean, like, it's a meme now. That's how viral this went. This template triggered a wave of intense criticism to the point where Melissa was being called "psychotic" and "crazy" and "pathological." "Do NOTTTT send people this omfg," one Twitter user wrote.
"If I texted my friend mid mental crisis and I got a TEMPLATED rejection letter back I would just die on the spot," another wrote. While some people thought it was fine, and most people agreed that the idea was good, Melissa's template response got totally hammered by Twitter.
Article continues below advertisement
Article continues below advertisement
I understand the criticism, though maybe not the extent of it. Sure, the template is a bit cold and impersonal, but...that's what a template is. That's why it's a template. Merriam-Webster defines template as "something that establishes or serves as a pattern." It's just supposed to serve as a framework for your message. I don't think Melissa was saying you should send those words and only those words to your friend. You should feel free to zhuzh it up with oh, I don't know, personal details about your lives.
The idea is still valuable. Sometimes people really aren't in the emotional space to help their friends with a crisis, and we should be able to (gently, sensitively, personally) tell each other when that's the case. Just the other night, a friend texted me, "Hey, can I ask you for some relationship advice?" It wasn't, "Do you have the emotional capacity to handle some questions about personal relationships?" But it had the same effect.
Article continues below advertisement
If I really couldn't have handled the conversation, I could have said, "Hey! I'm actually going through some stuff of my own right now, so I don't think I'd be much help at the moment."
The sort of "clinical" language Melissa suggests is unnecessary...but it's also not "monstrous" or "psychotic." Someone asked her what to say, and she responded with a generic possibility. It probably works for some people (i.e. Melissa and her friend) and not for others, and that's fine. YOU don't have to be that formal with your friend if it doesn't work for your relationship. It's the idea that's important.
Article continues below advertisement
That being said, when one woman reached out to her friend after a miscarriage and her friend shooed her away with a similar reply to the ones Dr. Fabello discussed, she was understandably hurt. A Twitter user named Kelsey Jade shared a screenshot of a text exchange she had with her "best friend" who decided she wasn't able to help Kelsey. "I recently suffered a pretty traumatic miscarriage and this is what my 'best friend' sent me when I told her... These people are crazy. And then she blocked me lmaooooo," she wrote to caption the below screenshot.
Article continues below advertisement
Kelsey needed her best friend and felt totally abandoned when she was just like, "Nah, I'm stressed." Admittedly, if I was Kelsey, I would probably also feel taken aback if I got this message from my supposed best friend. I don't think it's evil for this friend to be in a position where she felt she couldn't help Kelsey through an insanely difficult time. The feeling is valid. Ultimately, your own health is the most important.
But there are ways to maintain boundaries while still offering a level of support for your friend (and not shoving your own issues on them in the process). It's not all or nothing. Melissa's message template isn't carte blanche to abandon your friends every time you're the least bit stressed about your own life.
Being a good friend and a good person is actually sometimes about sacrificing a bit of comfort or stability to help a person you care about, and that has to be part of the conversation, too. Sometimes it's OK to tell a friend you're unable to be there for them. Other times, it's best to stay quiet and offer the support you can. Use common sense. Be a person! This isn't black and white, but it's also not that hard to recognize when someone really needs you.