Guy Whined That He Was Single Because Women Prefer 'Losers' and Twitter Went Off
In 2019, Twitter still had to school this weirdo who complained that women wouldn't date him even for all the things he could "provide," including hundreds of pounds of...beef.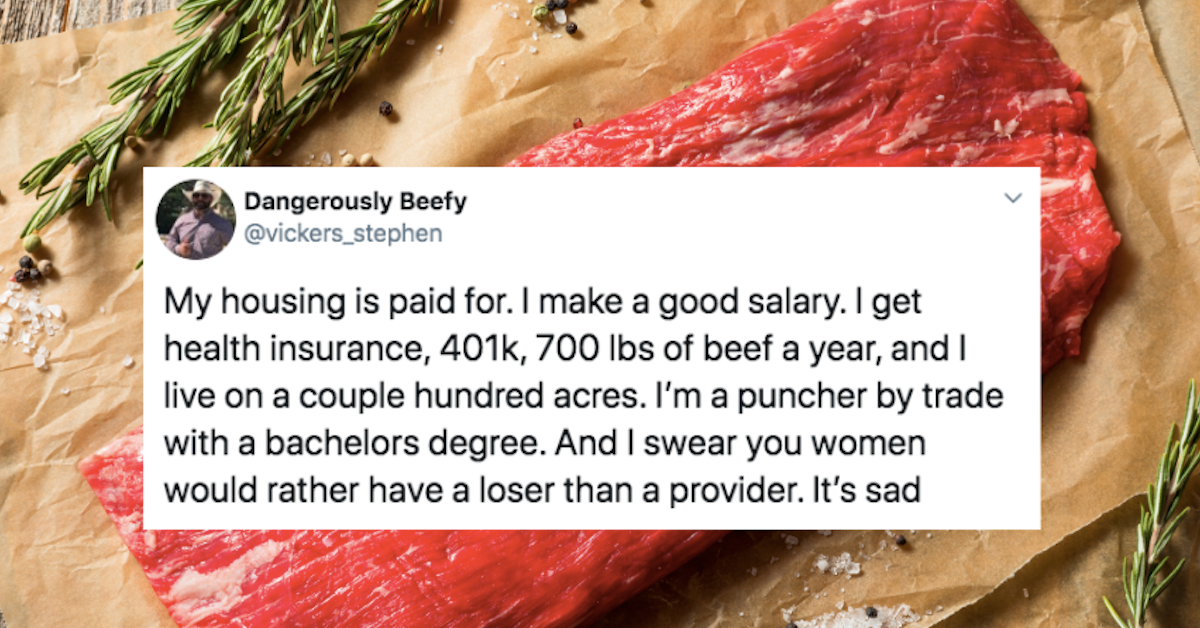 What do women want in a partner in 2019? I for one want a partner who supports me, who loves me for who I am, and who provides me with at least several hundred pounds of beef per year. Luckily, there's a man just for me.
Article continues below advertisement
One Twitter user has been put on blast for his rant against the women who don't find him worthy of a relationship. It's funny though, because he mentions beef. A lot. Sure, he might have antiquated views about relationships and what women want, but he brings in so much beef annually that that's kind of all that I want to talk about. Confused? Just read this:
Article continues below advertisement
His housing is paid for. He makes a good salary. He has health insurance, a 401k, a degree, and a couple hundred acres. Still not convinced? Well, he also brings in 700 pounds of beef a year. What woman could say no to nearly half a ton of beef? Most losers have five to ten pounds of beef per year, tops. And women prefer them? What's their problem?
Obviously, this tweet went completely viral. Almost 1,000 retweets. Over 12,000 likes. Countless snarky replies. It's absurd. His handle is @vickers_stephen, but his username is Dangerously Beefy. How is someone with the name Dangerously Beefy still single? It's a mystery.
Article continues below advertisement
DB (his nickname that I just made up) added a tweet to his thread explaining exactly where he was coming from because people weren't really getting it. "Before this goes viral and gets out of hand," he wrote, "I [100 emoji] believe that teamwork makes the dream work. I'm not looking to hold anyone down, only build them up."
And it was while reading this follow-up tweet that I had a realization. My face dropped as I came to terms with the fact that DB is completely serious about this. His first tweet wasn't a joke. He thought talking about all his beef and whining about the women who don't want him would... make women want him? The logic... it's not there! The responses are choice (which is a cut of beef) if I do say so myself.
Article continues below advertisement
Maybe if he was clearer about how the beef was dispensed, he would get more women clamoring to get involved with him. No woman I know wants to be saddled with hundreds of pounds of beef at once. There would have to be an appropriate schedule agreed upon.
Article continues below advertisement
Of course, some took DB's whining a little more seriously and offered a serious response to his clearly genuine frustration. "Women aren't looking for a 'provider' anymore," one Twitter user wrote. "We are looking for a partner / teammate. We have degrees, job withs benefits, housing, etc. [read: our own beef]. We can provide for ourselves so we want to be with someone that loves, encourages, and pushes us. We don't need to be rescued or provided for."
This is all very true, but honestly, I don't know what this person thinks they are going to teach a guy named Dangerously Beefy who thinks that the more beef a person has, the more desirable they are.
Article continues below advertisement
Honestly, what more should a woman want in a partner? Deep conversation? Emotional intelligence? A sense of humor? No. The massive amount of beef should be enough. With any luck, you'll eat so much steak you'll die of a heart attack without actually having to talk to the guy.
Article continues below advertisement
One Twitter user wrote, "I always ask someone how many pounds of beef they have before dating them. That's how I ended up married to someone who gets 80,000 pounds of beef a year. Compatibility means nothing if you can just build a smelly wall of meat between you and him." Truer words have never been typed into the cybersphere.
You don't come to Twitter thinking that your day will be upended by beef discourse, but here we are. I hope DB learns that women are people and not vessels for beef, but I do truly hope he finds the filet to his New York Strip.