"Food Trucks Are Out of Control" — Man Laments About How Expensive Food Trucks Have Gotten
Are food trucks too expensive these days? One TikToker has some complaints about meal pricing at certain food trucks in his home state.
In the midst of a troubled economy not totally unlike a recession (or at least recession adjacent), most of us try to do our best to budget for the essentials. For many of us, that most certainly includes food. Whether we're ordering ready-made meals, living off of subscription box snacks, or trying to see if we can check out the latest no-carb, no-filler junk-food-made-healthy we come across on our feeds, we'd all love to save money while filling our bellies. Some have tried to rely on food trucks.
Article continues below advertisement
You might find them parked outside office buildings or on street corners or even on college campuses, but food trucks have long been a popular method for folks to grab a quick bite to eat while on the go or on the job. They have trucks for just about anything you're hungry for, so you can always find something to munch on. But are food trucks getting too expensive these days? Here's what one TikToker has to say about how much he's spent on food trucks lately.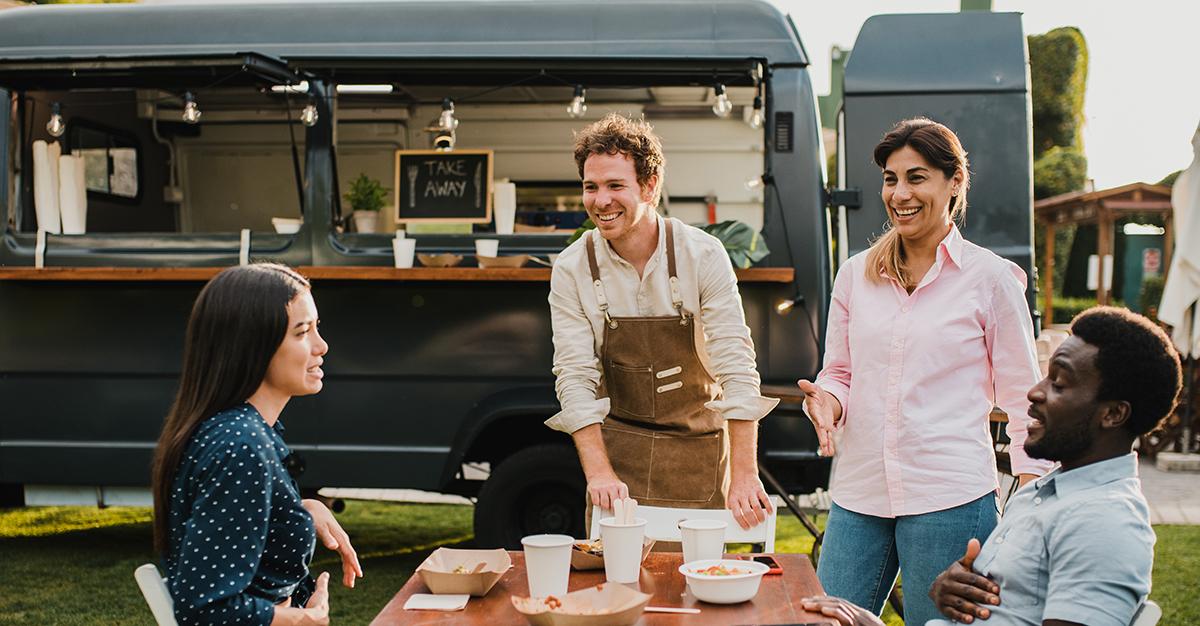 Article continues below advertisement
Are food trucks too expensive these days? One TikToker seems to think so.
In late June 2023, notyorbuddy2 (@NotYourBuddy2) posted his complaints about how expensive he believes food trucks have gotten.
"Is it just me or have food trucks gotten completely out of hand?"
In his video, he fondly remembers food trucks as places where you could get good meals for a reasonable price. These days, he still thinks food truck food is "fantastic," but definitely not worth the price of admission.
Article continues below advertisement
"You'll spend $40 or $50 at a food truck," he claims, believing they should cost less for not being served at an actual restaurant.
"I know they're probably paying rent for wherever they're set up, but to me [those prices] are insane."
Article continues below advertisement
For the most part, people in the comments agree. One person claims that even paying $20 for a food truck lunch is too much.
"The whole purpose of the food truck is to reduce cost by eliminating the building rent," another commenter claims.
Article continues below advertisement
Another commenter won't even approach $20.
"Stopped by a new truck that just started in the area," they wrote. "They wanted $4 each for those small street tacos [and offered] $15 burritos and $13 quesadillas. We didn't eat."
If you're in the same boat and wondering why food trucks may have gotten more expensive in your area, The Cold Wire previously laid out some reasons as to why. According to their 2022 report, food truck owners need to pay for rental costs, as OP suggested in his TikTok.
Article continues below advertisement
However, owners are also responsible for other factors like food truck loans to keep their literal business location operational. According to Forbes, the cost of an average food truck can run upwards of $80,000 before daily operating costs.
Article continues below advertisement
A food truck owner also needs to factor in things like ingredients, supplies, utensils, and napkins like a regular restaurant might. Oh, and there are also fuel costs because ... it's a truck.
There are several factors that might contribute to higher food truck prices. But think of it this way. If you're experiencing trouble with price increases, then chances are that other folks are experiencing the same thing. That includes food truck owners.