Fredrik Eklund's Husband Isn't Super Keen on Having More Kids
Celebrity realtor Fredrik Eklund has baby fever! In a July episode of Million Dollar Listing New York, the Swede told his husband, Zimbabwe-born painter Derek Kaplan that he had been texting with the couple's surrogate about having more children.
Article continues below advertisement
"We are the best dads," Fredrik, 44, said, trying to convince a reluctant Derek. So, who exactly is Fredrik Eklund's husband and what's their family like today? Keep reading for everything we know about this gorgeous family.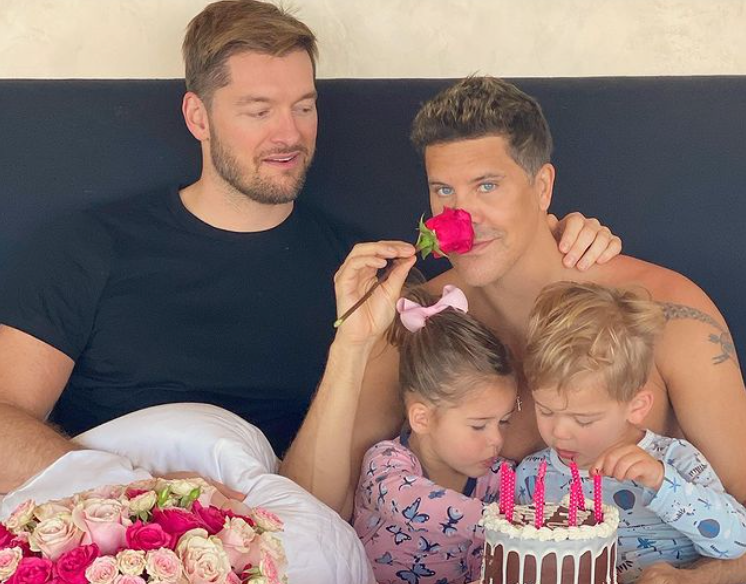 Article continues below advertisement
Who is Fredrik Eklund's husband, Derek Kaplan?
Derek Kaplan is a self-taught abstract artist who lives and works in Los Angeles. He moved to London at the age of 21, where he pursued many different career paths and entrepreneurial ventures before deciding to become a full-time artist.
In 2010, Derek met Fredrik while the realtor was on vacation in Greece. "There are always two sides to every story but Derek claims he had never seen anyone more handsome and he was confused because he didn't know this blue-eyed guy standing in front of him smiling like he was about to do the biggest deal of his life," Fredrik recalled in a blog post on the occasion of their five-year anniversary.
Article continues below advertisement
"My side of the story is that I saw an angel — the hottest angel I've ever seen, I swear on it. ... One moment, alone — the next, heartbeat in love," Fredrik continued. "That's how life can turn."
Soon enough, Derek joined Fredrik in New York and the two went on to have truly gorgeous 3-year-old twins, Freddy and Milla.
Article continues below advertisement
Derek Kaplan has a third child, Kai, who still lives in London.
After spending the pandemic at their Los Angeles house, Fredrik has been looking to expand the family and revealed on Million Dollar Listing that he had already reached out to the surrogate who carried their twins.
"[Misty] is saying if we are ever going to have more kids, it's decide now," Fredrik told his husband. Derek was vocal about the fact that they barely have alone time since they spend so much energy on the kids, and that another child "would accelerate that more."
Article continues below advertisement
He also reminded Fredrik of the fact that the surrogacy process wasn't easy the first time around. "I like a simple life that's full," Derek explained. In response, Fredrik said, "You shouldn't have married me if you wanted a simple life."
Article continues below advertisement
While Fredrik is only the father to the twins he and Derek raise together, Derek has another child who lives back in London, named Kai. In 2016, Derek and Fredrik revealed on Million Dollar Listing that Derek had donated his sperm to a lesbian couple in London sometime around 2009. The couple got pregnant almost immediately, and Kai has been a part of Fredrik and Derek's relationship since day one.
"I love him like he's my own son," Fredrik posted on Instagram back in 2015.
So, will this real estate star get his wish of more children? Tune in to new episodes of Million Dollar Listing New York, Thursdays at 8 p.m. on Bravo to get to know the Eklund-Kaplan family better.