5 Dating Apps Queer Womxn Need to Download Right Now
Online dating can be miserable, but it helps to have apps that curate to your tastes. Here are free lesbian dating apps you need to download today.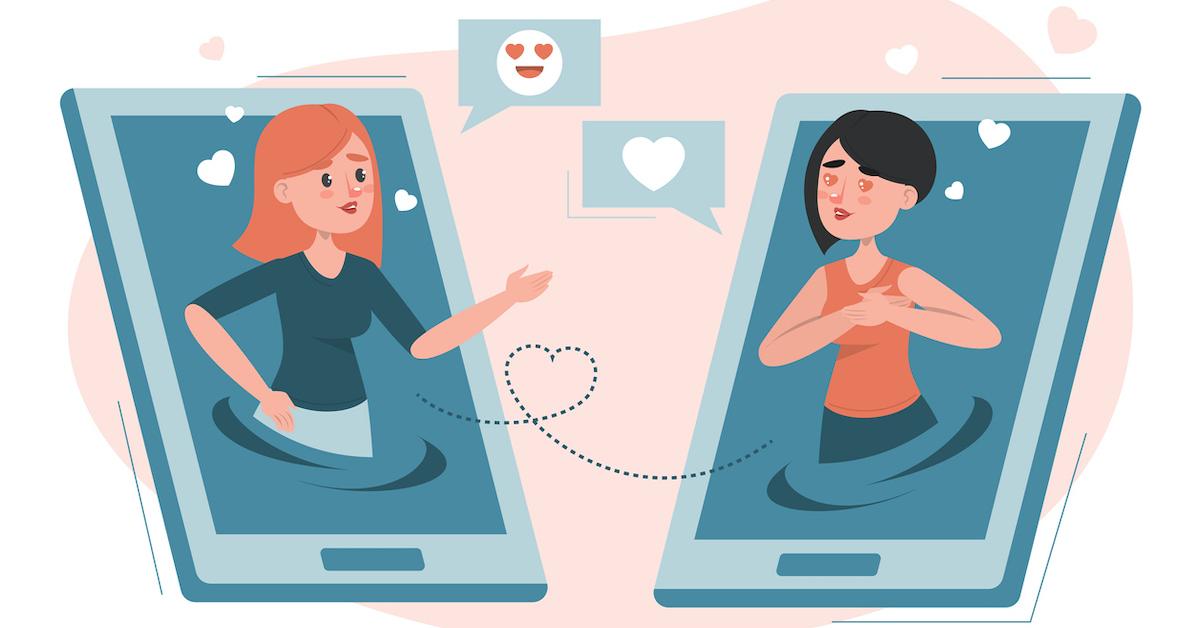 Online dating can be difficult and demoralizing for anyone, but those feelings kind of apply twofold if you're a womxn-loving womxn looking to connect with other lesbians, bi, or bi-curious people. To help you navigate the world of online dating as a queer womxn, here are five free lesbian dating apps for girls who love girls!
Article continues below advertisement
Free lesbian dating apps you'll want to download right now:
Plus, apps can really help expand your network to people you'd never encounter in regular life. So whether you're looking for romance or for friendship, keep scrolling and get downloading today!
1. HER
One of the longest-standing dating apps made specifically for lesbian, bisexual and queer people is HER, a platform with over 4 million users. Created by queer girls for queer girls in 2015, Robyn Exton's initial goal when she founded the app was to create a community that was "more social, less dating."
Now, five years after it was created, over 23 of the couples who met on the app are happily married, according to HER's Instagram page. About a month ago, in August, HER launched Shoot Your Shot, a new weekly series featuring queer folx looking for connections through their Instagram stories.
Article continues below advertisement
2. Lex
Lesbians adore Lex, a queer dating app and social network for lesbian, bisexual, trans, genderqueer, intersex, two spirit, asexual, and queer people — basically anyone who's not a cisgender man. If you're used to apps like Tinder and Bumble, Lex might look a little different because the app has ditched swipes in favor of more classified-type ads (where users can write up a description of who they are and what they are looking for) and Craigslist-like missed connections.
Article continues below advertisement
3. SCISSR
It might not be the most popular app among lesbians, but SCISSR is certainly the one with the best name. SCISSR describes itself as offering "a community for lesbians, bisexuals, nonbinary folks, and other queer womxn desiring to increase their connections with other amazing queer individuals who are wanting romance, friendship, conversation, and even networking."
Article continues below advertisement
4. Zoe
According to many lesbians on social media, Zoe is a great app to meet local womxn and queer folks worldwide. The social networking and dating app is available for iOS and Android and boasts over 3.9 million users, making it almost as popular as HER.
While building out your profile, Zoe will ask you questions about yourself so that she can better match you with other queers. As Go Mag writes, "Zoe is a personality, not just an app. Think of her as the lesbian version of Siri or Alexa."
Article continues below advertisement
5. TAIMI
People are saying that Taimi, the LGBTQI+ dating, chatting, and social network app is one of the best platforms for socially anxious and timid lesbians. While Taimi initially started in 2017 as an app for only gay men, it quickly expanded to include everyone in the LGBTQI+ spectrum, and is now available in over 45 countries including the United States, Canada, Australia, Singapore, and Brazil.
So get swiping, ladies!