Freeform's 31 Nights of Halloween Lineup 2020 Has Officially Been Released
By Lizzy Rosenberg

Sep. 2 2020, Updated 2:22 p.m. ET
Although Halloween only comes once a year, spooky season lasts a full 31 days. And IDK about you, but one of our absolute favorite pumpkin holiday traditions is watching the entirety of Freeform's 31 Nights of Halloween lineup.
The lineup features family-friendly films like Casper and Hocus Pocus, as well as more frightening flicks like all three of the Scream movies. Bottom line: There's a lot to look forward to in terms of movies, so grab some popcorn... and brace yourselves.
Article continues below advertisement
You can expect to catch 'Hocus Pocus' a total of 14 times on Freeform's 31 Nights of Halloween lineup.
Yes, you heard that loud and clear, folks — you can watch the Sanderson sisters do their witchy thang a total of 14 times over the course of October.
I won't name them all, but if you decide to tune in on any random day, chances are, they'll be airing the cult classic Halloween film.
Article continues below advertisement
'Nightmare Before Christmas' is showing several times as well.
Regardless if you consider Nightmare Before Christmas to be a Halloween or Christmas movie, you can count on watching Tim Burton's holiday flick at least once. According to Freeform's schedule, it will be showing on Oct. 2, 11, 17, 19, and 29. So you'll have a number of opportunities to check in on Jack Skellington aka "The Pumpkin King" and the rest of his creepy gang. 
And note: If you're really into Tim Burton, Corpse Bride will be playing on several days, too.  
Do you like scary movies? Freeform will also be airing 'Scream.'
According to the schedule, Freeform will be airing the hit horror film Scream and its two sequels! If you're looking to watch a great slasher film, definitely check this movie out.
Oh, and just so you're prepared, Courtney Cox will — in fact — be there, and yes, Drew Barrymore will be there, too... that is, for the first five minutes of the first film.  
Article continues below advertisement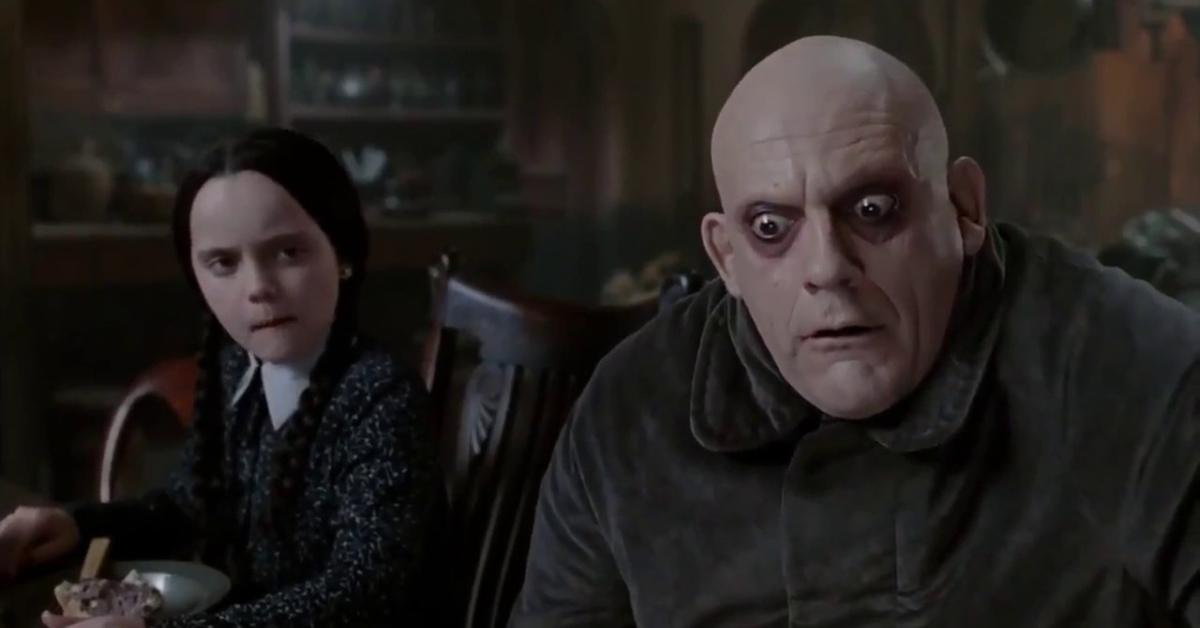 You can expect to see a bunch of throwbacks on the list, as well.
On Oct. 18, per the lineup, the 1984 film Gremlins will be airing at 11:30 p.m. ET. They're also showing the original Ghostbusters from that same year on Oct. 3-6, 17, 20-21, 25, 29, and 31.
Fans of The Addams Family can expect to watch the 1991 version of the film Oct. 3-4, 8-9, 12-13, 18-19, 24-25, and 30-31, as well as Addams Family Values immediately following.
Article continues below advertisement
If you aren't into the spooky stuff, though, there are more lighthearted options, too.
On Oct. 16 and 28, you can catch Disney's Monsters Inc. and the sequel Monsters, University.  Shrek will also be playing several times throughout the month, in addition to Hotel Transylvania, and Matilda. 
If you're ready for spooky season like we are, this lineup release is big news. Seriously, if you need us, we'll be spending October watching Freeform. Make sure to tune into 31 Nights Of Halloween from Oct. 1 through Oct. 31 on ABC's Freeform.