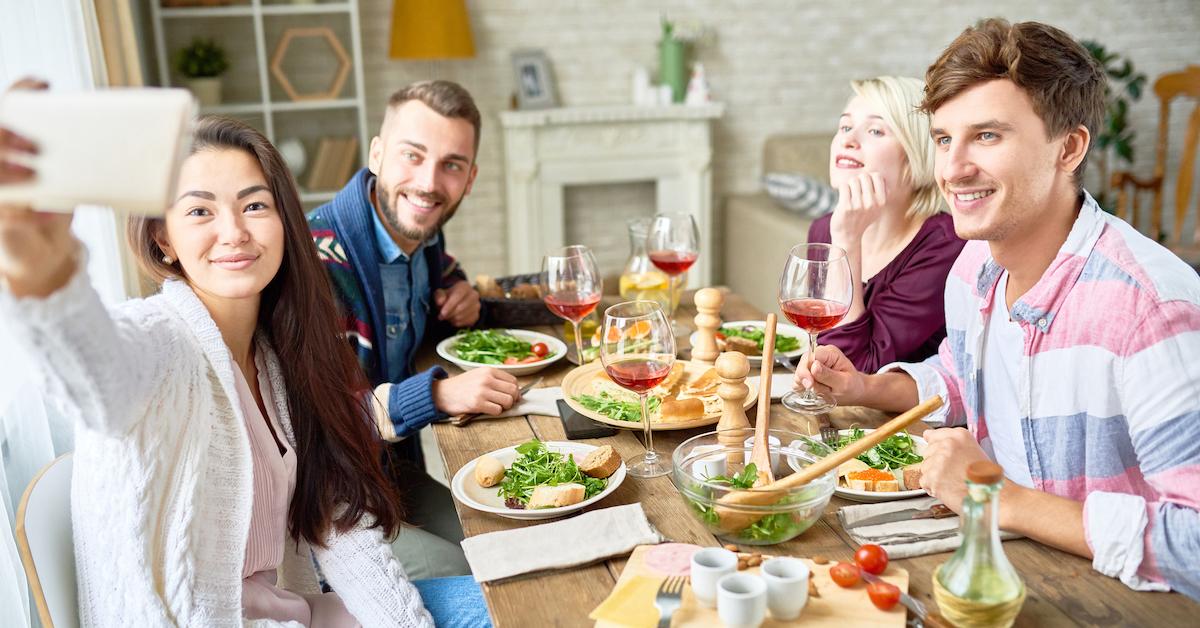 24 FOMO-Inducing Captions for Your Friendsgiving Instagram Posts
What better way to spend the holidays than by making sure all of your followers know you're living your best life? When it comes to Friendsgiving Instagram captions, we've got you covered. Here are the best quotes, puns and captions for all of your feast pics.
Did the holidays even happen if you didn't post about them on your Instagram? Of course not! For many, the abundant pictures of food and embarrassing childhood pics are the reason to even go home to visit family for the holidays.
Article continues below advertisement
But if you're ditching your fam in favor of a Friendsgiving, or have the time to juggle both festivities, you're going to want to make sure you not only have the perfect pics of your feast — you'll also want to make sure you have some FOMO-inducing captions that'll make your other friends invite you to Friendsgiving first next year.
Friendsgiving quotes for Instagram:
Article continues below advertisement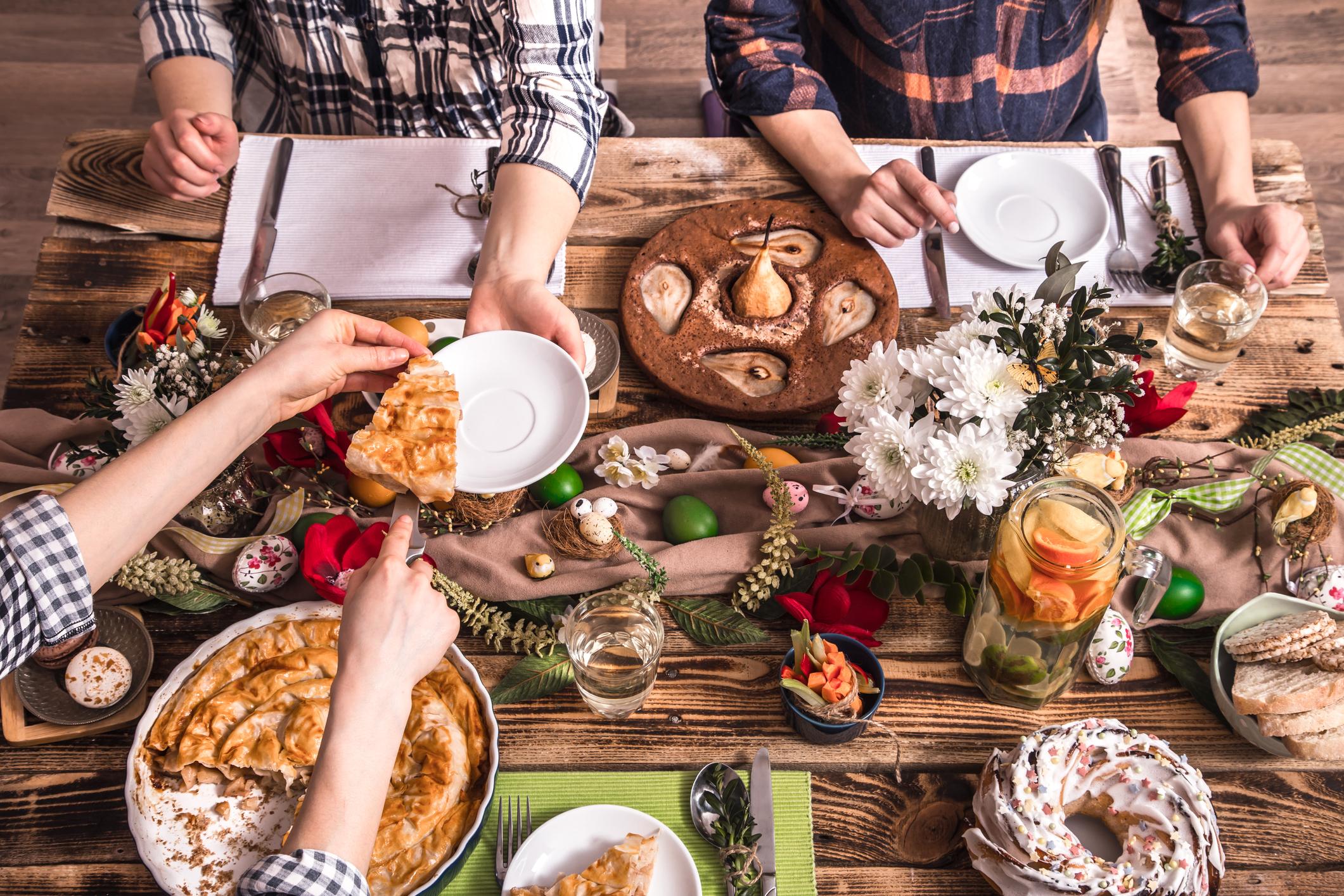 1. "When you are high-strung, it's nice when the only assignment is to think about niceness you have in life." —Mindy Kaling
2. "Thanksgiving is such a great time to spend with family and loved ones — and do some serious shopping!" —Kim Kardashian
Article continues below advertisement
3. "If you think about a Thanksgiving dinner it's really like making a large chicken." —Ina Garten
4. "Thanksgiving snuck up so quickly this year. Then it's Christmas, then New Years, then we all die." —Chrissy Teigen
5. "It's not too much food. This is what we've been training for our whole lives. This is our destiny, this is our finest hour." —Gilmore Girls
6."I can't cook a Thanksgiving dinner. All I can make is cold cereal and maybe toast." —A Charlie Brown Thanksgiving
Article continues below advertisement
7. "I'm in my sweatpants! Bring on the food!" —Chandler Bing, Friends
8. "If you concentrate on what you don't have, you will never, ever have enough." —Oprah Winfrey
9. "And when a nice boy who adores you offers you pie, say 'thank you.'" —William, This Is Us
Article continues below advertisement
10. "Gratitude is looking on the brighter side of life, even if it means hurting your eyes." —Ellen DeGeneres
11. "Hey, I just met you, and this is gravy. But here's my stuffing, so carve me maybe." —Mitchell Bader
12. "Thankful for Friendsgiving because it's all the eating and drinking of Thanksgiving, without the family politics or judgement." —Anonymous
13. "Don't you put words in people's mouths. You put turkey in people's mouths!" —Friends
14. "You can't have Thanksgiving without turkey. That's like Fourth of July without apple pie, or Friday with no two pizzas!" —Friends
Article continues below advertisement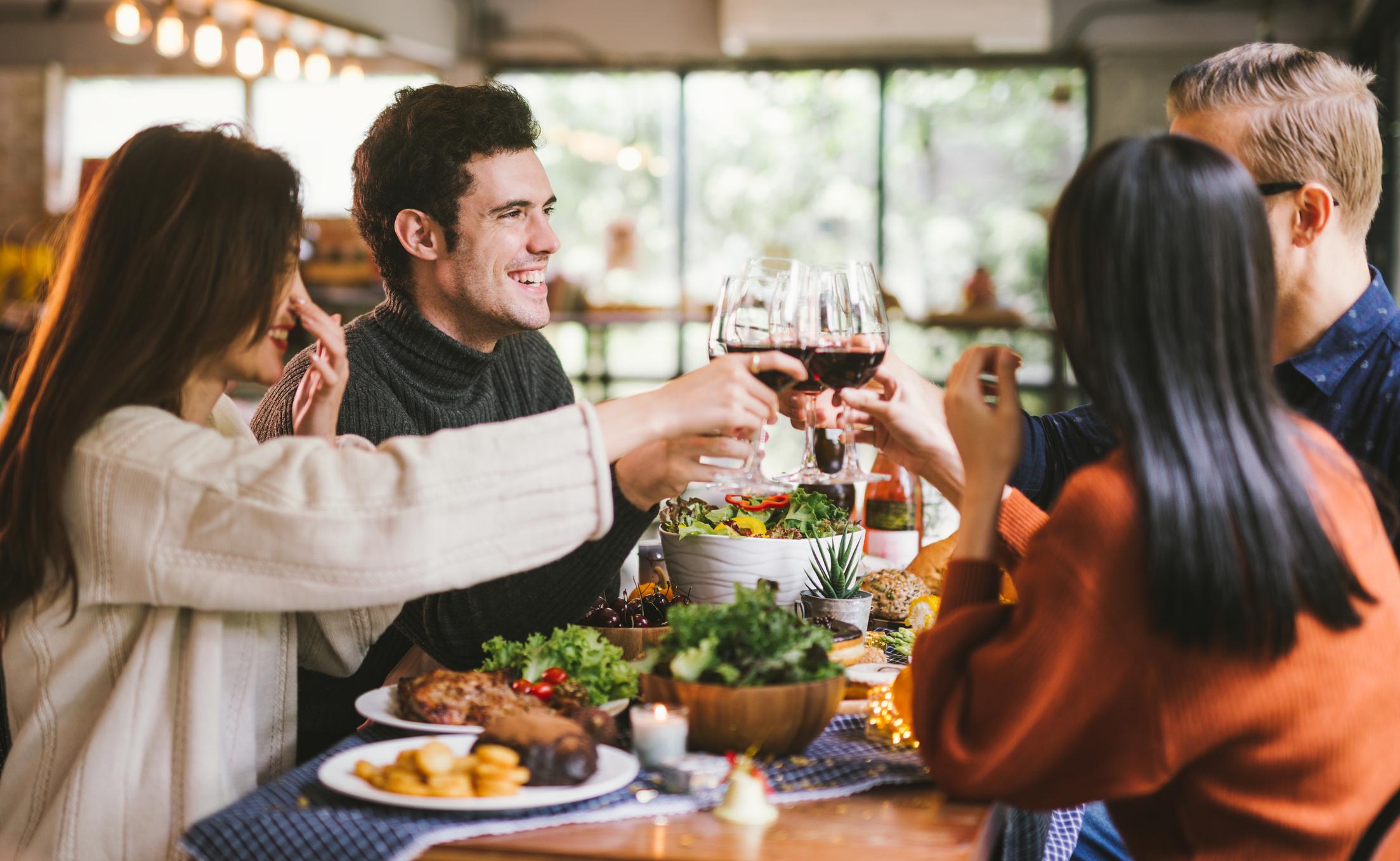 Friendsgiving puns and Instagram captions:
15. "I get pie with a little help from my friends."
17. "Reminder: Set your scale back 10 pounds today!"
18. "Thankful for the food before us, the friends beside us, and the love between us."
Article continues below advertisement
19. "I'm grateful for the nights that turned into mornings, the dreams that turned into reality and the friends that turned into family."
20. "Sorry, I'm too full to think of a better caption."
21. "Stuffing is the glue that holds my friendships together."
22. "Gobble til you wobble!"
24. "You miss 100 percent of the leftovers you don't eat."
Happy Friendsgiving! May it be fifty times funner than Thanksgiving with family.