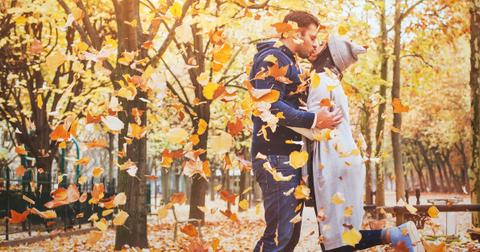 39 Perfect Fall Captions for the Adorable Pics of You and Your Boo
By Pippa Raga

Updated
It's just about cuffing season, which means that you are probably frolicking with your loved one and doing cute fall things like picking pumpkins and apples. But if you don't post about it on Instagram, did the adventures even happen?
Keep reading for some of our favorites.
Here are some fall captions for couples who want to swoon all season long.
1. "I'm still in love with you, I want to see you dance again. Because I'm still in love with you on this harvest moon." —Neil Young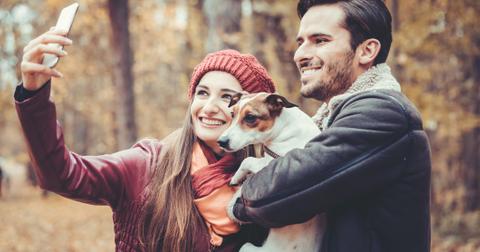 2. "You could have my heart or we could share it like the last slice [of pumpkin pie]." —Drake
3. "We go together like sweaters and autumn."
4. "We go together like apple pie and vanilla ice cream."
5. "You're the pumpkin to my spice latte."
6. "I love you more than pumpkin spice lattes, and that's saying a lot."
7. "It's a wonderful day to FALL in love."
8. "Orange looks good on us."
9. "Feeling cute, might carve some pumpkins later."
10. "Get you a boo who does all the cute fall things with you."
11. "You're my smashing pumpkin."
12. "One gourdgeous couple right here."
13. "Tell her to weave it in a sycamore wood lane, parsley, sage, rosemary and thyme. And gather it all with a basket of flowers, and then she'll be a true love of mine." —Simon and Garfunkel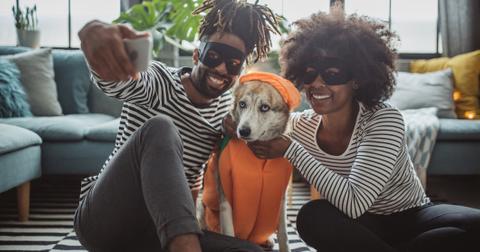 14. "I love you a pumpkin spice latte."
16. "You've carved a special place in my heart."
17. "You are unbe-leaf-able."
18. "You're really never too old to play in the leaves."
19. "Sweater weather is better together."
20. "But I miss you most of all, my darling, when autumn leaves start to fall." —Frank Sinatra
21. "Fall, go on and fall apart. Fall into these arms of mine, I'll catch you every time." —Clay Walker
22. "I still FALL for you every day."
23. "If you were coming in the fall, I'd brush the summer by." —Emily Dickinson
24. "You warm my heart on a cold day."
25. "Don't you love New York in the fall? It makes me want to buy school supplies. I would send you a bouquet of newly sharpened pencils if I knew your name and address." —You've Got Mail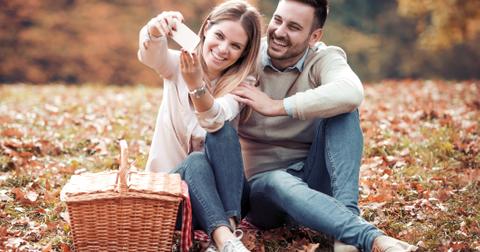 26. "Me and my boo" *insert ghost emoji*
27. "Trick-or-treating with my arm candy."
28. "Don't ever leaf me."
29. "I've got sunshine on a cloudy day. When it's cold outside, I've got the month of May." —The Temptations
30. "If I were a ghost, you would still be my boo."
32. "If you've got it, haunt it."
33. "You're the apple of my eye." 
34. "You're the cutest apple in the orchard."
35. "I donut know what I'd do without you."
36. "Even the leaves fall for you."
37. "Get in loser, we're going trick-or-treating."
38. "Pumpkin kisses and harvest wishes."
39. "You're the apple of my pie."