TikTok Users Are Doing the G6 Filter Challenge for a Glow Up
The G6 Filter Challenge on TikTok is trending and with just a couple filters and the right lighting, anyone can have a total glow up.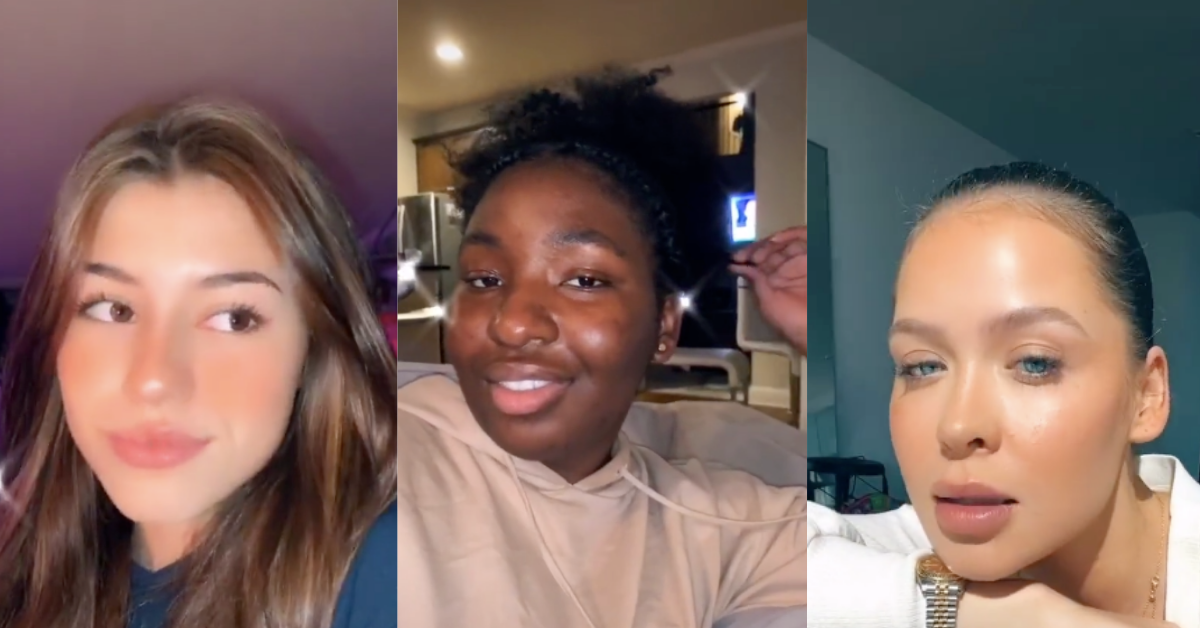 If you haven't gone completely insane because of boredom yet, could we suggest downloading the popular app, TikTok? If you haven't familiarized yourself with the app, we can break down the basics of it for you. TikTok is a video-sharing social networking service used to create short dance, lip-sync, comedy, and viral videos.
Article continues below advertisement
One hugely popular piece of the app is trending challenges that catch on like wildfire and soon, your whole "For You" page will be dedicated to one certain challenge.
A niche section of TikTok is makeup tips and beauty secrets. Beauty influencers and bloggers will give tips on makeup dupes, drugstore hacks, and any other sort of helpful knowledge for the average TikTok user.
But one new trend going around right now doesn't involve makeup at all actually — you just need some natural sunlight and the right filters. It's called the G6 Filter Challenge and it has taken over TikTok. But what is it exactly and how do you even go about doing it? Here's the inside scoop.
Article continues below advertisement
The G6 Filter Challenge on TikTok is a three-step process.
In order to properly participate in this challenge, you need to start off with a fresh face with no makeup. Some users have really upped the challenge by wearing unattractive clothes, having messy hair, etc. just to really show the contrast between the "before and after" looks.
Article continues below advertisement
Most users are using the TikTok sound called "oops wit a twist - bbysandee" which starts off simple and sweet but soon a beat drops which is when the user will switch over to their new "filtered" self where they are literally glowing up.
Article continues below advertisement
What is the G6 filter?
The G6 filter is one of the many filters available to use on your TikTok content. To get that older, vintage look, the G6 filter is the perfect option. In order to grab the G6 filter for your video, you need to click on the right-hand side of the screen. From there, you will see icons such as 'flip,' 'speed,' 'beauty,' and 'filters.' Click on the 'filters' icon, and you'll be introduced to all the different filters at the bottom of the screen.
Once you have your G6 filter in place, it's time to add the "bling" effect. This is the second step you need to accomplish in order to participate in the challenge. To get the sparkly 'bling' effect, all you will need to do beforehand is tap the 'effects' icon in the bottom left-hand screen again, then make sure you're on the 'Beauty' tab. Scroll down until you come across the silver filter called "bling." Tap it and the filter will then be applied!
Article continues below advertisement
You also need to do this challenge during the day as it requires natural sunlight. Once you have all your filters in place, find yourself a well-lit window and watch your glow up happen before your eyes!
Article continues below advertisement
The G6 Filter Challenge doesn't work for everyone.
There have been some hilarious mishaps when TikTok users have tried to do this challenge, including one user who had her son topple right into her at the very end showing her glow up.
Other users are showing that the filters did absolutely nothing for them, and they look the same (if not worse). As with any TikTok challenge, there are alway some creators who need to find the humor in it rather than the vanity.