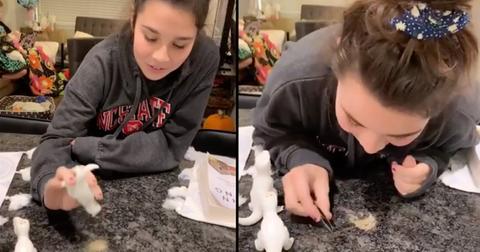 Here's the Secret to Beating the Salt and Pepper Challenge on TikTok
By Nakeisha Campbell

Updated
If you're wondering why people on social media are suddenly pouring salt and pepper onto their countertops, it's most likely because of the salt and pepper shaker game, which is gaining tons of popularity on TikTok. But don't worry, unlike the plethora of dangerous trends that have already been seen on the social app, this challenge is actually not hazardous enough to land people in the hospital.
If you're curious to know the details of the game, read on.
What exactly is the salt and pepper game on TikTok?
It's a quick challenge that's been around since 2019 and it involves a salt and pepper shaker. One person is asked to pour out a small pile of pepper on any flat surface, then they're asked to pour some salt on it. After this, they're challenged to separate all the salt from the pepper, but this is where things get interesting because countless people get fooled here.
Before we get to the big reveal, though, let's walk through the basic rules.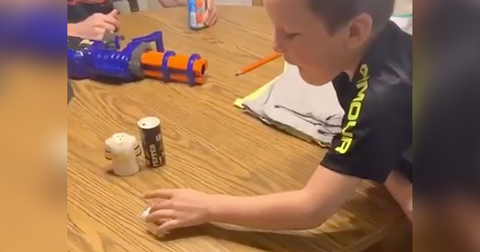 What are the salt and pepper game rules? Here's how to play.
It's pretty quick and straightforward, so thankfully, the rules are quite simple. If you're the one that's giving the challenge, start by simply asking someone to pour out some salt and pepper on a plate, napkin, or any flat surface, but keep in mind that they shouldn't be separate piles. If you want to make things even more interesting, tell them to mix all the salt and the pepper together.
Once they're done, promise them a reward if they can successfully separate all the salt from the pepper. So for example, you can say that they'll win some money or a free snack. But before you say the challenge, you want to make sure that the salt and pepper shakers are near to each other.
How can people win the Salt and Pepper game on TikTok?
As you may have seen countless times on TikTok, a lot of players tend to go straight for the mixture. People will pick at the pile of seasoning, spread it apart, or even go as far as using tweezers to pick little grains out. It's also worth noting that, in the past, it's been proven that salt and pepper can technically be separated using static electricity, so science geeks may actually try to take this approach.
But what they don't know is that there's a much quicker and easier way to split them apart. The secret? Literally separating the salt and pepper shakers.
People are definitely catching on.
A few people who got recorded caught on rather quickly. For instance, this woman refused to even try separating the pepper from the salt, even though she was promised 20 bucks. But after she put on her glasses, she went straight for the salt and pepper shakers and moved them apart, asking: "Is that better?"
This mom, however, clearly didn't catch on, as she immediately started trying to separate the salt and pepper on her plate. After putting in much effort to carefully separate the two, her daughter stopped her and said: "You could've just separated the salt and the pepper right here."
It's a fun little game to try at home, and of course, it doesn't even have to be salt and pepper. If you want to get creative, you can try other seasonings as well, like paprika or onion powder. Either way, it'll be fascinating to see how long it takes for people to figure out this simple solution.