TikTok User @GeminiOfficial Accused of Grooming Underage Girls
Several girls have made allegations against TikToker @GeminiOfficial. He admitted to flirting with underage girls before putting his account on private.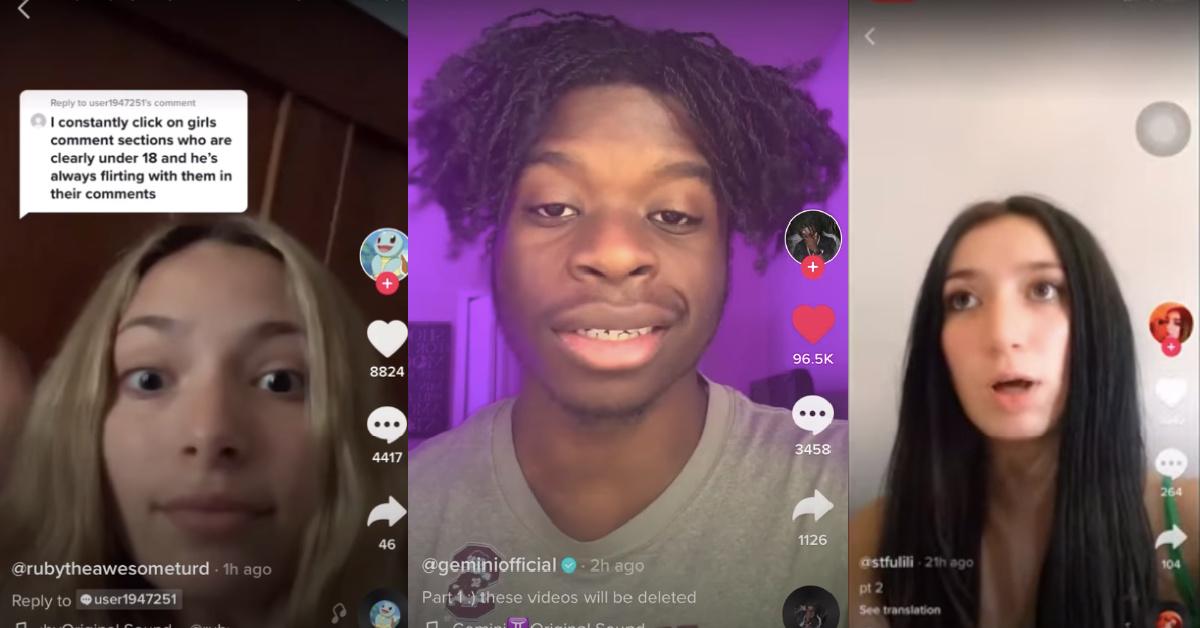 Unfortunately, not every story about TikTok is a good one. Sure, the popular video-sharing app is home to tons of talented creators and millions of hilarious or otherwise entertaining videos, but as with any platform that becomes hugely prominent, there are also some people using the app in malicious ways.
Article continues below advertisement
Over the past several months, TikTok user @GeminiOfficial — who has a huge audience of more than 3 million followers — has been accused of some disturbing behavior. As a result of the drama and allegations, his account is now private. But what did Gemini do? Here's what we know.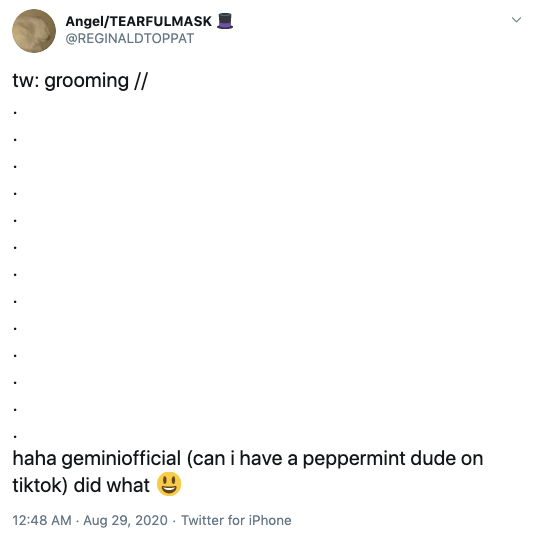 Article continues below advertisement
What did Gemini do on TikTok? He's causing some disturbing drama.
The allegations against @GeminiOfficial can be traced back several months when another popular TikTok user named Ruby (@rubytheawesometurd) started accusing him of behaving inappropriately with underage girls. @GeminiOfficial is 20 years old while Ruby is 16. She claimed that he had reached out to her via Snapchat and other social platforms asking her to FaceTime with him and flirting with her even though he knew she was 16 years old.
At the time, many people accused Ruby of simply trying to gain clout by bringing allegations against @GeminiOfficial, given his extreme popularity on TikTok. Ruby herself lost thousands of followers after she made the allegations, and ultimately deleted her TikTok channel. People also said that she had simply set @GeminiOfficial up, luring him into flirting with her in order to post about it online and destroy his reputation.
Article continues below advertisement
(Of course, assuming that @GeminiOfficial knew Ruby was only 16 — and the Snapchat screenshots Ruby shared indicate that he did — it doesn't matter whether the situation was a "setup." A 20-year-old person flirting with a 16-year-old person is in no way pardonable.)
Article continues below advertisement
The controversy surrounding @GeminiOfficial seemed to die down a bit until additional girls started coming forward and sharing their own stories. Several girls alleged that @GeminiOfficial had displayed grooming behavior. TikTok user @stfulili (who has since set her videos to private) said that when she was 15 years old, @GeminiOfficial (who was 19) repeatedly asked her to visit him when they were both in L.A. for a creator event.
She said that when she told him that she couldn't drive to see him (because she was 15 years old and didn't have a driver's license), he offered to pay for an Uber for her. She accepted. "I'm not gonna go into details as of what happened in the hotel, but you can probably imagine," she said in her TikTok videos.
Article continues below advertisement
As for @GeminiOfficial's side of the story, he started out by denying all of the allegations made against him. Then he said he hadn't realized the girls he was flirting with were underage. Then he admitted that actually, he had known they were underage.
Article continues below advertisement
As this was all going on, many people took to Twitter and other social media to call for @GeminiOfficial to be banned from TikTok. So far, that hasn't happened, but the fact that he has set his account to private has led many to believe that he will slowly disappear from the platform. If the allegations against him are true (and he seems to have admitted as much), TikTok will certainly be better without him on it.
If you need support, The National Sexual Assault Hotline is available 24/7 at 1-800-656-4673. You will be connected with a trained staff member in your area. Or visit RAINN.org to chat online with a support specialist at any time.