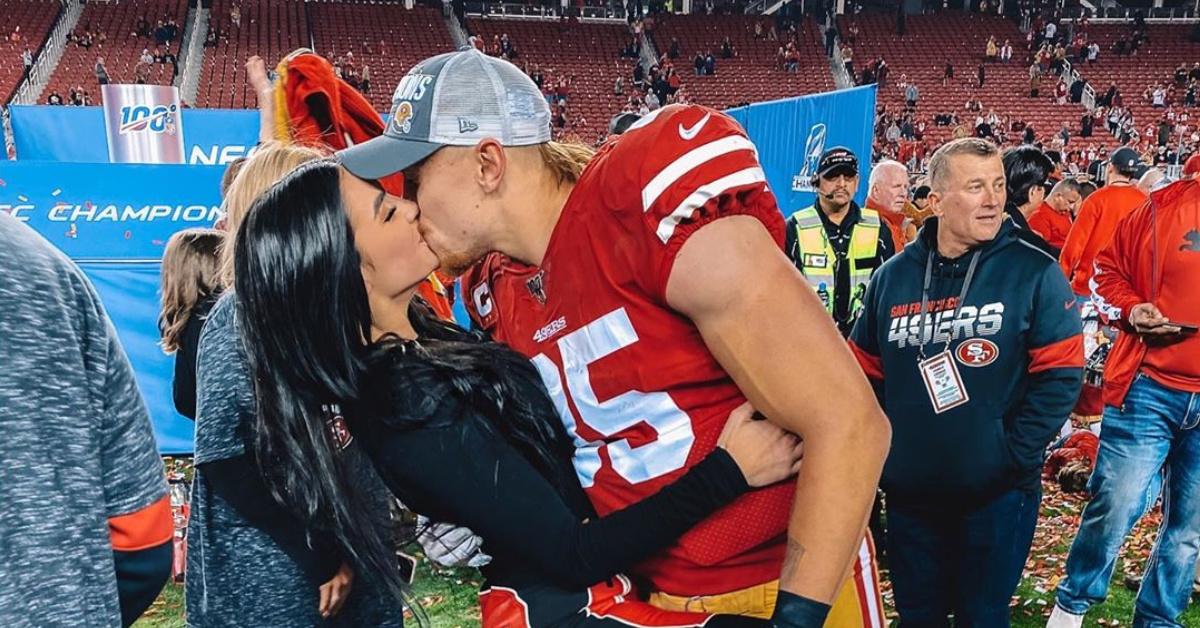 George Kittle Planned a Last-Minute Wedding — Then Threw in a Surprise Tattoo Just for Fun
As you prepare to watch the Super Bowl on Sunday, Feb. 2, it's easy to start thinking of the Kansas City Chiefs and the San Francisco 49ers as being made up of a bunch of football-playing automatons. Sure, you know they have things besides football going on in their lives, but how much do you actually know about their personal lives?
Article continues below advertisement
For instance, let's talk for a sec about George Kittle. He's the tight end for the 49ers and you'll undoubtedly be seeing plenty of him during the big game. But while he's playing out on the field, he may just be thinking about his home life. Specifically, he might be thinking about his new wife Claire. Here's some info you might not know about George Kittle's wife.
Article continues below advertisement
Meet George Kittle's wife: Claire Kittle.
George and Claire met in 2012 as freshmen at the University of Iowa. According to ESPN, Claire was about to hop on her moped and head to basketball practice when George came up to her and said: "Nice helmet" (it was bright pink). Shortly thereafter, George and Claire were inseparable. They got engaged in August 2018 and were planning a 2020 wedding... until George decided to do something a little different instead.
Rather than waiting to plan a large-scale wedding ceremony, George and Claire instead opted for a smaller, family-only wedding that took place on April 10, 2019. Their families pulled the whole thing off in a matter of days. They reserved a space at an Iowa City jewelry store owned by some family friends. George's dad Bruce happened to be ordained and would act as the officiant. His mother Jan would take pictures. And just when it seemed like it was all coming together, George played one more wild card.
Article continues below advertisement
The night before the wedding, George decided to get a tattoo.
Because why not get a tattoo on the eve of your wedding? If you're going to make one life-altering decision, you might as well make another (although to be sure, a tattoo is not quite as life-altering as a marriage).
Article continues below advertisement
George says that his game-day alter ego is similar to The Joker (yes, the Batman villain). "I don't try to channel all the Joker, obviously, because he has some issues," he told ESPN. "Creating a little bit of chaos is just kind of what I try to do. I'm just trying to be the most outgoing, craziest person on the field."
And so, on the eve of his wedding, George spent seven hours getting a tattoo of Heath Ledger's Joker on his forearm. The next day — his wedding day — he put a long-sleeve white shirt over the plastic-wrapped tattoo and got married to Claire.
Article continues below advertisement
"He's so goofy," Claire told ESPN. "At first, I thought he was joking [about the tattoo] — he has a lot of ideas that are out there and he doesn't actually go through with them. So at first, I was like, 'Oh my gosh, that's the worst idea you've ever had. I hate that.' But then after he had explained to me, all of the meaning behind it, and then seeing it in person, it's actually really cool. So I do really like it now. That's just George."
Well, that pretty much sums it up, doesn't it? We're sure that no matter the outcome of Sunday's game, Claire will be there cheering George on the entire time. His tattoo will probably make an appearance, too.