Person Gift Wraps Food to Sneak It Into a Water Park, and Folks Online Are Shook
In a viral social post, a person gift wraps food to sneak into a waterpark due to the high price of snacks, and social media loves it.
The idea of spending time at a theme park for a day sounds like fun until you realize the cost of food. Like movie theaters, theme parks are known to mark up the charge for meals you'll get at a fast food chain — from a $9 being charged for $17 and $6 popcorn priced at $14. It's ridiculous. And most folks online believe it's borderline criminal
Article continues below advertisement
That said, folks have decided to get creative with how they navigate the theme park. While some folks count on coupons or discounts of some sort, others have simply decided to break the rules and smuggle in snacks.
One TikTok user, in particular, has decided to gift wrap food to sneak it into a water park. And we must say, the innovation is top-notch. Here's the full scoop.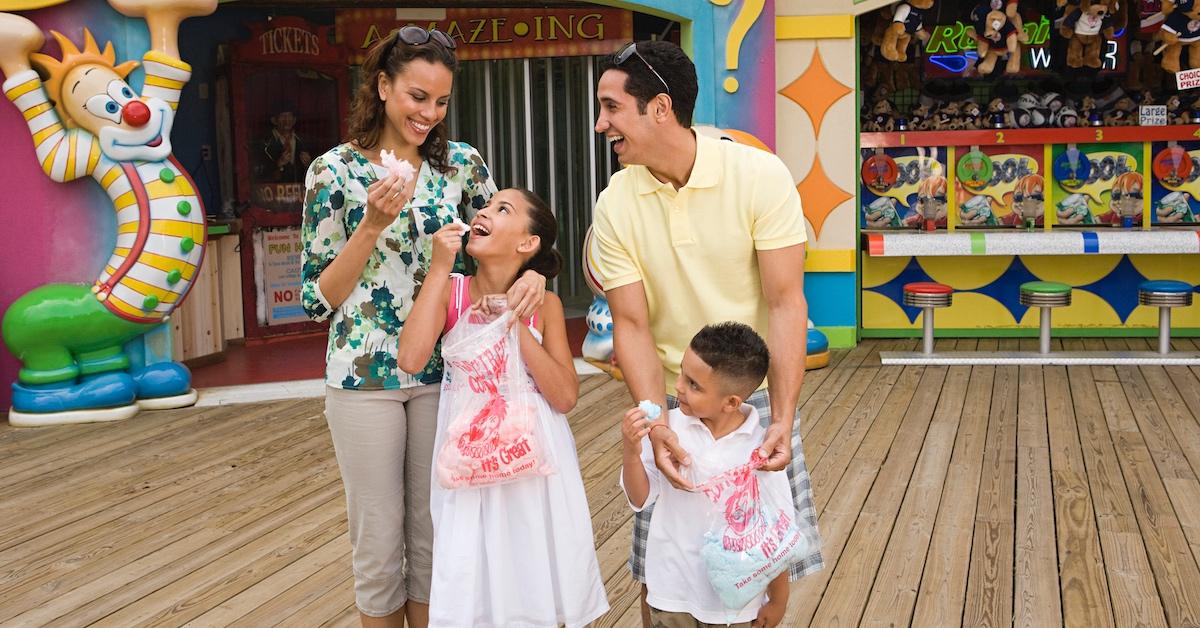 Article continues below advertisement
A person on TikTok shared that they gift-wrapped food to sneak into a water park.
Baby, desperate times call for desperate measures. In a July 24, 2023, TikTok video creator La La (@la_ace3) shared that she decided to take her food issues with a waterpark into her own hands.
"When they said no food allowed in the water park but wanted to charge $17 for a burger with no cheese," the text in the video reads.
As the video starts, you see the creator holding a pink gift bag with yellow tissue paper. She then removes the yellow tissue paper to reveal a gift wrapped in white paper and a pink bow.
Article continues below advertisement
She then ripped the bow and the wrapping paper on the gift and revealed an assortment of chips. The creator then opened the box and lifted a bag with chips to reveal a Zip-loc bag filled with sandwiches.
Article continues below advertisement
The creator then picks up the bag with sandwiches to reveal a package of popcorn and other snacks underneath as the video ends.
Article continues below advertisement
TikTok users applaud the creator for her creativity sneaking in food into the water park.
Most folks would agree that the price of food and snacks offered at theme parks is ridiculous. So like La La, many people have decided to sneak in food as well. And since La La's method was quite crafty, folks are giving her props in the comment section.
"I love how you wrapped the box just in case they checked the bag," one user shared.
"Wrapping paper and everything! Not taking any chances," another person commented.
Article continues below advertisement
"Great idea. You do what you have to do! Food should be included in the park admission," another user chimed in.
Interestingly, one person shared that Disney allows folks to bring in food, so folks should be able to bring in food at other parks.
Article continues below advertisement
Unfortunately, many parks rely heavily on food sales to keep operations running. So, there is a chance that all parks won't implement the same courtesy as Disney. After all, the Disney theme park is only a piece of the company's revenue and other theme parks are not tied to huge global brands.
Either way, we are in support of La La and other folks sneaking in food into theme parks. The price of admission is already steep so if you can save some coins by bringing in your own food, have at it.