Girlfriend Watches Boyfriend on His Phone for 10 Minutes Without Him Noticing in Viral TikTok
A guy had no idea his girlfriend was standing behind him while he was at the gym and texting on his phone for 10 minutes as she looked on.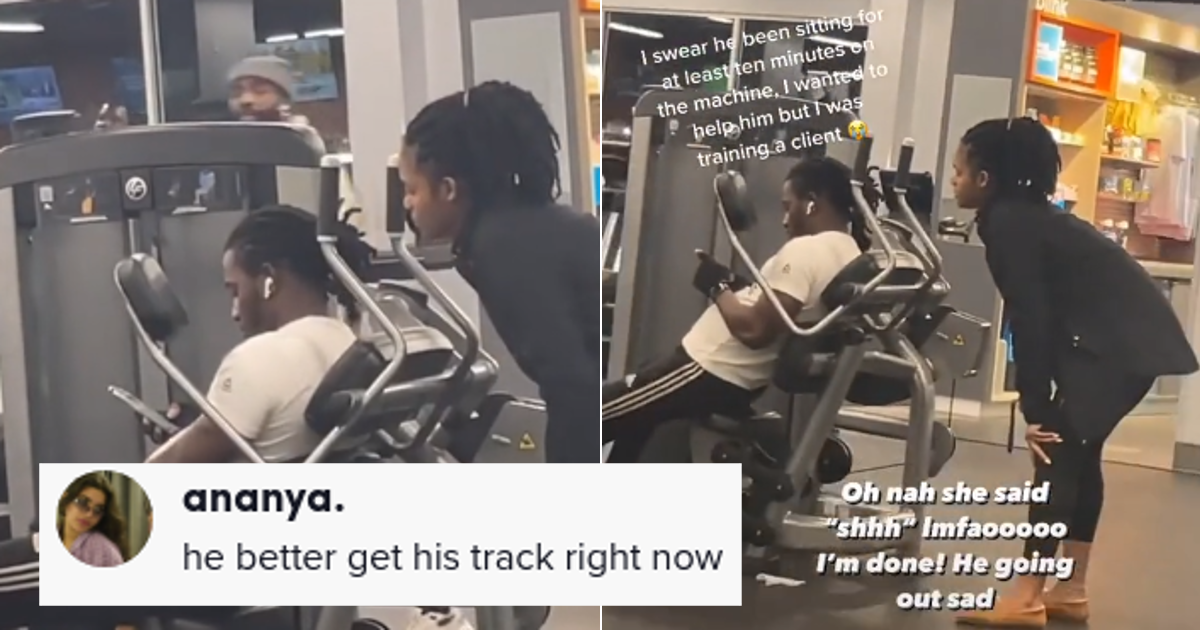 Matters of the heart are a tough thing to deal with, especially when you're dating someone you feel like you can't really trust or who has given you countless reasons not to trust them in the past. You stay up at all hours of the night wondering whether or not they are as devoted to you as you are to them. You wonder who they're hanging out with or what they're doing and if they're being honest with you about their feelings or you're getting played.
Article continues below advertisement
Sometimes, that type of distrust can lead to an individual taking fairly drastic measures. Whether it's attempting to spy on their social media accounts, DMs, text messages, phone call logs, emails, etc., or physically going to wherever they said they were going to be in order to try and catch them in a lie, there's a lot of cloak and dagger stuff people do whenever they sense their S.O. is being untrue.
And there are times that the insecurity we act upon is just a projection of what we're feeling internally, so we then force that onto others by doing crazy things like staking out our beloved's job or try to memorize the password to their mobile device.
Or what this one woman did in a viral TikTok when she stood behind her boyfriend's back for a full ten minutes, peering over his shoulder and looking at him text on his phone.
Article continues below advertisement
There's a lot going on in this video so let's take it bit by bit: firstly, what's someone doing just chilling on an ab crunch machine and texting on their phone for 10 minutes straight without looking around to see if another gym-goer needs to use the machine? The entire time he's just sitting there with his AirPods on, scratching himself and texting on the phone.
Article continues below advertisement

The video was recorded by a TikToker who posts under the username @campaignkjg_5 and it featured several text overlays giving a little bit more context into the situation.
Article continues below advertisement

Throughout the clip, the woman can be seen intently looking over the man's shoulder and it's apparent from her face that she isn't liking what she's seeing. OP says that he wanted to try and intervene, but was working with a client during the entire ordeal.
Article continues below advertisement

While the man was sitting on the machine for as long as he did, the entire gym began noticing that his girlfriend was standing right behind him the whole time and looking at whatever he was doing on his phone.
Article continues below advertisement

Presumably, what he was doing was something that his girlfriend really wasn't a fan of, because the TikToker who posted the clip said that she didn't cause a scene and calmly left, with the man chasing after her. He reportedly hasn't returned to the gym since then (January) and it's kind of hard to imagine that he would, especially since everyone knows he's in deep doo-doo after what happened between him and his significant other.
Article continues below advertisement

OP did manage to get in touch with the gym-goer in question, however, and get more context into what exactly happened. Sure enough, he was indeed caught chatting it up with other women, but the woman in the video wasn't his girlfriend, but his wife. The two of them are still together and they just had a baby girl.
Article continues below advertisement
He doesn't seem to be too bothered by his viral fame, however in his text conversation with OP. While he does mention that he saw the clip online and that there are a number of people messaging him about it, he appears to be taking his newfound infamy in stride.