"Do Not Trust Men" — Woman's Boyfriend Tells Her to Wear Orange Dress to "Non-Traditional" Funeral, She Regrets It
This woman was hesitant when her boyfriend told her to wear orange to a "non-traditional" funeral, but decided to trust him. Then, she regretted it.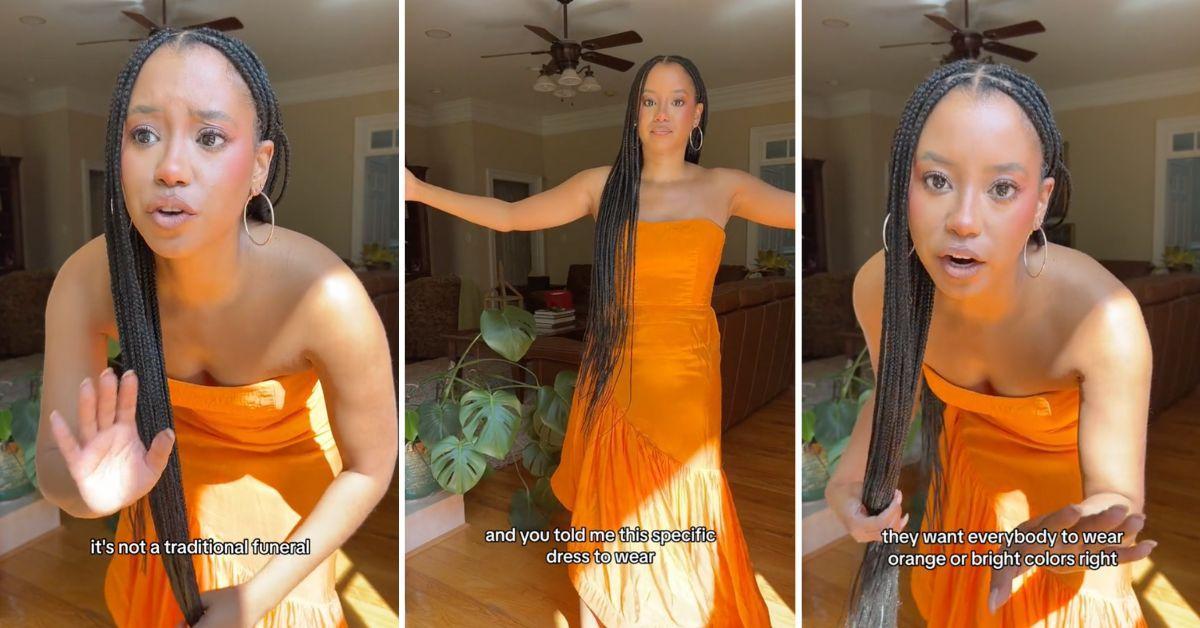 Being caught out of dress code is never ideal, but there are few situations where underdressing (or overdressing) is a worse crime than at a funeral. Sure, wearing white to a wedding is generally considered to be pretty disrespectful, but what's more inconsiderate than causing a scene at someone's celebration of life — even worse, someone you don't know?
Article continues below advertisement
Funerals typically have a dress code of black, navy, or other dark, muted colors as a way to pay respect. However, some less traditional families choose to mourn while wearing bright and cheerful garb, or by donning the favorite color of the person who passed away.
TikTok user @camillmatic, or Cam, found herself in an uncomfortable situation after her boyfriend advised her to wear a neon orange sundress to a "non-traditional" funeral for a member of his family that she had never met. Let's get into it.
Article continues below advertisement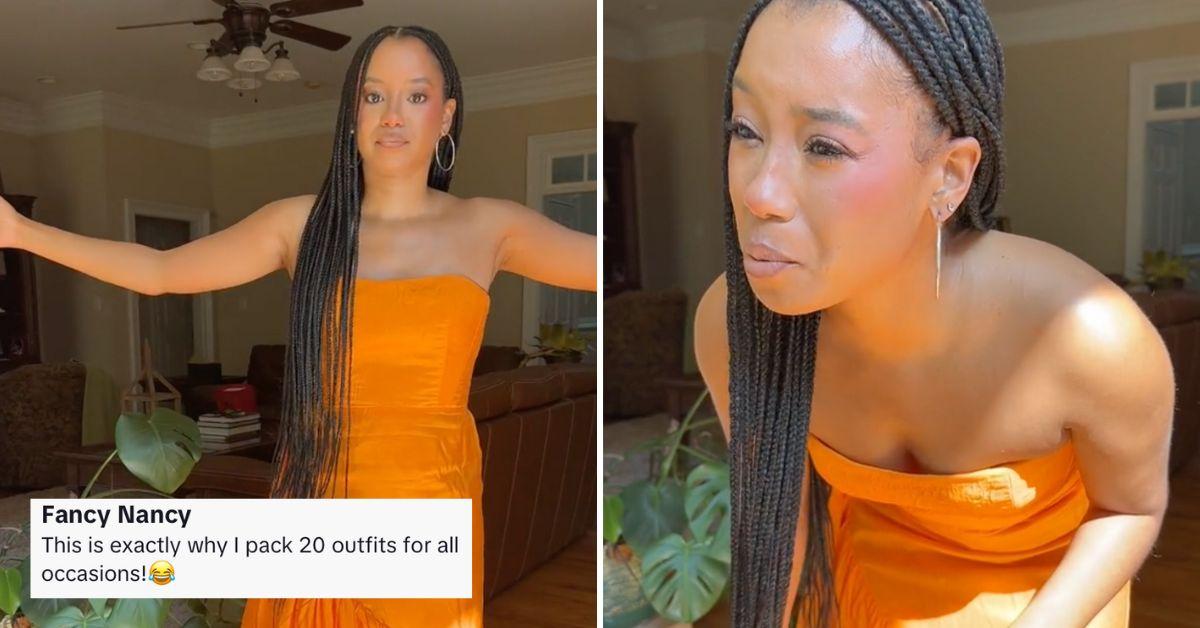 Cam starts her video out with a staunch warning: "Do not trust men."
"I'm in town for a funeral," she explains. "It is my boyfriend's family's." Presumably the couple hasn't been dating long, because later in the video, she explains that his family doesn't know her that well.
Article continues below advertisement
"He told me, 'It's not a traditional funeral ... they want everybody to wear orange or bright colors,'" Cam continues. Though it's never specified why the color orange was singled out, Cam's boyfriend makes it clear that the plan for the funeral is for his family to coordinate to wear the summery shade.
Though Cam was reasonably skeptical, as orange isn't a typical funeral color and a social blunder like that could be a huge deal, her boyfriend reassured her that his family wasn't going the traditional funeral route: "He was like, 'It's a big thing, we're gonna have a huge cookout afterwards, so everybody's getting dressed up and wearing bright colors,' ... He told me specifically to wear this dress."
Article continues below advertisement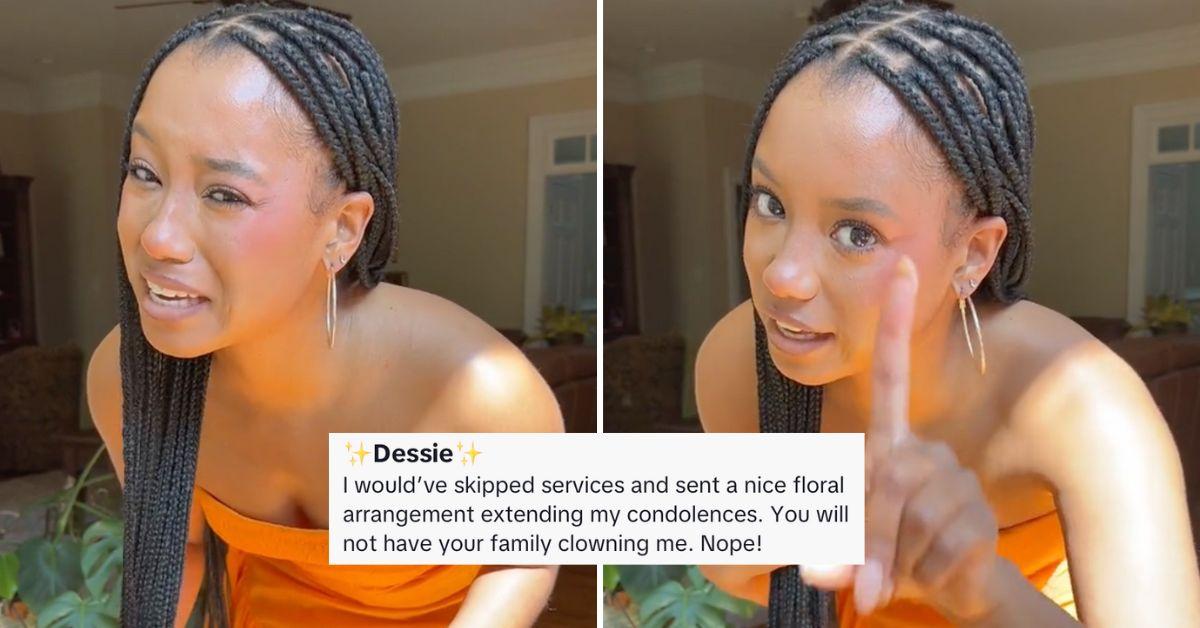 Therefore, Cam made the decision to travel into town for the funeral with her bright orange Anthropologie sundress packed in her bag (with no appropriate backup, which we'll ad-dress in a minute).
Article continues below advertisement
However, it turns out that Cam should've listened to the dubious voice in her head, after all.
"I'm staying at my parents' house, he's staying at his parents' house," Cam said. "He called me this morning talking 'bout ... 'My mom's not wearing orange, and she doesn't know who else is wearing orange.'"
"So now," she backs up from the camera to show off the gorgeous-yet-completely-funeral-inappropriate dress, "I'm stuck like this going to somebody's funeral. Moral of the story: Don't trust men."
Article continues below advertisement
While many in the comments commiserated with her about their male partners' horrible communication skills, specifically when it comes to relaying information about gatherings, many were left to wonder — Why, if she was so unsure, didn't Cam pack a backup dress?
"Girl, please. You should have known to bring a backup outfit," one commenter expressed.
"Always overpack, sis, always!" shared another commenter as a word of wisdom.
In a later video, Cam shares that she did bring backup options, but they were all... orange. Talk about trusting your man.
Article continues below advertisement
In the same follow-up video, Cam explained what happened next, what she actually ended up wearing, and why exactly her boyfriend (who was being dragged through the dirt in her comments) seemingly tried to sabotage her in the first place.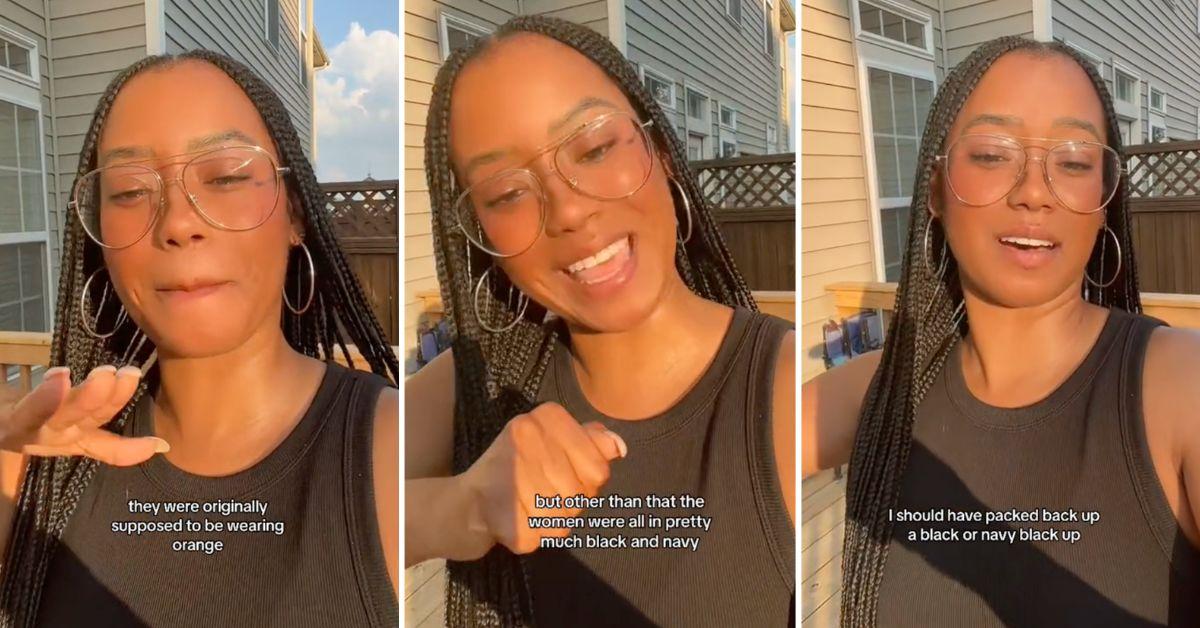 Article continues below advertisement
"OK, after further consideration," Cam shared, "he may not be all the way to blame. They *were* originally supposed to be wearing orange, but then I guess they just couldn't get it together in time, so people bailed out. He didn't get no update."
So, you may be wondering, did she show up to the funeral in her orange ensemble? Thankfully, no.
"My mother came and saved the day," she explained. "Thank God for mothers ... I pulled something from her closet. It didn't fit but we made it work, and I was not the laughing stock of his family for generations."