Here's Why People Think the Gradient App's "Ethnicity Estimate" Is Problematic
The Gradient face app continues to roll out new features, but some people find certain ones — like the "Ethnicity Estimate" — to be problematic.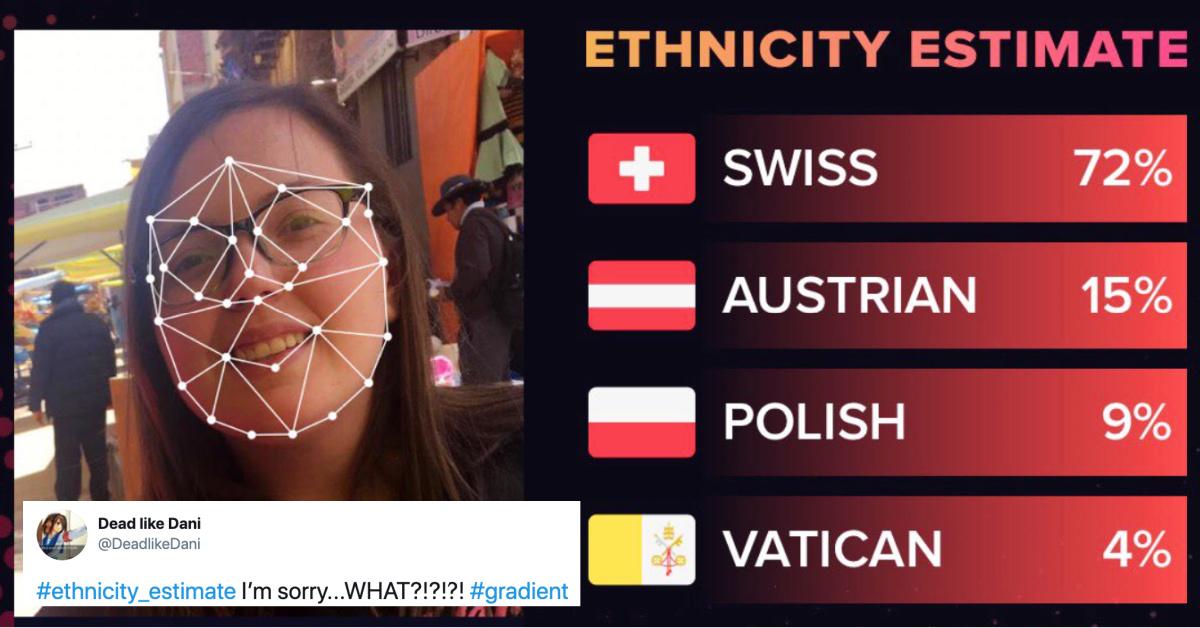 It seems like we learn about a new social media filter that starts making the internet rounds and going viral nearly every day. Most recently, it's an app called Gradient. Interestingly enough, this actually isn't the first time Gradient has enjoyed some popularity. However, due to a new feature from the app, it's going viral once again — and not necessarily for good reasons.
Article continues below advertisement
Gradient is a face app with an "Ethnicity Estimate" feature that apparently calculates what ethnicity you most resemble by analyzing a selfie. It's certainly not the first app of its kind, but for whatever reason, it's the one a bunch of people are using right now. If you're interested in trying the Gradient app for yourself, read on — you may want to reconsider.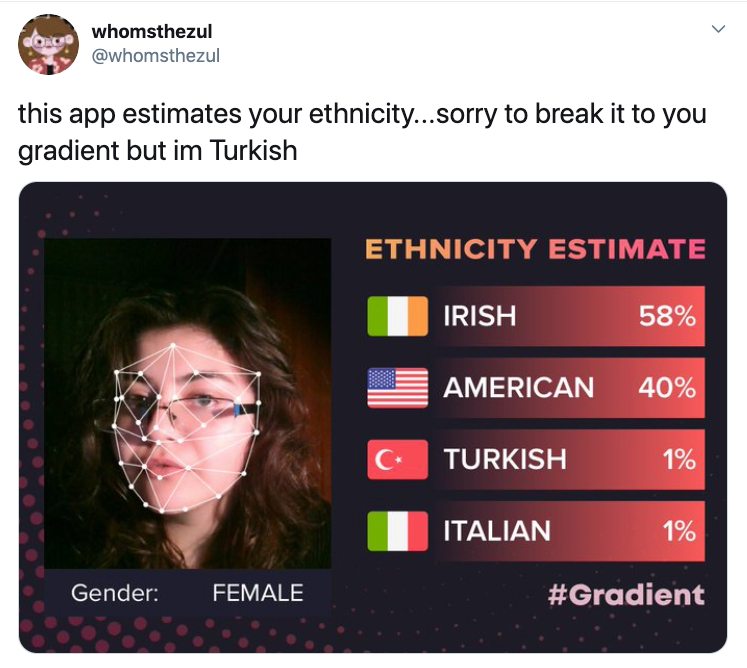 Article continues below advertisement
The Gradient Face App's "Ethnicity Estimate" feature is going viral.
The premise of the "Ethnicity Estimate" feature on the Gradient app is very simple. You just take a selfie and the app uses "AI technology" to "estimate your DNA ancestry." People have been sharing their own Ethnicity Estimate results on various social media outlets to mixed reviews. Some of them are definitely more believable than others!
In order to show you your results, the app gives you a percentage breakdown of which ethnicities you most resemble based on your selfie. You might appear to be 32 percent Italian and 26 percent British, for instance.
Article continues below advertisement
If it seems too easy to be accurate, that's for a very good reason: It totally is. On the one hand, you don't have to spit into a tube and spend a bunch of money for your actual DNA results from one of the various mail-service DNA testing companies. On the other hand, you definitely can't base your entire genetic history on a single selfie. That's obvious, right?
Article continues below advertisement
And that's not the only issue. People are also pointing out that a lot of the "ethnicities" don't even make sense and are actually pretty problematic. For instance, the app uses the flag of South Africa to refer to the "African" ethnicity as a whole, and uses a Jolly Roger flag for the "Caribbean" ethnicity. It also seems to equate nationality and ethnicity, which are two different things. In short: Yikes.
Article continues below advertisement
This isn't the first controversy surrounding the Gradient app.
As we said, this isn't the first time the Gradient app has made headlines. Some of its other features have also been super popular, such as "AI Face" (which claims to show you what your face would look like if you had been born on another continent — and which some people are calling "digital blackface") and "AI Portrait" (which turns your selfie into an oil painting). There's also the "You Look Like" feature that shows you which celebrity you most resemble.
However, as cool as these features might be, some people have some serious reservations about using the app. According to Mashable, the developer (Ticket to the Moon, Inc.) hasn't made any other apps and hasn't been completely forthcoming with information about who founded it — or where it was founded. There are also some concerns about Gradient's privacy policy, which apparently indicates that users' data might be used to advertise or create "other new products and features."
Article continues below advertisement
And then there's the cost of the app. According to several recent reviews in Apple's App Store and on Google Play, people have been installing the app under the impression that they had received a 3-day free trial only to find out that they've been charged significant fees — up to $32 in some cases — almost immediately after downloading it. Seems a bit hinky, no?
According to the app description, there are several subscription plans that range from $3.99/month to $119.99/year for the "Yearly Pro Subscription." If you can stay on top of canceling your "free trial" before you're charged, it might be worth downloading the app if you want to use the admittedly pretty cool features. Otherwise, this viral app might be worth skipping.