Some Snapchat Users Are Saying the Filters Artificially Lighten Their Skin Tone
Some Snapchat users are claiming that certain filters artificially lighten their skin tone. Is there a way to disable this "feature" on Snapchat?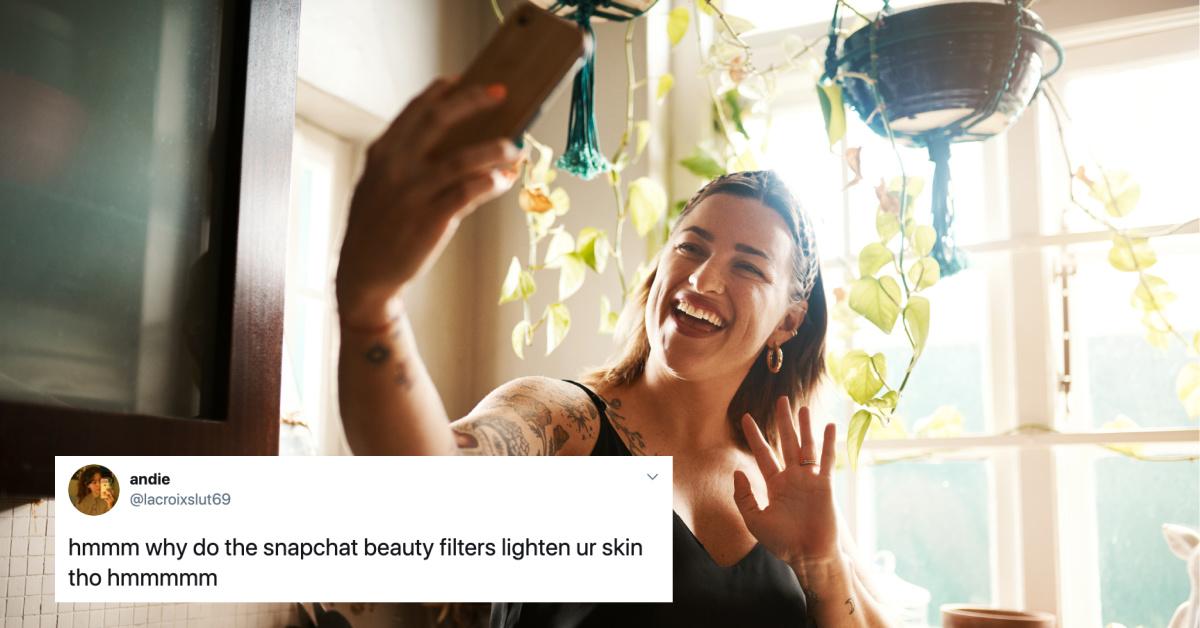 If you're a regular user of social media, then you're undoubtedly familiar with filters. Whether you want to appear on screen as a flower-crowned queen, floppy-tongued dog, or just an extra sparkly version of yourself, filters are a must. People have been using them for years now to present an alternative version of themselves in selfie form. Also, they're just fun!
Article continues below advertisement
However, there are some filters that some people believe do a little too much altering. This is an especially common complaint about some of the filters on Snapchat. Some people claim that Snapchat automatically lightens some pictures — and they're not happy about it.

Article continues below advertisement
Why does Snapchat lighten my pictures?
This particular controversy goes back several years when people first started claiming that some of Snapchat's "beautifying" filters artificially lightened pictures — and, in particular, lightened people's skin tone in those pictures. Obviously, if Snapchat made filters intended to make people look more "beautiful" by making their skin lighter, that would be pretty darn problematic.
The thing is, a lot of the filters in question simply lighten the overall picture, presumably because it's going for a light, bright aesthetic that is popular on so many people's social media feeds. Obviously, a filter made to make a photo brighter is naturally going to make any skin that appears in the photo brighter as well, so it's difficult to make the call that Snapchat filters are spreading the message that lighter skin = better.
Article continues below advertisement
But lighter skin isn't the only thing people are noticing when they use Snapchat filters. Some people have also claimed that specific filters make their nose or jawline appear smaller than it is in real life. That's not a lighting issue.
Article continues below advertisement
One could definitely make the argument that Snapchat's beauty filters promote an ethnocentric standard of beauty, which could in turn make some people feel as though they're not attractive unless they fall within that very narrow criteria. And nobody wants to feel bad when they're scrolling through social media or posting their own pictures!
Snapchat doesn't appear to have commented on the supposed picture-lightening phenomenon, but plenty of people are talking about it online. Many have expressed their disappointment with filters in the app that they feel are designed to make certain people feel inferior or less-than.
Article continues below advertisement
Of course, if Snapchat is intentionally promoting an unattainable (or simply very narrow) standard of beauty, it certainly wouldn't be the first company to do so. (It also wouldn't mark the first time Snapchat wholly missed the mark when it comes to serving people of color.) Basically the entire fashion, beauty, and diet industries are built around presenting a goal that large swaths of people consider unattainable in order to get them to spend money or use their products.
Ultimately, Snapchat filters — and filters on other social media platforms — don't determine what is beautiful. And if filters make you feel uncomfortable or sad, we definitely recommend not using them! At the end of the day, filters should just be a fun way to take a unique picture of yourself or try out a new hair color without having to dye your hair.